An Autumn Day at the Races · 14 October 06
Dear Anne,
Very tired now. I tried reading the last essay of Ruskin's Unto This Last but couldn't at all; I thought I was reading "1917" and "1918" in Woolf's Years but when I went over the brief sumary just a minute ago I realized I had not registered most of it. I'll try again on the way to the gym tomorrow morning. The Admiral drives and I'm freshly awake by then.
We spent the day at the races. Twice a year the hunting clubs deep in Virginia run "point-to-point" displays and races. This is when the foxes are breeding. The public is invited to an ex-plantation. If you are rich and have lots of friends in the area, you spend lots of money for a space for your car and tent and have a party. If you are not rich and ordinary and do not have loads of friends who can or would come to such an event, you come in as the public and sit in a ring around the course for $10. You park your car a little bit away and bring your stuff with you across a fence into the ex-plantation. Every once in a while someone tries to legislate these vast parks away and turn them into malls, with the outcry of "elitist" and temptation of "housing" (expensive) and "jobs" (you'll get a lousy one this way), but the powerful people in the hunting clubs manage to outmaneuver the capitalists in the region. How long they will last I don't know. for suburbia and very tall corporate buildings keep encroaching ever nearer.
This time of year is so beautiful so Morven Park (the ex-plantation at which the races are held) was even more lovely. The leaves on the trees so many colors and all staying on, and across the vast green swards a blue-ish light as the afternoon wore on. It's an Anglo-event: men in red hunting outfits on vast sturdy brown horses patrol the field; sometimes they are followed by a pack of dogs ("the hounds"). Most people are dressed casually but still spruced up (especially those in the tent areas having parties). Lots of men with caps, binoculars (Jim and I have a pair each). Two men taking bets. Elegant lunches on tables and people wandering about with wine in wine glasses. I liked the bunches of crysanthemums (orange, yellow,auburn) at the corners of gates.
The Italians do this—at least once in 1968 Jim and I when young went to just such a scene outside Rome one April day. And it's a regular event at Saratoga Springs, New York, all spring, summer, and autumn long.
We got there early so did something we've not done before. A jockey sometimes offers to take people on a tour of the track while he explains to them what it's like to be a jockey, shows what the horses have to jump and run across, and generally gives insights into the experience of racing a horse. The man was named Greg and was an "amateur.' That means he has a day job, in his case banking, and it was clear he does pretty well as he owns two horses too. For a little while a professional British jockey joined him, someone who had left school at 16 and worked in a stable and now was a man who had won many races. It looks like a hard life. You get paid for each race you ride ($150) and 10% of the take if your horse wins (so on a prize of $10,000, the jockey gets $1000). They are hired by trainers who are hired by horse owners. I had not realized how this was a business where the individuals have continually to get new rides, and in effect renegotiate their places continually (rather like theatre). And you can get badly hurt. Greg had been riding for 26 years, very unusual.
We sit with the hoi polloi, usually under a tree, but not today. We sat in the bright sunlight. We were in the second ring around the track ($10 each), and watched some of the people in the tents in closer rings, or by the huge cars high on the hill having their picnics. We stayed but for half the races. We did bet on the horses these two young men were riding and felt more involved than usual. One difference from British meets is Americans tend not to bet, and they look and probably are less involved in who wins. As usual we lost every time.
We did have a splendid lunch. It was so windy our champagne glasses were knocked over and we lost about 1/4 of the bottle. Still we managed all our food, and the sharp chilly air was exhilarating.
I also read a bit. I finished Harriet Martineau's Autobiography. What an eloquent woman, truly decent in outlook, of high integrity, and can muster an argument that brushes away nonsense and shows the ugliness (misery-inducing) and narrowness (selfishiness) and absurdity of not just reactionary but also religious thinking. The latter is something people don't dare do today.
It's a long drive there and back, and when we got home, we had coffee and tea and rested for a bit. Spaghetti and eggplant-and-tomato sauce for dinner with more wine. I did manage to finish the reading I wanted to do of Lucy Hutchinson's moving grief-striken (stark) elegies and a couple more chapters of a biography of Frances Hodgson Burnett.
Poor Yvette. She's endured a record blizzard in Buffalo and now is trying to cope with the aftermath. Apparently all the boasting we hear of how snow and ice are instantly dealt with and don't get in the way up north are myth. The day we took her to Buffalo the weather there was not much cooler than here, and the two places seemed to have the same climate. At this time of year one can see how we are a southernmost Atlantic state and she is two weather zones north of us: in the southernmost of the Great Lakes region, with the winds off those enormous dark lakes dumping precipitation in whatever form on all nearby creatures, their habitations, and landscape.
I conclude with a picture named after autumn; it's not relevant to hunting or racing but rather a vision of autumn from a young girl's point of view: Marianne Von Werefkin's Autunno Scuola (1907):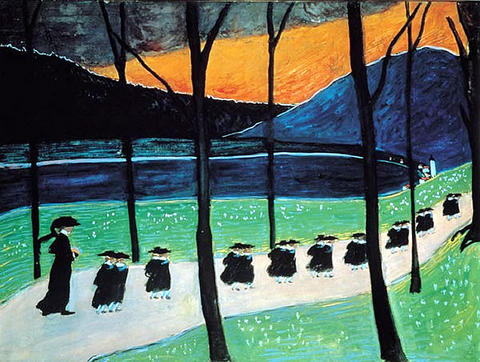 When I first came across this image, I didn't know the title, but loved it because it reminded me of the Madeleine books by Bemelmans and how Madeleine and the other girls walked in a crocodile. It seemed to me idyllic, yet comic. Now that I know the title, I put it up as gay picture of autumn. The lake though can stand for the lake near Yvette and the trees are as bare as winter.
Jordi Vigue in her book, Women Masters of Art (chock-a-block with information and colored reproductions and found in the used bookstore in Old Towne) says of Werefkin's art:
Her expressionist art is characterized by original narrative
saturated in color and imbued with a symbolic sense. Her colors are always passionate, with vibrant colors, and show the strong and unconventional character of the artist.
I hope you and the Captain are well. Kellynch is just filled with color right now and you must come and visit us soon. We miss you. I know I've not written in quite a while, but intend to make up for it. I saw your picture on Yvette's page and that prompted me to write to you.
Love
Sophie
--
Posted by: Ellen
* * *
Ah, Ellen, when I first saw your picture I thought of Madeline too.

I did love the irreverent mischievous Madeline!
— Tatyana    Oct 15, 7:53am    #
On October 16th, from Buffalo, Yvette wrote:

"There is a flock of ducks currently waddling across the Creekside parking lot. It's a surprisingly delightful sight.

Miss Izzy"

A net friend and 18th century colleague who lives in Buffalo wrote me many trees were wrecked:

"I hope things are okay for your daughter up in Amherst. I live in Buffalo (near Allentown); we lost power for about 48 hours but were lucky enough to get it back late Saturday night. Fortunately my house is not much damaged and the basement merely damp (so far) but the trees are in sad shape. I spent three days hauling wood from my back yard and from my neighbor's parking lot, where many of my trees had fallen. I would compare myself to Ferdinand in The Tempest except I feel more like a beaver building a dam. I have built a wall about five feet high and 15 feet long in front of my house for the city to collect. And I've discovered a lot of muscles you don't tend to use when teaching.

It feels worse for a storm to single out the trees. Somehow an act of God directed at cars or trailers or buildings might be reasonable but what did trees do to deserve this slaughter? They are saying 90 percent of the mature trees in Buffalo are damaged or destroyed."

S.C.
— Sophie    Oct 17, 2:49pm    #
commenting closed for this article