Vermont = green mountains · 17 August 07
Dear Anne,
We are back from Vermont and, as Yvette wrote in her blog, had a very good time. I kept a diary in the log book provided by Landmark Trust, and will type it out here in different segments. Today, I concentrate on our activities, the house and environs.
Friday, August 10th: We arrived around 4:30 pm. Amos Brown House is a small plain square dark red two-floor structure; it's a box on the bottom with a triangle on top.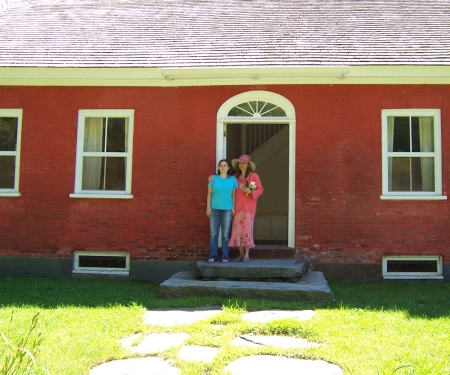 Me and Yvette in front of the house (I'm clutching a copy of Can You Forgive Her?)

The house seen from one side
The barn additions are larger than the central house, and contain basement hall refectory where monks ate under religious pictures in the mid-20th century, a ping-pong game room, and an indoor 4 hole "outhouse:"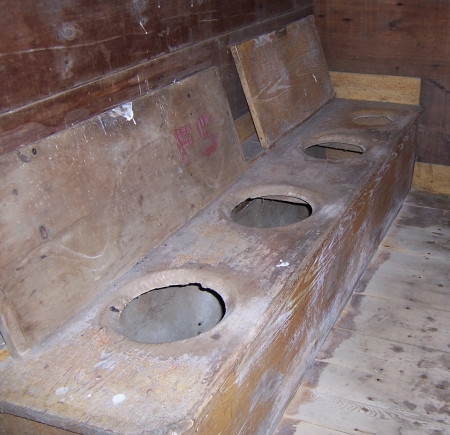 It's surrounded by lawn and then encircled by a field of middle level and then high grass; to the back is a wood.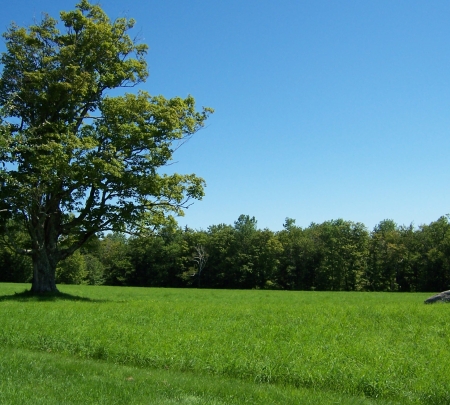 After you get off the highway coming from Massachusetts, you get on a roller-coaster like single-lane two-way paved road which cuts through very scenic landscapes, then you take a right and then left to find yourself on a dirt road on both sides of which is a forest in the which are some summer and year-round houses.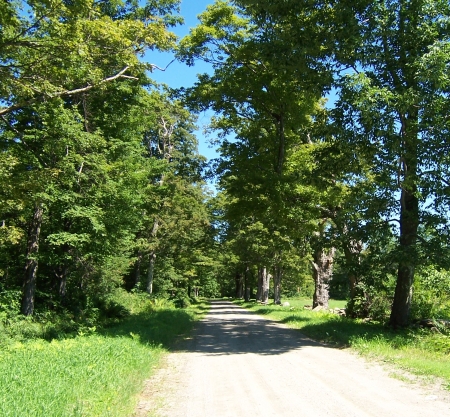 Then you come to a clearing and there is the house.
We all three walked outside the house the first afternoon. I drank in the intense quiet. There was not a sound to be heard but the light breeze in the grass. This great stillness is healing. We saw deer and brown-furred animals in the distance at the edge of the forest.
I realized very quickly that once again I had (as I have on many previous holidays abroad or elsewhere than where we're living at at time) brought the wrong clothes. Mine are very light and intended for our superhot dense humid climate in DC. In southern Vermont and the Berkshires in Massachusetts (where we drove), while the day is hot from 11 to 4 if you are in a town, many areas are shades by trees and forests and cooler during the day, and at night the air is downright chilly and fresh.
Saturday, August 11th. The light streaming into our windows on our first-floor bedroom is warm yellow. Poetic diction would call it golden. By 8 am it's white-yellow. At 8:30 am or thereabouts we saw a small herd of deer in the field. I made up a stag and 3 does: Jim says that like gorillas, deer live in harems. The stag is much bigger than the adult female does. We watched the females stotting (playing roughly).
11:30 am. I sat in the meadow on a wooden chair and read Anthony Trollope's Can You Forgive Her?: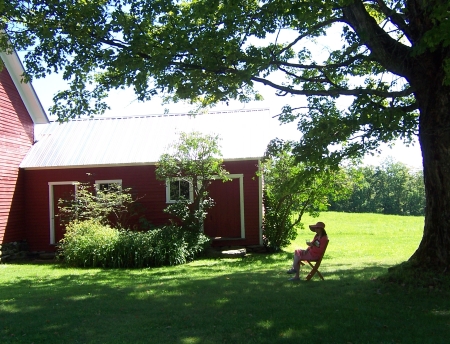 Yvette ran through the meadows and disappeared at times in the woods. Over the next few days she explored a number of trails. Once she and Jim walked to Massachusetts. Jim took photos of the outside of the house that day, and I took more of the inside another.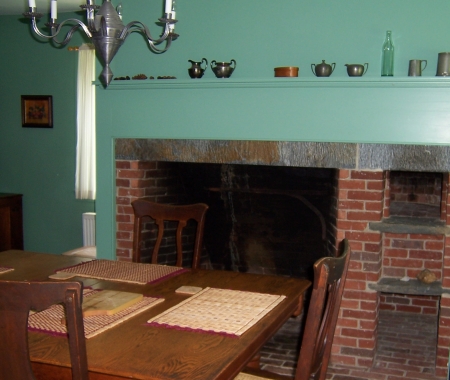 What a relief is the bare tasteful house. (We made the mistake of having lunch in an Applebees at one point: I counted 7 TVs in a small space, not a single piece of wall was empty of some kind of junk, and we were given mouthfuls of grease to eat under the rubric of senseless "melt" combinations. My "sangria" was a pitcher of sugar-drenched light green water.) We worked out how to open the sash-windows. The place is a time-capsule. Everything but the outer walls is rebuilt using new materials fixed to appear like the originals. The flooring is a recreation from modern dark wood planks; the fire place is rebuilt bricks which have been artificially blackened. The house recalls British structures when it is a case of renovating or bringing back working and lower middle class dwellings. I've also noticed how most of the visitors to Amos Brown House are either British people who live in the US (new emigrants) or British people here on visits.
7:30 pm. We are back from having seen an excellent play, Beth Henley's Crimes of the Heart at the Williams College Theatre in Williamstown. Very moving, brilliantly acted. (I'll write more about this and the other plays we saw in a separate letter. ) Now I just want to say how curvaceous were the roads, a little dizzying. I am also somewhat frightened at the isolated state of the house.
10:00 pm. The advantage of this isolation includes: when we shut all the lights in the house and went outside, you are stunned by the star-studded sky. It's just like the Planetarium Museum in NYC. We saw Venus, Mars, the Milky Way. Every inch of black sky had stars. The night was moonless. In one corner the sky was the usual dim light and few stars: Jim says that is the effect of Boston. It made me realize what Austen's Fanny Price was referring to when in Mansfield Park she spoke of her joy in meditating with Edmund Bertram while they went star-gazing on moonless nights.
Sunday, August 12th: I said "what a country-like morning." Jim replied: "it's not a simulacrum!" Insect and bird sounds, fresh mist. Again I thought of Austen's Fanny: how she pined in Portsmouth for the country spring (this would be Austen herself in Bath).
In the afternoon, we drove to Lenox, Massachusetts to see Tom Stoppard's Rough Crossing. This was an enjoyable verbally witty self-reflexive take on playwrighting using stock characters.
We are getting a strong sense of what the local towns look like, and the culture of the people who live here all year round (often poor rural) and the beauty of the region (mountainous, many lakes). There are still farms, but the main industry seems tourism, providing lumber for homes, and people in the local economy serve one another. The towns are older and supported by summer people and universities.
By this time I've read a couple of books too: Jo Manning's biography of Grace Dalrymple Elliot is one I'd recommend.
Monday, August 13th: this was our longest driving day. We drove to Glimmerglass, New York (3 hours each way) to see Offenbach's Orpheus in the Underworld. We brought a picnic: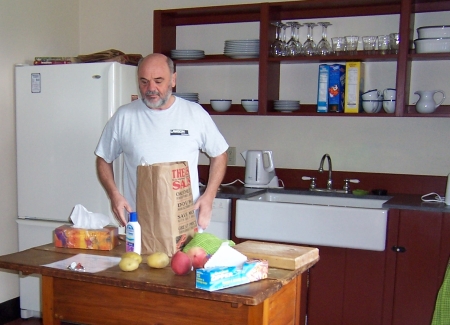 Jim picnic-making
There was a lecture beforehand about Offenbach and the music, the latter of which Yvette much enjoyed. Alas, the play itself had hardly any story. It was done with the most theatrical grotesque sexualized costumes and was intended to feel like a party. Alas, the story of Orpheus seemed the least thing Offenbach was interested by. Still, the theatre seemed as beautiful this year as last—a grey wooden structure which reminded me of Joe Papp's Shakespeare's theatre in Central Park.
I read a small masterpiece on the way there and back: Simon Raven's Fielding Gray, on which much more anon.
Tuesday, August 14th: we rested from our drive yesterday, shopped locally, and at 3 drove off once again, this time to Stockbridge, an old town (emerged in the 18th century). We arrived at 5, ate a beautifully well-cooked meal in a lovely Italian restaurant (background music recordings of Tony Bennett, Pavarotti), and then saw a good production of Shaw's Mrs Warren's Profession. This was the most daring and intelligent play we saw, not just a debate on issues, but candid exploration of a mother-daughter, family and friendship relationships.
The trip to Stockbridge was our most daring drive. The play began at 8 pm and we had to return at around midnight. The black country roads were illuminated by reflectors and we got back safely and then star-gazed.
Wednesday, August 15th: This was our day to explore our own area. The highpoint was our drive to Ward's Cove. This was turned out to be a road which led to a lovely picnic and swimming area. It was like being in an Albert Bierstadt painting, the landscape was so very pretty:
We found ourselves parking behind two high hills overlooking a lake which itself was surrounded by blue and green mountains all criss-crossing one another. The sky was blue-grey. Yvette said the water "was not icy" and swam and then went for a walk.
Jim got in too. Not me but I did wander about and take photos. We had a picnic, and watched people in boats. There is a nude beach nearby where people sit on a ledges by the water. At night we had a roast chicken at home with wine and mushrooms.
Thursday, August 16th: On this day we returned to Williamstown and in the morning went to the Clark Museum, ate lunch out, and then in the afternoon saw Lillian Hellman's The Autumn Garden, a psychologically-complex slow-developing play. We had dinner at home: pork chops, mushrooms, potatoes, and wine. The Clark has a superb permanent collection of impressionists; Jim was very impressed by the magnificence of a painting which could have been drawn from one of Trollope's novels: Winslow Homer's Bridle Path, White Mountains, whose central focus is a meditative and not-too-happy gentlewoman on a horse, one of a party of people clambering over said mountains. We also saw the much-praised Monet exhibit, which I thought over-curated (it was organized and the pictures chosen to illustrate a too narrow pointed thesis); Jim loved two Constables from a much-less noticed exhibit of Constable, Turner, and Gainsborough paintings.
The library at the house is not bad. As with other Landmarks, it has been chosen to exemplify ideas about and the experience of the house and surroundings. Jim read about the Indians who lived in this area (in bands), Yvette a book of verse, and I read David P. Handlin's The American Home, Architecture and Society, 1815-1915. Handlin's book explicates the typical kinds of rooms and disposition of space you still find in US homes, part of which is an insistence on socialability rather than individual privacy.
Friday, August 17th: To conclude: it's been lovely, quiet and cool and restful here. I'm not the vacation type and miss my daily routines (my "routs" I call them), my work, and pine for home (I grow as restless as Plantagenet Palliser abroad in Can You Forgive Her?), but this is a good place to come to. We had some marvelous happy moments of conversation, exploring, and leisure eating, reading, walking, driving together. The house is tasteful, historically interesting, and well-appointed. It's located in a spot which you can use to drive to good summer theatre in the area. I wrote to you as it was Jim who drove us about and (also reminding me of Plantagenet Palliser in his trip abroad with Lady Glencora and Alice Vavasour) like an Admiral commandeered our trip. Our jaguar may be likened to a barouche-landau as well as comfortable boat.
Tomorrow I'll tell more of the plays, opera, and reading. For now I'll end on a list of Landmark Trust houses we've stayed at:
Both Cloth Fair apartments in London (built later 17th century);
the Gardener's House, Hampton Court Palace (Reformation to 19th century);
Elton House, Bath (18th century boarding house);
the Gatehouse, Devonshire (from which we went to Lyme, a 15th century structure, the ceiling is Jacobean carved);
Fox Hall (a ducal hunting lodge), Sussex, near Chichester;
the Old Hall (15th century), Somerset;
Peter's Tower (a clock tower), Lymestone Village, Essex;
and now Amos Brown House (early 19th century), Vermont.
That makes 9.
From the Old Hall, Somerset: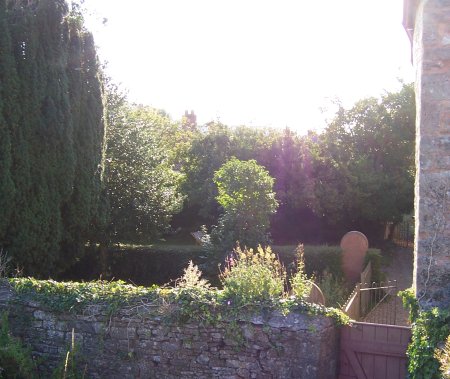 Sophie
--
Posted by: Ellen
* * *
commenting closed for this article