New York Journal (4): Studio 54, Sunday in the Park, Poussin again & Hubert Robert · 29 April 08
Gentle friends,
Like Jim, I thought the Whitney Biennial filled with self-indulgent, solipsistic, absurd and ludicrous concoctions. (Jim reading that sentence: "Don't hold back now. Tell them what you really think.") The egoistic films were unwatchable. I saw in the text next to many of them bows on the part of the artist to his or her teachers, connections, hoped-for art dealers, and agreed with Jim that the art there was not for the public who came to see it, but as way of positioning oneself in a narrow elite art world. In short, the works we saw before us were anything & had everything but order, design, tension, balance, harmony, all of which we saw and felt sung in beautiful abundance in Poussin and Sondheim's Sunday in the Park with George.
We went for a walk in Central Park afterwards (Saturday in the park, lots of people in the sheep meadow, people dancing before the bandstand, skating, load-outs near by), and then made our way down Park West to find a restaurant.
It had begun to rain on and off, the wind was blowing hard, and we were cold; so we began to dart into street malls and look in earnest for somewhere to have supper. We happened on a small Italian restaurant not far from the Studio Fifty-four, the previous name of the theater where Sunday in the Park with George was playing. We tried to take our time eating, but as we are not good at that, we still had half an hour before performance, so ended up in the lobby.
Not a loss though as Studio Four was the place in the 1980s where Disco happened, the mythical dance palace of Whit Stillman's Last Days of Disco and everywhere in the building were the left-over art works of that gaudy-time and of 20s art deco (which was its basis in buildings). You can glimpse something of the place in this still from Stillman's Last Dayss: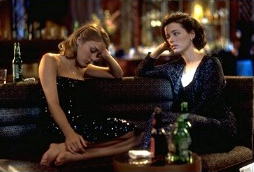 Charlotte (Kate Beckinsale) and Alice (Chloe Sevigny) at the club
Jim had been there during summers he had been working for DARPA, and seen a famous Cabaret production.
The audience was filled up, and chairs were placed alongside aisles. There had been a rave review, but also some negative ones, so we were a bit surprized. We went because we love Sondheim's plays & music, and were not expecting much. The productions we had seen hitherto had persuaded us the second act was just filler. Well, Sam Buntrock, the director, & his team taught us we were wrong (as had been the directors of such previous productions). The deeply moving part of Sunday in Park with George, is in the second half, when the history we have experienced in the first is directly connected to modern ways of doing art and George's loss of faith and integrity of heart. This being a happy musical, he regains this at the close.
Jim thought that paradoxically what made this new meaning emerge was the production did not recreate the picture at the end of the first act, an experience when had for the first time cannot be repeated. The trumpet sounded and I was looking at Seurat's picture literally remade, and my heart soared, and I was thrilled. But then after that, what can come? In the first productions the picture is again remade at the close of the second act. Not here, instead only those characters who reappear in modern clothes are seen as a part of a new picture, one which fills George's heart with a sense that he does have "possibilities" before him, can find new meaningful work once again. I began to feel tears well up in my eyes.
I should say Jena Russell's performance as Dot, the 1st George's mistress and lover, and then as Marie, Dot's granddaughter & the 3rd George's grandmother was superb. She was the core presence of vital life in many scenes. Daniel Evans was effective, but not as charged with complicated depths that held together (in a way reminding me of Patrick Stewart in Macbeth the night before).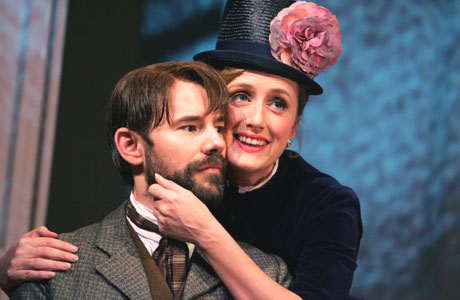 When we emerged from the theatre, we walked back from 7th & 54th to our hotel at 48th and Lexington, and I can report the new shoes I bought with Caroline (at a local Comfort Shoes, for a scary $225) work. I was able to make it if not in real comfort (as the soles of my feet were burning), at least not in any agony caused by said shoes. They are open scandals with small heels, the leather very soft and yielding, a kind of silvery color where you close the shoe by pressing on velcro. I flew along next to Jim who was cold. The middle eastern shawl I had bought off a stand in the street the day before became my headscarf and I am now going to wear it this way.
The best laid plans of mice and men. We had planned on Sunday to go to the Cloisters, walk in Fort Tryon Park, along the Hudson in Inwood park—for this is our old neighborhood, the near environs of the apartment house we lived in for some nine plus years. But the rain was strong and the cold more penetrating. We had also to get back to the hotel by noon, in order to take the subway to Penn Central and make our 2 o'clock train.
So we took the easy way out—and returned to the Metropolitan Museum for one more session with Poussin. Since it was cold and rainy, the museum was relatively empty still at 9:30 am. Jim kept going back and forth to look at Landscape with a Calm and Morning (Reynolds's title for A Pastoral Idyll), the latter of which is easier to scan in and show some of its idyllic peace: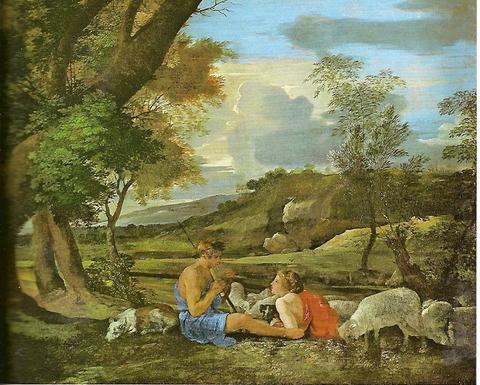 Some might think one cannot go further away from Poussin than Hubert Robert (1733-1808), but not me. After we left the Poussin exhibit, I decided I'd like to see the Robert pictures I remembered from a previous visit. Robert is still so neglected that you would not know his 8 pictures are where they are unless you can encountered them on your own, and remembered them. They are located in a long hall adjacent to what in the map of the museum is called "European Decorative Arts" (18th through 19th century); they are next to rooms filled with the furniture of rich and powerful 18th century French people. I had a bit of a hard time remembering where I had seen them, and guessed it was in the furniture galleries as decorations for nearby walls. These galleries are located behind the medieval section of the museum on the ground floor.
I see a direct connection between Robert and Poussin (and so did Diderot who wrote movingly & accurately about both). For me Robert's paintings are about the same vision "afterwards:" it's as if a great cataclysm has occurred in the dream landscape and we left to identify with the decidedly unheroic people making the best of things as the days and nights pass by, finding a place to wash clothes, to play and dance, to talk and sleep. The pictures are not made up as formal compositions with a horizon and beautiful forms steadying what we see, but are instead built up through picturesque forms and instead of line the artist depends on color.
There is no great book on Robert, and I can only supply but one of the 8 pictures we saw. It is not one which projects what is central and moving about Robert's vision, but the kind of rococo moment that lends itself to trivializing and thus popularity:

Hubert Robert, The Swing
The people are enjoying themselves despite the imagined risk, for in the actual painting you get a sense the woman is on the edge of falling off despite the man holding the rope. The dog is probably the most sensible of the group.
There were four of these thin tall landscapes; and there were four wide pictures. In the vein of the wide pictures are the following two (taken from the Net):

Robert, Paysage de Cascade.
The above should be titled "People left over with a few remnants of what once was." It is very like the large ones we saw. Robert's sense of loss and history is seen explicitly in Discovery of Laocoon, not one of the 8 we saw, for none were "grand history," and that too is what I find so charming about this set.
Part of the joy of the Metropolitan Museum is it does have so much, and you can just happen upon things which are not apparently valued by the curators of the museum, collectors or the public. There was hardly anyone in the European Decorative Arts rooms, and Jim and I stopped and looked at a marvellous "travelling table" or case a middle class 18th century traveller would have used. When unfolded from a convenient rectangle, it contained three compartments for small dishes and implements for making tea, for small light garments, & for your books & writing things.
We wanted to stop in a cafeteria that has been built into one of the corridors along the park, with one wall all glass, but time was now against us. And the price was high.
So we wended our way back to our hotel, and then back to Penn Station, and then onto the train and (as I used to say to Caroline and Yvette when they were small and we had come back from a trip), home again home again jiggedy-jig. We got off the train at Alexandria (always a moment of high anxiety for me lest I not get off on the small station in time), went to Whole Foods for cold buffet to go with our cold chicken (waiting for us in the fridge). I had to reread my lecture notes once more before packing to teach on Monday, and Jim wrote another of these journals. He did take some photos (not of us but what we saw over the last two days) and we will try to put these up on the blog eventually.
And so to bed that night,
Ellen
--
Posted by: Ellen
* * *
P.S. I like to do something 18th century each time I come to NYC. This time I managed to see the inside location of an Austen movie adaptation and an exquisite, expensive version of Austen's writing desk. To my mind much in Poussin anticipates the major trends of 18th century art too; it's no coincidence some of the best writing on Poussin is by Reynolds and Reynolds owned so many Poussin paintings.

E.M.
— Elinor    Apr 29, 12:42pm    #
From Irma Jaffe:

"Dear Ellen and Jim, I loved your letter and agreed with what you wrote about the Whitney, etc. I wish I had known you—-I live right in the neighborhood of what you did today and would have been delighted to invite you for a glass of wine. You look like very attractive, pleasant, intelligent people to know."
— Elinor    Apr 30, 9:46pm    #
I tried to download into Eighteenth Century World @ Yahoo, a longish essay on the 8 pictures by Hubert Robert to be found on the first floor of the Metropolitan Museum of Art in European Decorative arts. They are (as I wrote) in a square hall-way next to a super-rich apartment room filled with French 18th century furniture and crafts, all set up to look like a room for living (though with objects like a lady's travelling and writing case, discreetly placed about too). It's by J Baillo, "Hubert Robert's Decorations for the Chateau de Bagatelle," Metropolitan Museum Journal, 22 (1992):149-82. But alas since it has all the 8 images and more too and some very large, it takes such a long time to download, yahoo gives out before the software finishes. It's not that it's too large, but too slow. It's in JStor for those who have access to JStor. I can also send it as an attachment if anyone is interested.

But I thought I'd share briefly what I learned: it seems that quite deliberately an alert and intelligent young male in the royal clique-and-clan system who became known as the Comte d'Artois was brought up to do nothing—reminding me of what happened to Edward Ferrrars in Austen's S&S until he met up with Elinor Dashwood. Not just that, but he was initiated into debauched activities and encouraged to live an amoral life. He obliged, and among other things set up a beautiful estate where he could invite friends to enjoy this sort of life with him (mostly men, you apparently hired the women or maybe just pressured them); one such place was called the Chateau de Bagatelle and it was for this place Robert was commissioned to paint a set of paintings for the wall. The paintings he produced were intended to be commensurate with the luxury and (let's call it) playful style of life going on in this place. It is therefore much to Robert's credit that he went well beyond this to make an art with metaphysical, historical, and psychological resonances of depth and beauty. Artois himself escaped from the revolution early, but like many he couldn't bear to lose any of his property (or much of it) and made the mistake of returning too soon and was imprisoned; he did come near to being guillotined, but chance was on his side, and he escaped again and didn't return to France until well into the Napoleonic era. The museum had quite a time getting the paintings as they were costly and Robert had not quite the reputation for such an expense, but they did manage after a time.

I realize I haven't begun to do justice to the analysis of the paintings that Baillio writes, but JStor produces pdf files and they do not permit me to copy and paste text which I would want to do to tell what Baillio says so eloquently. One problem also is everytime you shrink a Robert painting you lose the glorious colors and fantastical lines and so part of the pleasure. Diderot just about credited Robert with inventing the ruins of time painting (as John Brewer in his Pleasures of the Imagination credits Zoffany and Garrick together with inventing the "conversation piece" from the theatre type painting—one of which we've had on ECW's groupsite space, as in Zoffany's picture of Garrick playing Sir John Brute in prison surrounded by the lowest of his society from VanBrugh's Provoked Wife.
— Elinor    May 11, 7:54am    #
commenting closed for this article