Niagara · 15 May 08

The entrance to Niagara park
Dear Friends,
The first weekend Jim & I drove Isobel (Izzy aka Yvette) to Buffalo to go to the University of Buffalo for a degree in librarianship (a degree she obtained just this past weekend), we went to Niagara Falls. This past weekend on the last day the 3 of us would be there probably ever, we went to Niagara Falls.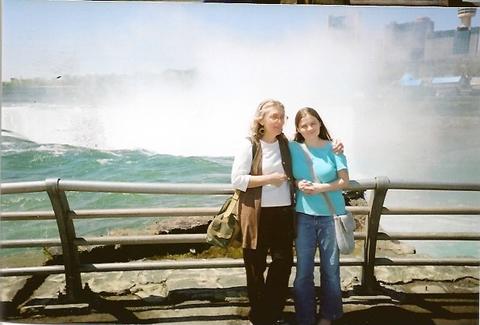 Izzy and me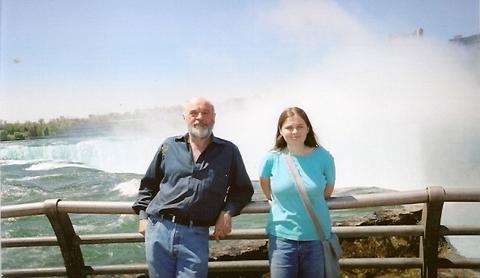 Jim and Izzy
I have been there a third time: when I was 16 (I am now 61). That first time I was probably in the park less than 3 hours, and much of it was on the Canadian side where I saw a clock made up entirely of flowers. And that's all I remember of the park and falls then. The second time with Jim and Isabel (sometimes I spell her name with an "a"), her first weekend there, we made the same mistake: we stayed but two hours.
Mistake? Yes. This third time we got into Niagara (so to speak), and we did it by staying in the park for several hours during the day, and then on the spur of the moment returning after dark for a couple of hours walking everywhere very quickly. During the day we had wandered about slowly, to goat island: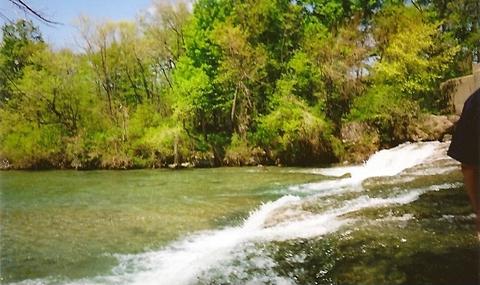 to the three different high falls: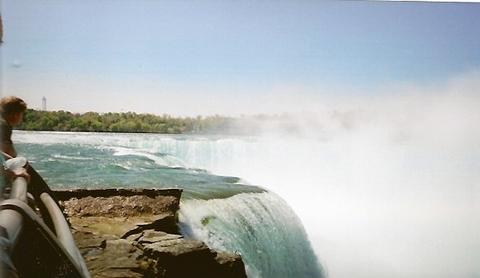 to the three sister islands :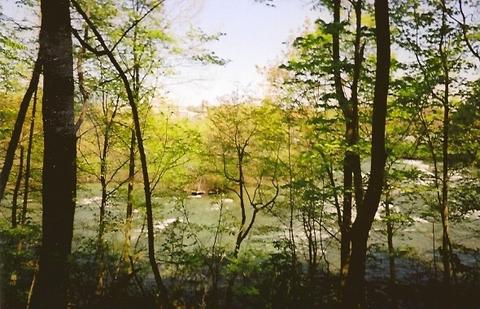 and then got on the trolley and went round the park up to the Canadian-US dam, and down alongside the white rapids: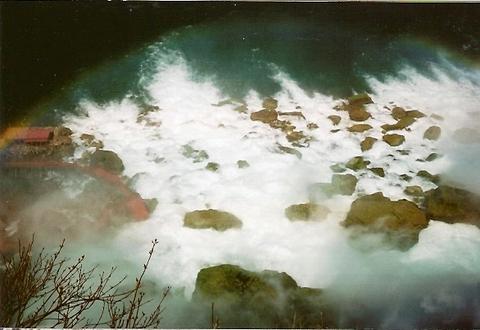 and then we walked some more. At night we confined ourselves to the falls, goat island and the rapids.
Daytime: after a while the park seems not just beautiful, but oddly calming: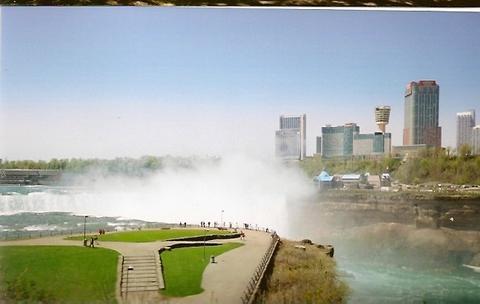 the waters seemingly eternally (it's only been going on for 10,000 years or since the ice in the last ice age melted) rushing onward, onward, and back from as far as the eye can see, lovely acqua colors, pure whites, and on the islands grey rock formations to get lost among.
At night: we were surprized when we returned at dark to find more people there than during the day, but we should not have been. It's safe, commerce has vanished: no more boats called the Maid of the Mist, no more Cave of the Winds to climb down, no more vendors of food, souvenirs, tickets for whatever. In the darkness the roaring hits you. The guides on the trolley had said to return to see the rainbow lights from Canada on the falls, and the white headlights on the rapids, but these are as nothing to that continuous roar.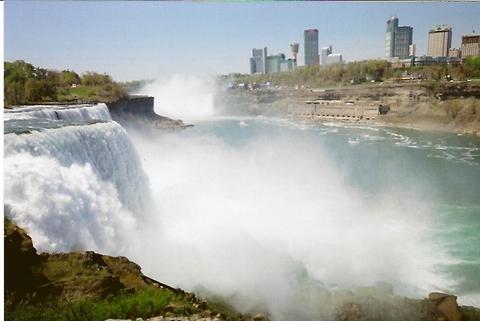 I can understand why 19th century European tourists were mesmerized and wrote so feelingly. The writers's description of his or her encounter with Niagara formed in travel books a sina qua non and one can see each travel writer struggling to come up with ever new spectacular prose. I'm not sure Trollope had this vision from the Cave of Winds (it did not officially exist when he came), but his description does come from beneath the falls somewhere:
"And as he looks on, strange colours will show themselves through the mist; the shades of grey will become green or blue, with ever and anon a flash of white; and then, when some gust of wind blows in with greater violence, the sea- girt cavern will become all dark and black. Oh, my friend, let there be no one there to speak to thee then; no, not even a brother. As you stand there, speak only to the waters."
There is nothing like this in England, for the confluence of these huge rivers and lakes does not exist.
There is a sort of thrill when you stand close and know if you fall in, you're a goner in less than 3 minutes, but for me the stunner was a sense of very close by (especially when I paid 25 cents to look through a magnifying glass) seemingly uncontrollable power. Seemingly because the dam further up controls the amount of water allowed to flow through and thus preserves the falls from eroding too fast.
The park also is simply a beautiful park, with flowers: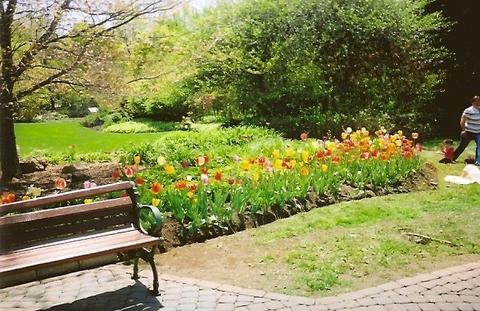 flowering trees: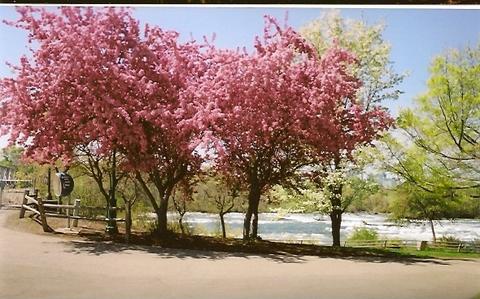 lovely park nooks; there's a zoo (with sea lions and penguins), a geological museum, not to omit snack bar, movie-house, picnic areas, and bridges. I like a bridge.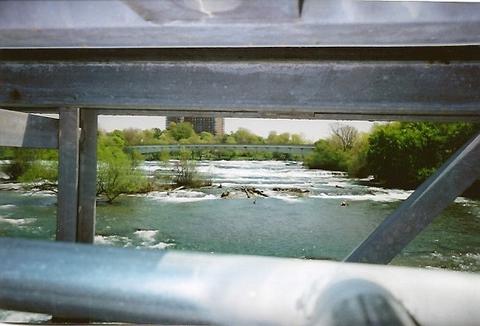 It was a good way to celebrate Isabel's achievement. She got many As, and has her MLS. We did not neglect going to the Olive Garden for a lovely meal and wine too.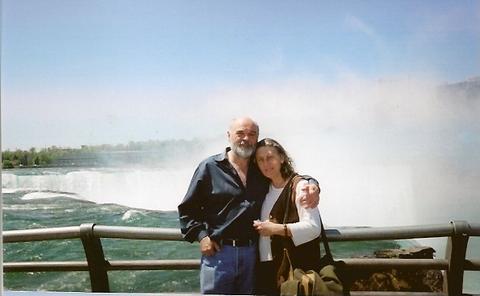 This time Izzy was our photographer.
Ellen
--
Posted by: Ellen
* * *
commenting closed for this article