The last of Glimmerglass: green light in turquoise lakes · 15 August 08
Dear Friends,
The Admiral, Yvette and I returned home this afternoon around 3 and scurried about to pick up post, shop, unpack, settle in by once again arranging our stuff back into daily patterns for living (Jim's computer is on his table, my books repiled in ways that allow me to get to what review I must do next, Yvette's things in her patterns), get and eat Chinese food, and then drive to Caroline's to pick up Ian and Clarissa, our kittens. We missed them more than they did us. They had had a high old time with Caroline and Rob and their 3 cats: more toys & hiding places than we offer, open windows through which birds may be seen, a much higher more varied cat tree, more noise (a TV going), and possibly food now had to be given up for a much quieter home.
In our last three days, the sun did come out more and we visited a small museum, the Arkell, and saw a very few beautiful paintings (Wyeth, some American impressionists, some Winslow Homer watercolors). We drove about the countryside and walked in Glimmerglass state park where I took photos of a lake children were swimming in, adults boating, people picnicking. We saw from the outside Hyde Hall, a rich man's folly from the 1830s (vast Greek revival stone mansion which was apparently inhabited for less than 30 years). We ate out in another beautiful building, this one a house originally built in 1790, then expanded in the later Victorian period, and now an Italianate Palazzo turned into a restaurant and lodging house.
I took photos of all this (and the beautiful Victorian house we stayed in) with our digital camera and hope Jim photoshops them so we can put them on this blog eventually.
We also saw two more operas. On Tuesday night, Vincenzo' Bellini's I Capuchi e i Montecchi. It's not based on Shakespeare's play nor the particular source Shakespeare used, but rather another probably earlier one where Romeo kills Juliet's brother in the famous brawl. It begins in an equivalent place to Act IV of Shakespeare's play. The first act really in terms of content could be over in 5 minutes: Romeo: "Run away with me!" Juliet: "I can't get myself to!" with two sets of male choruses for the respective families going into repetitive coniption fits for over an hour. It was obsessive and highly stylized. In the second act also moves slowly at first: it includes a long powerful duet where Julet's father demands she marry Tybalt: this reminded me of the first volume of Clarissa where her family and especially her brother and father tyrannize over her.
Then suddenly it takes off to become astonishing. We get a long tomb scene where Juliet takes the fake poison, Romeo comes upon her and thinking she's dead, himself takes poison, but (unlike Shakespeare) before he dies, she awakens and they realize what has happened, and as he slowly dies, she takes poison and dies with him. They embrace clingingly and sing for what seemed at least 45 minutes. As I watched and listened I thought of I Cavalieri Rusticana and I Pagliacci (and a third one act later 19th century Italian opera sometimes subsituted for one of these two): cut down to one hour and one half, with the whole of that tomb scene kept, and Bellini's I Capuchi e i Montecchi would be a stunner as "early verismo" (how these categories so often obscure what is in front of us, eh?)
Jim thought the opera resembled gothic novels, & fit the thesis of the Hutcheons' book on death, disease, and desire in opera he had found in the bookshop and was reading. On one level, it was an over the top Pyramus and Thisbe, and I thought about how I have read Garrick rewrote Romeo and Juliet to have them wake up together before dying and have simply believed this version must be absurd, even though it held the 18th century stage for the second half. Maybe not. Bellini's scene was intensely compelling and strange. The audience sat mesmerized and not just for the long beautiful melodies. The lecturer beforehand and material in the book given out worked hard to make the audience accept a woman mezzo-soprana as Romeo. To me that was no problem: the singer was made to look like a man, and the high voice did make me feel the pair of lovers were fragile, innocent. Sara Coburn sang Juliet magnificently: her glorious voice filled the theatre. We had heard her before in concert singing in Bellini's I Puritani so perhaps she makes a speciality of these rarely done bel canto operas.
Although I Capuchi e I Montecchi is rarely done, the theatre was more than half-empty. Wagner's Das Liebersverbot attracted a much bigger audience—- though from the raised hands at the lecture it seemed many were Wagnerites who came because it was Wagner and rarely done. More than one society was there. Perhaps Jim would like to comment to qualify my judgement (he though the opera did anticipate later Wagner in its use of group ensembles), but to me it was dull. Wagner's work lacks the black and witty humor, the theme of the same justice for all, and disquieting duke of Shakespeare's Measure for Measure, and substitutes for this an obsessive condemnation of puritanical anti-sexual bourgeois German mores. The director filled with stage with carnival imagery and every one worked hard to look like they were first having a wonderful time getting debauched, and then made miserable by repression, but it was just so simplistic and didactic and the piece lacked the sometimes startlingly haunting melodies of later Wagner operas. I admit I am no Wagnerite.
I did read through two more marvelous novels: Graham Swift's Last Orders, a poetic masterpiece, deeply moving, whose essential sense of the the humbleness of us all consoled and strengthened me; and Margaret Forster's Keeping the World Away. I have yet to read a book by Forster that doesn't deeply move me (this includes 2 personal memoirs, her biography of Daphne DuMaurier, and her fictionalized life of Elizabeth Browning's Lady's Maid). The center of Keeping the World Away is a picture painted by Gwen John, which I have had on my website for a number of years now: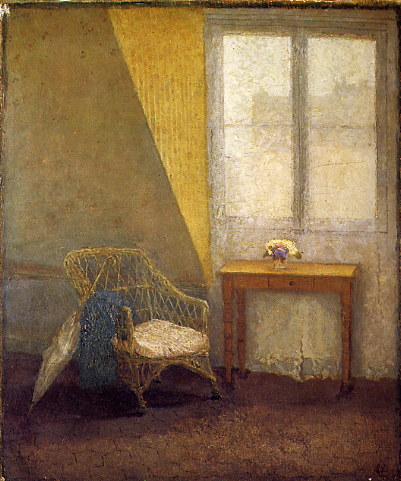 A Corner of the Artist's Room in Paris
The opening sequence narrates John's life up to painting this painting, and then we follow its adventures as it is owned and cherished by a series of women and men who either love art or themselves are artists. All of them are people living unconventional somewhat solitary lives, and the book is a dramatization of different kinds of artist's lives (the genius among a family of geniuses, the young woman who cannot herself create but loves art and with her wealth opens a runs an art gallery, the amateur who cannot paint well enough to sell her work, the professional success, teachers, students, the person who clings to the painting as an image of themselves). Along the way many perceptive things are said about art and the imagination. It's Forster who provides what makes the book superior—as Austen provides what lifts her romance novels into greatness.
One objection: the title suggests the character chose their solitude; what we see is they have no connections and usefulness to others, and are by chance and circumstances that occur over their lives left to live alone as no use to anyone, with their family members disbursed by 20th century world events.
By the end of our time there, Yvette had tired a little of the Olympics and was sometimes reading her new book, The Paris Diary of Ned Rorem. I began Azar Nafisi's Reading Lolita in Teheran for an umpteenth time and must admit I like it better than I ever have before, probably because I was reading it during the day. This time I much appreciated the autobiographical sections and how much books meant to her personally and the strong feminism of the book. Jim also kept up his blog reading, and to be truthful, all three of us were made much happer by having the two laptops and connectivity and finding ourselves able to reach friends while we were away. Next time I will take DVDs with me! I really regretted not having taken Harriet O'Carroll's Aristocrats based on Stella Tillyard's wonderful book. How I would've enjoyed that.
As we drove away in the morning and looked out across the countryside, we agreed we might not come here again as there is not enough for us to see and do, & it is too rainy. Next time we will just try for 2 Glimmerglass operas seen inside 2 days. I had had to read a couple of books (on the poetry of Vittoria Colonna and Laura Battiferri) whose attitude towards art and poetry is inimical to its core purpose. Yvette needed much sinus medicine and a muscle relaxant to get her through left-over stress. And the Admiral couldn't walk very far. Still we had seen a different place, another culture (small town life on the edge of disaster for many), much beauty, gotten away sufficiently away from our routines. Today I felt a distanced perspective on what I tend too much to lose distance from.
At the same time I am very glad to look forward to returning to my routes [routines] tomorrow.
E.M.
--
Posted by: Ellen
* * *
From Kathy:

"Dear Ellen,

I read your blog, a graceful interweaving of art and personal musings as usual.

We're a little burnt-out on the Olympics ouselves, waiting for track and field to begin. it's a big year for Des Moines. Shawn Johnson won a silver medal, and a track-and-field star, Lola, is also from Des Moines. It is rumored that she will run a race with a horse after this. (I'm sure it's a rumor.)"
— Elinor    Aug 16, 8:45pm    #
8/17/08, Sunday:

"Yesterday was also notable because despite the Admiral's bad toe (reminding me of his Lordship's leg in Gorey) he spent all day with Caroline buying her a car. Trips to Federal Credit Union and two car stores far apart from one another. She did need him there to consult with.

After she left (all gratitude though she is the one who will be paying—$300+ a month for the next 4 years), the 21st century father's real duties nowadays, where you are called upon to be there, had been made plain: he must be there for the divorce and buying the first cars. An irony I realized at the time: it was he, the father, who gave the evidence at the court hearing that she had not had sex (that was what he was asked to say even if in euphemisms) with Wally for over a year. So still the father is called upon for such evidence (and to give away the bride too), though what may be done with such information has altered radically. The Admiral had helped her buy the Saturn that was totalled (though it was our money it was conceived of as her car). And yes the father is to make money. But then the mother does that as well.

She got a Matrix; they are made by Toyotas. It's an ill wind does nobody any good. It's startling to see SUVs begin to vanish from the US scene. Yesterday in a parking lot I could actually see rows of sedans, normal size cars. I've noticed over the past two days suddenly I have no trouble finding a spot to park where I don't have mammoth hogs on either side of me blocking my view, nor in front of my wobbling about to topple over. As buying a car and getting rid of one is no trivial task (and costs) I am startled by how people behave. It's the speed of the changeover. It does mean the price of these medium-sized car has gone up.

But then when am I not startled by average human behavior? This is the sort of thing I should make blogs on and don't.

E.M.
— Elinor    Aug 17, 2:43pm    #
commenting closed for this article