A Landscape and Genealogy; "billycock" defined; Home-y World; Arabella as by James Tissot; More Class Scrutiny & Hierarchies and Costs of Fox Hunting (A Careful Examination of Class and Study in Materialism); A Genealogical Chart; Goarley and Gotobed (The innards of British versus American culture and mores); Luxuriating in Detail; Larry Twentyman; Early hunting scene unexpected; Gotobed ridiculous; Hunting Hypocracy; : Sympathies with Goarly and Reginald Morton; Fox-Hunting in other books; Surtees; World War One Memoirs; Fox-Hunting; More on the Genealogical Chart; Why All This Detail?; Hunting as a Bloodsport; Bloodsports; Transgressive Women Hunt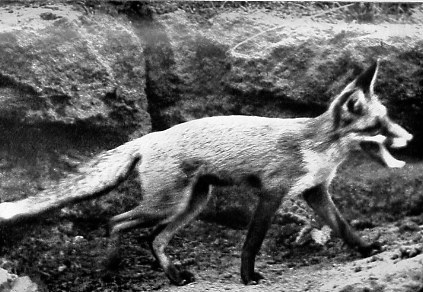 Photograph of fox, fleeing, crippled, in angered terror, circa 1910
To Trollope-l
March 7, 1999
Re: The American Senator, Chs 1-2: A Landscape and Genealogy
I had forgotten what a pleasure Trollope can be "at full length."
In her book on the Palliser novels, Juliet McMaster suggests that Trollope is a novelist of place. She suggests that that there is "an umbilical relation" between the characters and their location in each of Trollope's novels, and that the special flavour of his art derives from his "sensitivity to the influence of location." Certainly this opener is rich in consistent picturesque and realistic detail; Trollope is giving the world of this book a local habitation and a name we can lend all credence to. You can map the place just as surely as Monsignor Ronald A. Knox mapped Barsetshire. I can't place the map on our list but those who have it can look into the Wiunifred and James Geroulds' A Guide to Trollope, p 69, to see how it is worked out in detail down to small lanes, and very particular fields, yards, houses, meadows and gateways.
Not that it is cosy in tone. I think what I liked most about the first chapter is that throughout Trollope insists on the sense of ennui, tedium, and decline of Dillsborough:
"I never could understand why anybody should ever have begun to live at Dillsborough, or why the population there should have been at any time recruited by newcomers. That a man with a family should cling to a house in which he has once established himself is intelligible. The butcher who supplied Dillsborough, or the baker, ro the ironmonger, though he might not drive what is called a roaring trade, nevertheless found himself probably able to live, and might well hesitate before he would encounter the dangers of a more energetic locality. But how it came to pass that he first got himself to Dillsborough, or his father, or his grandfather before him, has always been a mystery to me" (p. 1).
Trollope has it both ways: he articulates the resignation adults must practice, the thrownness of our existence, as Heidegger calls it, or, more simply, how we are stuck. Yet Trollope lures us into this exercise in the longings of nostalgia. Note the difference in tones between this opener and that of the other "landscape" books we have read since Trollope-l opened: The Vicar of Bullhampton did not undercut the xenophobia of the community, in fact underlined it in a startling murder; Rachel Ray invited us into a fractured but beautiful and erotic pastoral. The Belton Estate was grim in its opening -- recall the suicide of the eldest son and the old broken old squire, another in the long line of figures based ultimately on Trollope's father. In Dillsborough we have a play of irony and disillusion and boredom with a rich energy and delight in creativity and vivid life in the small villages and towns of Southwestern England.
In this first chapter we are also given a brief history of our chief personages: Mr Reginald Morton of Hoppet Hall; and two important landlords: Lord Rufford who is important in the Ufford Rufford United Hunting Club (the name a joke, and Mr John Morton of Bragton Park and Mallingham. There's Mr Larry Twentyman, a gentleman-farmer (those of us who are Austenites might remember Mr Martin of Emma). We also have a Mr Gregory Masters, an attorney whose business is not flourishing. There are the minor characters or lesser people (I'm afraid the same thing in many Trollope novels): Mr Runciman of the Bush Inn (here in Washington DC an Englishwoman who runs a Theatre Company has made much money by holding Victorian Music Hall Shows called after holidays with the word "at the Bull and Bush"); Mr Ribbs, butcher; Mr Mainwaring, rector; Mr Surtees, curate. Runciman and Masters have wives; we hear of a Mrs Reginald Morton, and Mrs Mainwaring. We also have ostlers, people who produce pippins and land good for Burgundy pears and walnuts.
The second chapter gives us a history of the Morton family whose genealogy we are told we must understand in order that we understand how the Masters family has come to be the way they are. The two families impinge upon one another intricately -- as families in such a community once did and I suppose people working together today in offices or institutions do.
The genealogy of the Morton family is involved and complicated, especially as the same names keep repeating themselves. Realistic that. Also the reality that households could be made up of people more than 1 generation apart (early mortality was a reality in people's ordinary lives until after World War II -- and early marriage). Suffice to say one Reginald Morton was the original squire of Bragton, said to have been loved by his neighbours because he was intensely conventional and spent money. A great-grandson from his eldest son, John, who had married the daughter of a peer has now inherited Bragton; this is Mr John Morton. The present Mr Reginald Morton is a son of his second son, a Reginald Morton by a Canadian innkeeper's daughter. There was a lawsuit set on foot by the dowager Morton, grandmother of the oldest son's son, John, to deprive Reginald of the property left him under a will. The result is estrangement between the branches. This too is real: in the life of Ann Finch, later and unexpectedly Countess of Winchilsea, there is a grasping dowager who takes the children so that she can set a lawsuit on foot against another branch of the family she despises.
Trollope is very exact as to amounts of money, size of property, and relationships. He brings home to us what are bases for these people's relationships with one another as opposed to what they might profess (not that they do).
There is a ray of sunshine. The old squire had a daughter who became a childless widow, one Lady Ushant. She lived on in Bragton Hall, and when the attorney remarried and his new wife was not keen on the daughter of his first wife, Lady Ushant took in as her child-companion, Mary Masters. Mary was brought up in Bragton and at the time Reginald was living there, not yet ejected by the dowager or his great cousin. Trollope develops a long loving description of Bragton Hall as a sombre pile of stone in the old style, sad, more than a little desperate. There are no Disneylands in Trollope; nonetheless, the house has on its side the beauty of time and has not become a center for modern exploitation or display -- as yet. It even has deer in it.
And Chapter Two ends on a picture of a bridge, the "prettiest spot in Bragton, or, for that matter anywhere in the county round; but even here there is not much of beauty to be praised" (p. 15). The hunt does meet near it, and we will learn it was once a favorite haunt of Mary Masters and Reginald Morton when she was a small girl and he a young man growing up together.
Anyone want to correct or make further comments, please do. This is too rich in detail and ironies and moods for me to do more than summarise and comment upon lightly.
Ellen Moody
Subject: [trollope-l] The American Senator, Chs 1-2: A Landscape and a Genealogy
From: "Judy Warner"

I felt bad for Larry Twentyman--as I did for Farmer Martin--defeated by his billicock hat, dark green shooting jacket and gaiters, and his swagger. (What is a billicock hat--couldn't find it on the net--) Mary doesn't notice his manly limbs, but an old lady from London would enjoy his "manly symmetry." He seems to only be missing yellow gloves. Judy Warner

From Marcella MacCarthy:

While I still can--

billycock

App. the same as "bully-cocked", used 1721, prob. meaning 'cocked after the fashion of the "bullies"'. or hectoring blades of the period: A colloquial term for a round low-crowned felt hat worn by men, and sometimes also by young women.

1721 N. Amhurst Terrae-filius No. 46. 246 He [the Oxford 'smart'] is easily distinguish'd by a stiff silk gown..a flaxen tie-wig..a broad bully-cocked hat, or a square cap of above twice the usual size.

1862 Life among Colliers 35, I was told to take off my bonnet, and tie a billy-cock (wide-awake) tight down.

Mod. Newspaper. She&dd.is masculine from the crown of her billycock hat, to the point of her laced-up double-soled boots.

I never realised it was the same as a "wide awake"!

Marcella

Reply-to: trollope-l@onelist.com
Subject: [trollope-l] The American Senator

From Gene Stratton

Re: Home-y World

After reading the first few chapters, I have a very favourable impression of the novel. There's a homey atmosphere about it, in spite of Trollope's attempts to paint Dillsborough as dreary. Although the family genealogies are difficult to comprehend fully in just the few pages Trollope uses to write about them, I figure I'll either understand them better as the story develops more, or I can re-read them. The genealogies are used to good effect, along with the descriptions of other town people, to give us the novelist's unity of an interesting closed town. Trollope developed a knack (which wasn't apparent in La Vendée) for doing this in just a short amount of space.

When I first read about Rufford, I thought of the now (unfortunately, in my eyes) defunct county of Rutland (where Ruddles Ale is still made). However, further reading about Rufford (and Ufford) gave me the impression that these counties must be near Cheltenham, where Trollope once lived. Possibly some authority has traced the location more precisely, but until I see more, I'll think of the location as being in the Worcestershire-Gloucestershire area.

Ellen mentioned Arabella Trefoil as waiting to be introduced later. Called by some an anti-heroine, she is one of Trollope's most vivid characters. I have a book of the best known paintings of the French-English artist, James Tissot (whose works are used in general as illustrations of ladies' costumes of the period, and in particular for a number of the OUP World Classic cover ilustrations -- see, for example, PF, TPM, TDC, and Ayala's Angel). For me, Arabella Trefoil will always be the beautiful lady in a stunningly pink-peach gown entering some fashionable cafe on the arm of a white-haired gentleman; Tissot's painting is titled -- appropriately -- "L'Ambitieuse."

Gene Stratton
gwlit@worldnet.att.net

Subject: [trollope-l] The American Senator - more class scrutiny? & Hierarchies and Costs of Fox Hunting

From: Frazer Wright

One thing occurs to me about the opening of The American Senator that Ellen didn't touch on. Was Trollope, by his meticulous description of the boring, ordinary town of Dillsborough, in Ellen's words:
giving the world of this book a local habitation and a name we can lend all credence to
Was he also carefully underlining the point that the English class system, and its rigid rules of behavior extended beyond the Cathedral cities, like Barchester, and beyond the great houses and leisured classes? That it permeated right down to the everyday town and through everyday society? Even the ugly, boring, humdrum ordinary places.

Also, do not underestimate the importance of fox hunting to rural English society in the second half of the 19th century. It was the paramount sport of the wealthy: if you could afford it, you hunted six days a week. It was not simply a question of being there when the hounds tore a fox to pieces. For many, riding a good horse across testing countryside was a far greater attraction.

But fox hunting too had its complex and rigid rules of behavior, its own tiers of importance, its own class system. Hunt *servants* as they were known, were addressed by their surnames even when, as with some of the huntsmen of the end of the century, they were famous figures in the sport. Being an MFH (Master of Fox Hounds) was considered a far greater social cachet than being an MP (Member of Parliament.) The Prince of Wales, for instance, would easily mix with MFHs; he would almost certainly be offended to find some MPs (especial Liberals or radicals) in his presence at a function.

As with one of our older Mortons, the wealthy would hunt a pack of hounds at their own expense. In this way they could dictate everything about the pack. Not the least being who was allowed to hunt with you on a regular basis.

But by the 1870s, the cost of hunting a good (i.e. fashionable) country had climbed to astronomical proportions, and there were but a handful of wholly financed hunts left (the Rothschild staghounds at Waddesdon come to mind). This was not so much because of the escalating cost of keeping twenty (ten couples) or thirty (fifteen couples) of hounds, or even a kennel staff, whipper in and huntsman.

A hunt is full flight does much damage to fences and crops of farmers. This has to be paid for - and the farmers were (as always) not reluctant to bemoan the sheer cost to them of this or that fence being demolished. So most hunts raised some, if not all of their operating costs through subscriptions and/or *caps* - a daily fee for participating.

So again, I see the first few chapters of this book as a careful examination of class and also a study in materialism as well as a novel. Perhaps the remainder of the book will prove me wrong!

Frazer Wright

From: afjkm1@UAA.ALASKA.EDU

This novel begins wonderfully--especialy after La Vendée. The contrast really illuminates the depth of Trollope's knowledge of the English scene, perhaps especially the complicated, intense social politics of what appear to strangers to be boring, ugly, and insignificant places. Dillsborough is its inhabitants' world, and it's not a bit deficient to them as it's the scene where all their hopes and fears must be answered. The superimposition on it of the "Secretary of Legation" and his presumably sophisticated guests promises both pain and pleasure.

Judith Moore
Anchorage, Alaska

Reply-to: trollope-l@onelist.com
Subject: [trollope-l] The American Senator - more class scrutiny?

From: "Angela Richardson"

I agree that class plays a big part in the opening section. We have been given lots of information about Goarly, universally bad, but he has dared to claim, not only for his fences but also for his crops eaten by pheasants. He has only Mrs Masters to stick up for him, which is another shot across his bows, to mix a metaphor. Yet he is not really a farmer with a position, but just a person with two fields. The hunting club, made up of people of different middle and lower classes, is universally against him.

Angela

March 9, 1999

Re: The American Senator: A Genealogical Chart

From Gene Stratton A Genealogical ChartThanks to Ellen for mentioning the Dillsborough map in the Geroulds' book. I photocopied it and keep it with

TAS. Ellen asks who is now living at Hoppet Hall?

To keep the characters straight, I made a genealogical chart, and it helps considerably. I'm going to try to put the chart in prose form below in case anyone else is interested (and if I made any mistakes, please correct me).

At the top is Mr. Reginald Morton, the "Old Squire", highly respected, who didn't die until 1855. He had 3 children, John, Reginald, and Margaret. John, the older son, mar. a daughter of a viscount (the Honorable Mrs. Morton, who is still alive as the story opens). He died before age 30, but had a son, John.

His son, John the second, died before the Old Squire, after he married and had a son. This son, the third John, is the Secretary of Legation who inherited Bragton Hall. He was about age 7 in 1855, and thus was born ca. 1848. So in 1875 he would be about 27.

Going back to the Old Squire, his second son, Reginald, was in the army, went to Canada, and married the daughter of a bankrupt innkeeper. Both this Reginald and his wife died during the lifetime of the Old Squire, but they had a son, the second Reginald. This Reginald was born in 1835 (he was also said to be 19 in 1855 when the Old Squire died), and the story apparently picks him up when he is 40, which would indicate that the story begins in 1875 (this fits, since the novel was written in 1876-7). He inherited Hoppet Hall and won the lawsuit so he could keep it.

The Old Squire's third child, Margaret, married Sir William Ushant, who died leaving her as the widowed Lady Ushant. She apparently had no children of her own, but befriended Mary Masters, the only daughter of attorney Gregory Masters by his first wife (she has two half-sisters by her father's second wife).

Thus Trollope is perfectly correct in pointing out that the living second Reginald Morton is the first cousin once removed of the living third John Morton.

The living Mortons in 1875 would thus be:
The third John Masters (Sec. of Legation and owner of Bragton Hall).

His grandmother, the Honorable Mrs. Morton.

His cousin, the second Reginald Masters, who owes Hoppet Hall.

His great aunt (and Reginald's plain aunt), Lady Ushant.
Gene Stratton
gwlit@worldnet.att.net

Reply-to: trollope-l@onelist.com Subject: [trollope-l] The American Senator: Goarley and Gotobed

From: Lmatlantic@aol.com

Goarley does not accept his lot. He protests. He demands his rights. He has the poor judgement/audacity- to step out of his assigned place in the hierarchy. By god, he actually behaves as if he has RIGHTS! He is not behaving like a "good" Englishman who does his duty, who accepts what his "betters" tell him and follows their rules. He complains. He makes himself noticed. By gum, he actually goes outside the system. He moves out of the herd.

It sounds as if he is not an Englishman, but an idiosyncratic American!

What Trollope appears to be doing is exploring the innards of British (versus) American culture and mores. Through Goarly. Gotobed and the entire Dillborough cast of characters, we are seeing the values of the two cultures. We are being shown what is sacrosanct.

Dillsborough

A town of "no attractions,..with no character of its own, a declining population." What is Trollope telling us? Is he only talking about this one town?

Gene's Chart

Thank you Gene. Frankly, I was befuddled by the lineage. I tried to follow it and just gave up in semi disgust. Why all this detail? I hoped that this was not a harbinger of the novel. As I have read on, it has indeed cleared up. I wonder why Trollope inflicted it all on us.

I am interested in Mrs. Masters being described as "not at any rate as yet a cruel stepmother." I immediately think that sweet Mary will be (yet another Trollope) Cinderella. I wonder if she will be described as small and brown. We shall see.

Laurie

From: Frazer Wright

Gene Stratton wrote:
However, further reading about Rufford (and Ufford) gave me the impression that these counties must be near Cheltenham, where Trollope once lived. Possibly some authority has traced the location more precisely, but until I see more, I'll think of the location as being in the Worcestershire-Gloucestershire area.
Interesting thought. I approached it from the point of view of topography and fox hunting, and thought Dillsborough must be in the so-called Shires, but not really in a top notch country like Market Harborough or Melton Mowbray. Perhaps Northamptonshire - Towcester, Weedon or Brackley ? These are somewhat featureless places - but with good hunting country around.

Reply-to: trollope-l@onelist.com
Subject: [trollope-l] The American Senator: More and Customs

From Gene Stratton

Trollope -- quite naturally -- takes for granted that his readers understand (or can easily learn about) the laws and customs of his times, and thus while giving us considerable detail on character development, often slides over procedural information. We don't have this knowledge and thus must do some gueswork, both educated and uneducated, to understand what has transpired.

In Chg. 1 of TAS, we learn that Legation Sec. John Morton "had been an absentee since he came of age -- soon after which time he inherited the property." In Ch. 2 we are told that this "John, the great grandson, and his little sisters, were at once taken away from Bragton by the honourable grandmother. John, who was then about seven years old, was of course the young squire, and was the owner of the property. The dowager, therefore, did not undertake an altogether unprofitable burden."

I would guess that the procedures would have been for the Hon. Grandmother to have gone to court to be declared the legal guardian of the minor John, and she would have had the usufructuous benefit of his property. His great aunt, Lady Ushant, probably more justified by custom than law, remained on the property, apparently being supported by the rents, which would have legally belonged to the Hon. Grandmother, who did not like her but did not evict her either. What I don't understand is how Trollope can say that John inherited at age seven and came of age at the same time. I would have thought that "of age" at that time meant twenty-one.

Trollope, incidentally, makes one of his infrequent mistakes, probably because of the confusion he created himself with the complicated family relationships, when he has "Mr. Morton, with his mother" meeting the Trefoils. Morton must have been accompanied by his Hon. Grandmother, not his mother.

It's interesting that Trollope uses "throven" instead of "thrived." Also, I assume that when Runciman says a fellow like Goarly should be "put down," he's talking about putting him in his place, not killed as injured domestic animals are put down -- but maybe I'm wrong. I

Im also glad to see that if I call on someone who is not home, and I leave my card, now that person is obliged to return my call. The definition that "a squire is a country gentleman who lives on his own property" seems too loose and would make for too many squires.

An organization to which I belong has invited members to send e-mail congratulations to a fellow member who is just turning fifty. In mine I'll make good use of a quote from Trollope: "A man of twenty-eight is apt to regard a man of forty as very much too old for falling in love. It is a mistake which it will take him fully ten years to rectify, and then he will make a similar mistake as to men of fifty."

As we well know, Trollope has an abundance of maxims useful to the writer, such as one in the currect assignment, "How often in the various amusements of the world is one tempted to pause a moment and ask oneself whether one really likes it?" I'll have to remember to take a pause sometime.

Aside to John Mize: I think I read somewhere (possibly in Trollope) that in England when a fox goes to earth, the hunters release a ferret to go down the hole and "ferret him out."

Gene Stratton
gwlit@worldnet.att.net

Subject: [trollope-l] What is meant by shires?


From: Frazer Wright

Ellen inquired:
These I recognize, but what is meant by the shires? Are not all the counties shires?
This is one of those English conundrums which I am familiar with, and which, foolishly, I assumed everyone else would understand. I'm sure there is a more formal and topographical explanation, but in fox hunting terms the shires are really those Midland counties (particularly Leicestershire, Northamptonshire, Warwickshire and Buckinghamshire) where fox hunting was considered at its best, both because of the country (not too much plough land which slowed everything up, and good fences to jump) and because there was not too much industry - plenty of space between towns. Strangely enough, the coming of the railways helped hunting: it provided passage to a meet without having to worry about the distance involved in riding back if the day's events took an unexpected geographical turn.

There was good hunting country elsewhere in England, but Worcestershire, for instance, was much ploughed or had vast orchards -- and the area around Cheltenham, especially to the East and North East took you into the hilly areas of the Cotswolds. Not good for lengthy, high speed chases across country.

Not all English counties are necessarily shires, by the way. Surrey, Middlesex, Essex come to mind, although there was good, if different hunting in the latter.

I'm glad someone mentioned R. S. Surtees, one of my favorite authors. He is seldom read outside England today (and not much in it, although there is a small, but flourishing Surtees Society which has reprinted his nine novels. His biting satire of English society and fox hunting is known by few - how many of our American List members have ever read him?. Thackeray certainly admired Surtees, and I think I have read somewhere that Trollope enjoyed his works too. But Surtees never ventured far into politics. He was too taken up with ther absurdities of English life, class and sport!

Just one interesting addendum. I was interested to see that some of our American Listees took exactly the same instant (and anti-establishment) view as the Senator - and immediately offered their support for Goarley, without knowing the man's record and the full facts of his case. Time will tell whether this sympathy and support was misplaced!

Frazer Wright

To Trollope-l

March 8, 1999

R: The American Senator: Luxuriating in Detail; Larry Twentyman

My basic response was I am going to enjoy this one.

Probably because we recently read it, Larry Twentyman reminded me of Will Belton. They seemed to come out of the same mould. Larry is the man who can be snubbed and patronised; Will is the man who could snub and patronise but would never dream of it. But both are plain, passionate, with good hearts, well-meaning, sincere, awkward -- and in love with one of the sweet heroines. Trollope himself identifies with this type again and again. We are supposed to feel bad for them, but Larry is not going to be the hero in the way Will was. There are too many other strong and upper class males around The hat is an important piece of symbolic visibilia.

I agree with Gene that Tissot's paintings often bring Trollope characters before us. I love the new Oxford classic paperback policy of providing reprints of Victorian paintings for the novels. Victorian realistic paintings are coming back. I could spend hours myself looking at them; anyone who is interested ought to try a library or the Net (used bookstore site) for any of Christoper Woods' books. As I remember Arabella, she is a vast improvement upon Lizzie Eustace who remains an exaggeration, something of an impossible monster. Trollope feels for Arabella -- thought Arabella and Augusta (her mother's name) are not names Trollope gives to his favorite female characters.

There are many years & novels between La Vendée (written 1849, Trollope's 3rd novel) and The American Senator (written 1875, his 36th!). Like Frazer, I see a very conscious attempt to lay out a world which the narrator will then scrutinise what we could call sociologically and culturally. I should say we are going to have a lot of hunting, and when I read this book a couple of years ago I bought myself a book on hunting. The hunting is not just a diversion or interlude with some thematic references (as in Can You Forgive Her? and Orley Farm). It's important to know what's happening; I knew the Master of the Hounds was someone, but not that Big. Is not Chiltern a Master of the Hounds to make money for himself? And Goarly does have a case.

II of course fall right in with Trollope's dislike of Mrs Masters and the dowager Morton. He hits all the right buttons with their snobbery, mercenary, bullying and alienating tendencies. Mrs Master's fancy room which no one ever goes into is still with us. There is anti-feminism here since Trollope does not unfavourably characterise Runciman -- he accepts Runciman's self-interested behaviour.

I did find the grandfather's relationship to the present John Morton (his great-grandson, that is the grandson of the old man's oldest son) confusing until I realised the present Reginald is from an earlier generation (the old man's grandson, the son of a younger son). Lady Usant is Reginald's father's sister but John's father's great-aunt; that is she is the old squire's widowed daughter. Oh dear. The criss-crossing is real but confusing. Reginald is also near 40 -- and much older than Mary or Larry Twentyman. I had to reread several times before I could get it straight and I still don't understand who is the present Mrs Reginald Morton living in Reginald's house (Oxford _The American Senator_, ed JHalperin, Ch 1, p. 4). Is that Reginald's mother? the Canadian innkeeper's daughter? The Honorable Mrs Morton who is coming back to Bragton with the Secretary of the Legation is the Secretary's grasping grandmother who started the lawsuit and the present Reginald's aunt (pp. 28 & 37); she is we are told nowadays the one referred to as the "old lady." As Gene says, when they come onto the stage and come alive for us, it will come out all right.

Ellen Moody

Reply-to: trollope-l@onelist.com
Subject: [trollope-l] The American Senator: Early hunting scene unexpected

From: Janice Durante

March 9, 1999

I was not expecting Trollope to give us a hunting scene so early in THE AMERICAN SENATOR. I find this to be one of the most humorous and ironic hunting scenes I have read. The running conversation between Mr. Morton and the Senator reveals a dual point of view -- we get to see the insider's as well as the outsider's view. Morton takes on the job of explaining when they're hunting, why, and so on. The two men's responses to one another are as funny as they are telling.

For instance, the closing dialogue at the end of "Goarly's Revenge":
"Now they are hunting," said Mr. Morton to the Senator.

"They all seemed to be very angry with each other at that narrow gate." ...

"How long will it be now before they catch him?" (Senator)

"Very probably they may not catch him at all."

"Not catch him after all that! Then the man was certainly right to poison that other fox in the wood. How long will they go on?"

"Half an hour perhaps."

"And you call that hunting! Is it worth the while of all those men to expend all that energy for such as result? Upon the whole, Mr. Morton, I should say that it is one of the most incomprehensible things that I have ever seen in the course of a rather long and varied life. Shooting I can understand, for you have your pheasants. Fishing I can understand, as you have your fish. Here you get a fox to begin with, and are all broken-hearted. Then you come across another, after riding about all day, and the chances are you can't catch him!"
Neither of the two men can comprehend the other's views. I think Trolllope accomplished a great deal with that scene. He used each man's opinion of hunting to represent a vast range of contrasting national traits. The Senator's view seems the essence of capitalism: What's the product, the outcome, the profit? The British, however, took an indirect, subtle, "tasteful" approach, involving how does one go about living the upper-class life? Tally ho! It's the trappings that matter!

Wasn't Trollope looking through both lenses and exploring their superficialities? Or am I seeing something in this that he didn't intend?

Janice Durante

Re: The American Senator: Gotobed ridiculous?

Maybe I am premature in this, but I do think that Sen. Gotobed comes off rather ridiculous. There is hunting in the USA and in fact I just read about a similar controversy in the northern part of America. Nothing as drastic as what happens in this book, but certainly a boundry dispute because one of the landowners is appalled at the sport because the poor fox is torn apart. His land is going to be a wildlife refuge or some such thing. However there are other parts of America that still enjoy the sport and have some kind of arrangements with local landowners. Yes, it is a rank or wealth thing as it is in the book. So Gotobed is being hypocrital don't you think for getting upset about their hunting when the same thing prabably happens in his country?

Penny Klein, M.L.S.
pklein28@mindspring.com

Reply-to: trollope-l@onelist.com
Subject: [trollope-l] AS: Hunting Hypocracy

From: Sigmund Eisner

Penny: There is a difference between what was actually happening in America and what the English view of America was. In America hunting might have taken place in the 19th century along the east coast, where imitation of English manners was more frequent. But out in the wilds of Minnetonka, or wherever Senator Gotobed came from, there was little recreation beyond survival. The English indeed looked on the Americans as excessively pragmatic, but of course the American westerner (read Midwest today) lived in a wild country that had been settled by Europeans only recently, and pragmatism was the order of the day. Senator Gotobed is an exaggeration of what most English then thought about their American cousins. Trollope, I'm sure, knew he was creating a figure of fun. He knew the American west very well. Once when he was riding a steamboat on the upper Mississippi and the boat broke down, he took advantage of the stop to investigate a cottage he saw. When he got there he was amazed at the amount of English literature he found in this western hovel. The American pioneers were not exactly as the English saw them, but then Trollope knew they weren't.

Sig

Re: The American Senator: Sympathies with Goarly and Reginald Morton; Fox- Hunting in other books; Surtees; World War One Memoirs;

Laurie wrote:
Goarley does not accept his lot. He protests. He demands his rights. He has the poor judgement/audacity- to step out of his assigned place in the hierarchy. By god, he actually behaves as if he has RIGHTS!
Joe Strummer doesn't think things have changed much in the UK, or at least he didn't circa 1982. One of the Clash's songs begins something like "You have your rights, as long as you're not foolish enough to actually use them." My sympathies are definitely with Goarley and Reginald Morton. Like Morton, I dislike Larry Twentyman while at the same time I realize that I am being unfair to the man. Larry is convinced that England just wouldn't be England without fox hunting. Anyone who values his own crops over good sport for the country gentry is simply a "beast." Maybe that sort of narrow, single-minded attention to one thing is necessary for one to be truly excellent at that one thing. In Ford Madox Ford's The Good Soldier the wife of a polo-playing English gentleman soldier is asked why she doesn't try to introduce a little culture into her husband's life. She maliciously replies, "I have an idea it might injure his hand--the hand used in connection with horses' mouths."

In Siegfried Sasoon's semi-autobiographical trilogy, The Complete Memoirs of George Sherston, one of the characters who is modeled on Robert Graves despises fox-hunting. His hatred of fox-hunting and fox-hunting is part of his disgust with the British establishment. Sherston, the Sasoon surrogate, is an avid fox-hunter. When pseudo-Graves says that fox-hunters are fools, Sherston replies that Surtees was a fox-hunter and he was no fool. The Graves character agrees, but he adds that Surtees was probably a snob.

By the way did Trollope like Surtees? Having a character named Surtees in a novel which includes fox-hunting can't be an accident. Thackeray, in characteristically self-deprecating hyperbole, once said that he would gladly give up everything he had ever written for having written Mr. Facey Romford's Hounds. I doubt if Trollope would be that enthusiastic.

Do influential, powerful people in the UK still hunt foxes or are the heavy hitters all Thatcherite neo-utilitarians by now? I remember watching C-Span a few years back and seeing a Labor MP support a bill to outlaw fox hunting in the UK. I assume the bill was soundly defeated, and I had the impression that the MP wasn't completely serious. He was having much too much fun mocking fox-hunters. He repeated the old saying about fox-hunting being the "unspeakable in pursuit of the uneatable," and he also said something about fox-hunters dressing like Mr. Toad of Toad Hall.

My grandfather used to hunt foxes, but his fox hunting was of the American Southern variety. Instead of riding to hounds, the hunters let the dogs go off on their own, while they sit around the campfire, drinking whiskey and telling stories. They listen to the dogs and know, or pretend to know, what is going on from the sounds the dogs make. There isn't too much horsemanship involved. In the days before all terrain vehicles, you did ride to the campsite, and you did ride back. If you had a little too much whiskey, you trusted your horse to know the way home. We do have English style fox-hunting in our part of the country now. There is an English style fox hunting club about 15 miles from Athens, Georgia, but I know nothing about what they do or who they are.

John Mize

Reply-to: trollope-l@onelist.com
Subject: [trollope-l] The American Senator: Foxhunting

From Gene Stratton

John Mize mentioned seeing on C-Span an M.P. trying to proscribe foxhunting in England. There was another recent program on the same subject -- I think on A&E -- showing an M.P. (possibly the same one) trying to do the same. The program covered in detail the very agitated pro and con camps, and concentrated especially on the preparations of one local hunt club for an all-England march to London to protest the bill. These hunters did not seem to be of the aristocracy -- I'd say rather middle middle class. The final march on London was impressively large, with some hooting and jeering along the way. The bill failed, and the M.P., who seemed serious, said he would come back some other day.

There was an old movie, often reshown on TV, starring Kirk Douglas, called "The List of Adrian Messenger," which had both foxhunting scenes and portrayals of the antis making their protests.

A question came up (directly or indirectly) on the list as to whether there is English-style foxhunting in the U.S. The answer is a more or less yes. Middleburg and Warrenton, VA, about 50 miles west of Washington, DC, seem to be the foxhunting capitals of this country, although it's also quite popular in Maryland. I've had some fringe experience with the subject because my roommate in college had a brother who was master of hounds in a Warrenton hunt club, and I had another friend who invited me to his father's estate in Middleburg, which raised houses trained for foxhunting.

I checked with Bella Stander, who is on the Thompson Trollope list, and who is knowledgeable on foxhunting from her vantage point in Charlottesville, VA, although she says she is not an expert. Bella confirms the popularity of English-style foxhunting in her part of the U.S., but with a difference -- the fox is not killed. I asked how that could be with hounds in hot pursuit. She said she thought the hounds were used to chase the fox to ground, but then called off, so the fox could play some other day. In England if a fox is not cornered above ground, Bella thinks a terrier would be sent to dig the fox out of the hole so the hunt leader could then dispatch the fox with club or something. Or perhaps so the hounds could then get at it. The hunt leader cuts off the tail (brush) and head (mask) as trophies, and then lets the hounds tear the body to pieces. Bella finds the English way cruel, but she enjoys the heart-pounding fun of the chase even if not seeing a fox at all. "To me, there is nothing more soul-satisfying and exhilerating than a gallop across beautiful countryside on a crisp fall day, unless it's on a warm spring one."

I gather that the thrill of foxhunting is to lead the horses on a complete random rough ride. Bella says that she's heard some experienced foxes and coyotes seem to enjoy the game as much as their pursuers, and even slow down to let the pack catch up a little to have more fun. For more technical questions, Bella recommends contacting the Chronicle of the Horse in Warrenton, or is it Middleburg?

I wonder if Trollope, in the person of Senator Gotobed, might not be betraying his ignorance of American foxhunting. Although he is from western U.S., he is also located in Washington, DC, very close to the real hunt country. I suspect the views of the senator are mostly AT's guesswork. Gene Stratton gwlit@worldnet.att.net

Re: More on the Genealogical Chart

Let me first reciprocate the thank you and express gratitude for that clear chart Gene shared with us. The family tree of the Mortons is a bit confusing.

Second, from Gene's chart we see the Canadian inkeeper's daughter, mother of the present Reginald is dead; therefore the present Mrs Reginald Morton who is living at Hoppett Hall cannot be Reginald's mother. Gene contacted me off-list with a theory about this mystery, and on-list I'll say we are in present time so the woman who is Mrs Reginald Morton cannot be Reginald's wife. He is unmarried. If the first chapter were presented as occurring after the novel were over and we then in the second chapter returned to present time, Mrs Reginald Morton could be the wife Mr Reginald ends up with. That is not so. I bring this out on list so we can all see we've got a mystery at least for the moment.

Now Trollope writes that "the present occupier of the house [Hoppett Hall] is a certain Mrs Reginald Morton, with whom we shall also be much concerned in these pages but whose introduction to the reader shall be postponed for a while" (Oxford The American Senator, Ch 1, p. 4). Since Trollope is not a Wilkie Collins, and the sentence implies we are going to be much concerned with this character pretty soon, I expect all will be revealed either next week or the one following. If not, tuck the secret lady away in your mind and await developments.

On hunting and Senator Gotobed: I think Janice was quoting a slightly later scene. Her commentary does cohere with Frazer's point (which I agree with) that there is a serious critical scrutiny going on here over the class system. Hunting was associated with the aristocracy. In Ireland rebels picketted the hunters (stopped them from hunting) when there were boycotts. The name Gotobed suggests a caricature, but Trollope also means us to take Gotobed's criticism seriously. That hunting goes on today or even in Gotobed's time doesn't make what happens in England okay. Trollope has some fun with American customs and hypocrisies in the presentation of Gotobed himself. Take the absurd name.

As Gene wrote also, wealthy and not-so-wealthy people foxhunt in Virginia. In the countryside when foxes are breeding, hunting clubs run point-to-point and other races to which the hoi polloi (meaning people like my husband and I) can come. And we do.

Ellen Moody

Re: The American Senator: Why All This Detail?

I use Laurie's question as a way to share the name and location of an essay I have just read which I found very interesting. I suggest Trollope gives us all this detail because he thoroughly gave himself over imaginatively to each novel world he invented. He tells us he lived with his characters and over long periods of time: laughed, cried, watched them change, dreamed, and argued with them. He also understood he was creating simulacrums of the English countryside or small town; London he simply described vividly. Many readers may not joy in this recreation but at least some novelists do. That's one reason they write novels. Not to advertise myself at all since homepages mean nothing (in the sense of career moves), but rather to show a novelist who also threw herself into the creation of the worlds of her novels and their timeframes to the point that one can draw from her novels a nearly-consistent calendar of diurnal as opposed to psychological time, I would invite people to look at a couple of the calendars which undergird Austen's novels as I have described them there (). You can also make family trees for her characters.

To the essay: in 1951 in "Chronology and History in Trollope's Barset and Parliamentary Novels", Nineteenth Century Fiction 5 (1951), pp.303-316, Frank Robbins did for all the Barset and Palliser novels what John Sutherland recently did for a whole group of 19th and 20th century novels in his Can Jane Eyre Be Happy? and Is Heathcliff a Murderer?. Robbins does not write with the wit, verve, and panache that Sutherland writes, but the idea is the same. He goes through the Barsetshire and Palliser novels to find their calendars, the relationships between the places and consistencies in realistic detail, and to show us inconsistencies. He does this because it's fun. It also shows up certain important realities and priorities in Trollope's books.

I will point out two here: First, it's impossible to separate the Barsetshire and Palliser series once you go into the invention of the characters, their recurrences or reappearances, and the dovetailing of the calendars. For example, The Small House pinpoints Plantagenet Palliser's engagement to Lady Glencora McCluskie in April of the 17th year after Trollope wrote The Warden. To backtrack: the Barsetshire and Palliser novels follow a series of years which are internally consistent (with a few errors). They begin in the year 1, The Warden; go on to 6 years later, Barchester Towers; then begin again 3 years later, Dr Thorne. As Trollope writes on, there are fewer years between novels, and in the case of Phineas Finn, The Eustace Diamonds begins in PF's first year, and the last year of ED coincides with the first year of Phineas Redux. A linchpin month and year in which things in the Palliser novels relate back to is April of the 17th year after The Warden. This is recurred to more than once. We are told once in Can You Forgive Her? that Lady Midlothian drove Lady Glen into marrying Plantagenet; the scene is first partly visualised in The Duke's Children. Of course you can make maps, and the maps for Barsetshire picture the countryside scenes in which a good deal of what happens in the Palliser series takes place.

Second, the years for both series coincide with years in England while Trollope was writing them. Here we meet with many more inconsistencies and extrapolations (and metaphoric recreations), but the connection and movement forward throughout all 12 novels is clear.

People who write novels throw themselves into deeply creative reveries out of which they set down what they are imagining. It's remarkable how consistent Trollope's worlds are. I don't know that one can really call his achievement over 12 novels a roman fleuve because his characters are more old-fashioned and remain innately what they are with universal traits in certain ways. Still what we find in Dillsborough is explained for us by what we find in Barsetshire.

On another tack: I too assumed that Trollope was describing southwestern England. Partly I thought of Exeter where his mother's cousin and relatives lived, where he visited, and where He Knew He Was Right and Kept in the Dark were set. It could equally be Worcester-Gloucester or specifically Cheltenham where he and Rose lived while he set up postal routes in the 1850s. I suppose hunting country in England in the 19th century was everywhere, though there were places which were better for hunting. Frazer mentions Northamptonshire - Towcester, Weedon or Brackley. These I recognize, but what is meant by the shires? Are not all the counties shires?

The imagined landscape around Rachel Ray was also located realistically; so too The Belton Estate.

I'm curious how Trollope is thought of as the quintesentially contemporary 19th century Englishman, the one who is not rural, the depicter of London and Parliament, and yet so many of his stories are placed in the hidden bye-ways of western England, Ireland, and Wales and he has scenes in Westmoreland and the Lakes again and again.

Ellen Moody

To Trollope-l

March 12, 1999

Re: The American Senator: Bloodsports; Transgressive Women Hunt

Is not hunting a bloodsport? Chris has said that in America the fox is no longer torn to bits, but in England in Trollope's time it was. Gene says (and I agree) that people hunt to exhilarate themselves, to retreat into a pastoral country environment, for the exercise itself. Trollope includes these reasons in his Hunting Sketches. Although hunting was a sport for wealthy people, and in Ireland, a strong political football, Trollope claimed that he enjoyed hunting because it brought all sorts of people into equal contact. Rather like the army or war where nature overrules class, status, wealth, but Trollope also insists that farmers go, all sorts of people join in.

He doesn't bring out one element very strongly but it is also clear in the texts: bloodlust. Man is a violent animal. Trollope is a very much a man's writer in many ways (pace Felber). I am always aware of how sensual he is, how he loves woman as physical sexual beings; in life he was vitally alive physically and revelled in the senses from cigar smoking to hiking vast miles to careening about the world living to the edges of his skin. To be near a horse and master it is an experience which requires that the man dominate a large active nervous animal (horses are not smart like dogs either). It is a physical experience. And then there's the blood. The hounds tearing the fox to pieces. In other novels Trollope talks of how his male characters love rat-killing -- we know of chicken fights. No one today would accuse boxing of being upper class, and it is a bloodsport. I do not like to watch boxing.

I would be very reluctant to join any foxhunt lest the final kill-scene distress me and I embarrass others and ruin their "fun." However, I can't say that would be my reaction for sure as I have never hunted and only been physically close to a horse but once in my life. Living in Virginia and married to an Englishman who seems to like horses and betting (although he's originally working class and has never ridden nor hunted), I have gone to point-to-point and other kinds of races during fox-breeding season. I see the people who are part of these clubs; they seem bourgeois and many dress in the 19th century outfits of English fox-hunters. I see the horses in the padlocks. They look handsome, some sleek, some powerful, to my eyes.

But hunting? It's violence. People are violent creatures. As far back as we can go in our evolutionary history we find men hunting in packs; they have few weapons but the sheer willingness to brute force, and they kill their animal. And it's sex. Again and again in the 19th century hunting and riding are used as metaphors to define the kind of sexuality and power a character has. Meredith's heroines love to ride; they are powerful riders. Burgo Fitzgerald rides a horse to its death (what he could do to Lady Glen -- and the analogy is made explicit). As women hunt men, so men hunt foxes. When Arabella Trefoil goes hunting men in this novel, her activity is likened to hunting. A woman who went hunting in this period was seen as aggressive, sexy, transgressive

There are many perspectives we can take on this hunting material. Let us keep them all in mind: the class and money faultline; the pastoral and exhilarating escape; the camaraderie; the violence; the bloodlust; the sex; and the metaphoric uses to which hunting lends itself.

Ellen Moody
---
Home
Contact Ellen Moody.
Pagemaster: Jim Moody.
Page Last Updated 1 September 2004