General Bibliography on 19th Century Book Illustration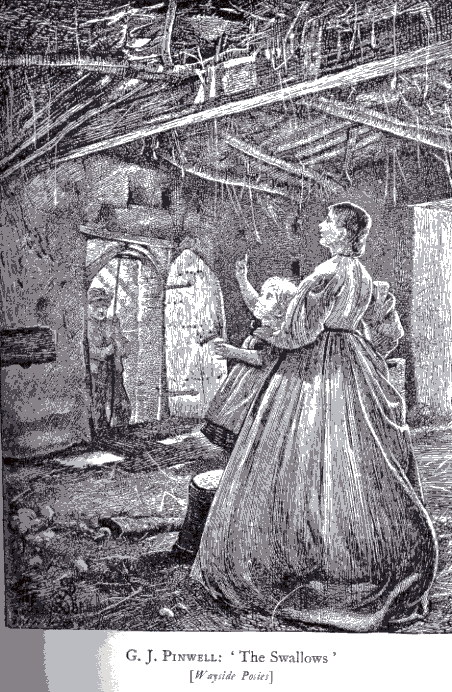 J. G. Pinwell, "The Swallows", appeared in Wayside Posies, reproduced in Forrest Reid, Illustrators of the Eighteen Sixties
Scholarly Articles, Books, Reproductions of Pictures
Allentuck, Marcia. 'Narration and Ilustration: Problems in Richardson's Pamela, Philological Quarterly, 51 (1972), pp. 874-76.
Arnheim, Rudolf. Visual Thinking. Berkeley: University of California Press, 1969.
---------------. Towards a Psychology of Art: Collected Essays. Berkeley: University of California Press, 1972.
Bachelard, Gaston. The Psychoanalysis of Fire, translated by Alan C. M. Ross. Boston: Beacon Press, 1964.
-----------------. The Poetics of Reverie, translated by Daniel Russell. Boston: Beacon Press, 1969.
Baker, C. H. Collins. 'Sir James Thornhill as Bible Illustrator', Huntington Library Quarterly 10 (1946-47), pp. 323-27.
Benjamin, Walter. 'The Work of Art in the Age of its Technical Reproducibility', Benjamin: Philosophy, History, Aesthetics, ed. Gary Smith. London: 1989, pp. 158-74.
Bentley, G. E., Jr. Annual compiled bibliographies of Blake's illustrative work in An Illustrated Blake Quarterly; e.g. (most recently) "William Blake and His Circle: A Checklist of Publication and Discoveries in 1999", An Illustrated Blake Quarterly, 32 (2000), pp. 135-67; index.
Burton, Anthony. 'Cruikshank as an Illustrator of Fiction', The Princeton University Library Chronicle, 35 (1973-74), pp. 93-178.
---------------. 'Thackeray's Collaborations with Cruikshank, Doyle, and Walker', Costerus, 2 (1974), pp. 141-87.
Cameron, Julia Margaret. Victorian Photographs of Famous Men and Fair Women, introduced by Virginia Woolf and Roger Fry. 1926; reprinted London: Chatto and Windus, 1992.
Chazal, Gilles. 'Gustave Doré', The Dictionary of Art, ed. Jane Turner. New York: Macmillan, 1996. 34 Vols. Vol 9, pp. 169-71.
Cohen, Jane R. Charles Dickens and his original illustrators Columbus : Ohio State University Press, 1980.
Crane, Walter. The Decorative Illustration of Books. 1896; reprinted London: Studio Editions, 1994. As an important illustrator of the period, Crane is well-placed to talk of the choices his contemporaries made; this is also a sensible book about how books are put together and what the artist's role is.
Daniels, Morna. Victorian Book Illustration. London: The British Library, 1988. Much information, many reproductions and perceptive discussions.
Doré, Gustave; see his Dante, Inferno, Purgatorio & Paradiso, translated by Henry Francis Cary and illustrated by Gustave Doré. 2 vols, 1861, 1868; reprinted London, 1988.
Eaves, T. Duncan. 'Graphic Illustrations in the Novels of Samuel Richardson', Huntington Library Quarterly, 14 (1950-51), pp. 349-438.
----------------. 'The Harlowe Family by Joseph Highmore: The Illustration of Richardson's Clarissa', Huntington Library Quarterly, 7 (1943-44), pp. 89-96.
Engen, Rodney K. Dictionary of Victorian Wood Engravers. Cambridge, England, 1985.
Fildes, Paul. 'Phototransfer of Drawings in Wood-block Engravings', Journal of the Printing Historical Society, 5 (1969), pp. 87-97.
Finley, Gerald. Landscapes of Memory: Turner as Illustrator to Scott. London: 1980.
Fish, Arthur. John Everett Millais. New York: Funk and Wagnalls, 1923. Rich in full-page coloured plates.
Fried, Michael. 'Absorption: A Master Theme in Eighteenth-Century French Painting and Criticism', Eighteenth-Century Studies, 9 (1976), pp. 139-77.
Goldman, Paul. Victorian Illustrated Books, 1850-1870: The Heyday of Wood- Engraving. Boston: David R. Godine, 1994. An indispensable book for any study of book illustration in the period; rich in reproducations and information.
-------------. Victorian Illustration: The Pre-Raphaelites, the Idylllic School and the High Victorians. Aldershot, England: Scolar Press, 1996. An important source for reproductions, bibliographies and sensitive analyses of the idyllic school.
Gombrich, E. H. The Essential Gombrich: Selected Writings on Art and Culture, ed. Richard Woodfield. London: Phaidon, 1996. if the reader wants one book which is a 'must read' before proceeding to think about whatever illustrations he or she means to write about or meditate, this is the one. It contains his 'The Visual Image: its Place in Communication', 'Psychology and the Riddle of Style', 'Truth and the Stereotype', 'The Necessity of Tradition'.
--------------. Meditations on a Hobby Horse and Other Essays on the Theory of Art. London, 1963, pp. 12-29, 95-105, 120-42.
Gordon, Catherine. 'The Illustration of Sir Walter Scott: Nineteenth-Century Enthusiasm and Adaptation', Journal of Warbourg and Courtauld Institutes, 34 (1971), pp. 297-317.
Gray, Basil. The English Print. London: Adam and Charles Black, 1937. A lucid, thorough and intelligent study.
Grigaut, Pual. 'Marmontel's Shepherdess of the Alps in Eighteenth-Century Art', Art Quarterly, 1949.
Hammelmann, Hans. Book Illustrators in Eighteenth-Century England.
Harrison, Martin and Bill Waters. Burne-Jones. London: Barrie and Jenkins, 1974.
Harvey, John. Victorian Novelists and their Illustrators. New York: New York University Press, 1971. Harvey trashes the idyllic school in favor of the caricaturists, but otherwise this is one of the best twentieth century studies of the relation of book illustrations to their texts in the period.
Hemstedt, Geoffrey. 'Some Victorian Novels and their Illustrators', unpublished Ph.D. diss. Princeton University, 1971.
Hilton, Timothy. The Pre-Raphaelites. London: Thames and Hudson, 1970. Perceptive historical book.
Hobson, Anthony. J. W. Waterhouse. London: Phaidon, 1989.
Hodnett, Edward. Five Centuries of Book Illustration. Aldershot, England: 1988.
Höltgen, Karl Josef, Peter M. Daly and Wolfgang Lottes, edd. Word and Visual Imagination: Studies in the Interaction of English Literature and the Visual Arts, ed. Erlangen-Nürnberg, 1988. Includes: Allen Samuels, 'Thomas Rowlandson and the Business of Art', pp. 209-21; Wolfgang Lottes, 'The Lady of Shallott: Tennyson's Poem and Some Victorian Illustration', pp. 269-99; Peter M. Daly, 'Modern Advertising and the Renaissance Emblem: Modes of Verbal and Visual Persuasion', pp. 369-71.
Houfe, Simon. The Dictionary of Nineteenth Century British Book Illustrators and Caricaturists. Woodbridge, Suffolk: Antique Collectors Club, 1996. Essential encyclopedic source of information; it contains many reproductions of the original illustrations.
Hunt, John Dixon. The Pre-Raphaelite Imagination. Baltimore: Johns Hopkins Press, 1973.
---------------. The Figure in the Landscape. Baltimore: Johns Hopkins Press, 1976.
Hussey, Christopher. The Picturesque. London: Frank Cass & Co, 1967.
Kitton, Frederic G. Dickens and his Illustrators. 1899; reprinted London, 1975.
Landow, George P. 'William Holman Hunt's The Shadow of Death', The Rylands University Library,
Life, Allan R. 'The Periodical Illustrations of John Everett Millais and Their Literary Interpretation', Victorian Periodicals Newsletter, 9 (1976), pp. 50-68.
-------------. '"Poetic Naturalism": Forrest Reid and the Illustrators of the Sixties', Victorian Periodicals Newsletter, 10 (1977), pp. 47-68.
Lucie-Smith, Edward and Celestine Dars. How the Rich Lived: The Painters as Writers, 1870-1914. London: Paddington Press, 1976. Rich in reproductions.
Lukitsh, Joanne. 'Julia Margaret Cameron's Photographic Illustrations to Alfred Tennyson's The Idylls of the King', Arthurian Women, ed., introd. Thelma S. Fenster. London: Routledge, 2000, pp. 247-62.
Lutman, Stephen. 'Reading Illustrations: Pictures in David Copperfield', Reading the Victorian Novel: Detail into Form, ed. Ian Gregory, New York, 1980, pp. 196-225.
Lutyens, Mary, ed. Young Mrs Ruskin in Venice: Her Picture of Society and Life with John Ruskin, 1849-52. New York: Vanguard, 1965. Effie Ruskin sounds like one of Trollope's heroines.
-------------. Millais and the Ruskins. New York: Vanguard, 1967. Given Trollope's close relationship with Millais, this book is important for a study of the illustrations to Trollope's novels.
Macmillan, John Duncan. 'Holman Hunt's Hireling Shepherd: Some Reflections on a Victorian Pastoral', The Art Bulletin, 54 (1972), pp. 187-97.
Maidment, B. E. Reading Popular Prints, 1790-1870. Manchester: Manchester University Press, 1996.
Mancoff, Debra N. The Return of King Arthur: The Legend Through Victorian Eyes. New York: Harry M. Abrams Pub, 1995. This is a study of the relationship between the paintings and illustrations of the legend and Victorian mores; there are numbers of collocations between the illustrations of the idyllic school and those studied here (e.g., the closeness of the depiction of King Arthur by Charles Ernest Butler to the idyllic depictions of Arthur Fletcher in Trollope's Prime Minister).
Manners and Morals: Hogarth and British Painting, 1700-60. London: Tate Gallery, 1987. A set of twelve paintings taken from the illustrations of Pamela by Joseph Highmore, Catalogue Nos. 134-45, also pp. 156-59.
May, Jim. "Recent Studies of Illustrations and Prints", The East-Central Intelligencer, The Newsletter of the EC/ASECS, N. S. Volume 15, No. 1 (January 2001), pp. 58-77. This is a superb selective bibliography which surveys publications since 1988 on scholarship on 18th century engraved prints and book illustrations for books in English, but includes studies of atlases, cartography and maps. A longer version may be found at http://www.personal.psu.edu/special/C18/c18-l.htm.
Meynell, Alice. 'How Edwin Drood was Illustrated', Century Illustrated Monthly Magazine, 27 (February 1884), pp. 522-28.
Millais, John Everett. Illustrated Edition of The Parables of Our Lord, introduced by Mary Luytens. 1864; reprinted New York: Dover, 1975.
Miller, J. Hillis. Illustration. Cambridge: Harvard University Press, 1992.
Newell, Christopher. Victorian Watercolours. London: Phaidon, 1987. Lavishly illustrated, it contains two interesting chapters on book illustration.
Panofsky, Erwin. Meaning in the Visual Arts New York: 1955.
Paulson, Ronald. Rowlandson: A New Interpretation. New York: Oxford University Press, 1972.
---------------. Hogarth: His Life, Times and Art. New Haven: Yale University Press, 1974.
Pennell, Joseph. 'A Golden Decade in English Art', The Savoy, 1 (January 1896), pp. 112-24.
---------------. 'English Book Illustration, 1860-70', Journal of the Society of Arts, 44 (3 April 1896), pp. 455-64.
Peters, Robert L. Victorians on Literature and Art. New York: Appleton-Century Crofts, 1961. A rich source book filled with significant essays by Victorians.
Poggioli, Renato. 'The Added Artificer', On Translations, ed. Reuben Brower. Oxford: 1966, pp. 137-47.
Quennell, Peter. Romantic England: Writing and Painting 1717-1851. London: Wiedenfeld and Nicolson, 1970.
Ray, Gordon. The Illustrator and the Book in England from 1790 - 1914. 1976; reprinted New York: Dover, 1991. A definitive chronicle of book illustration in the period. Ray has another much longer volume on illustration from the fifteenth through twentieth century (much material on the Renaissance across Europe), written as an exhibition catalogue for the Pierpont Morgan Library.
------------. Art of the French Illustrated Book, 1700-1914. New York: Pierpont Morgan Library in associaton with Dover, 1986.
Reid, Forrest. Illustrators of the Eighteen Sixties: An Illustrated Survey ofthe Work of 58 British Artist. 1928; reprinted New York: Dover, 1975. This extraordinary book, with its sensitive informed analyses of the illustrations and styles of the period and its 91 plates is indispensable for any serious study of the famous decade's visual art in illustrations and its significance. See also Glesson White (below).
Rosenberg, John D. The Darkening Glass: Portrait of Ruskin's Genius. New York: Columbia University Press, 1961. Remains central for understanding this influential man.
Rothstein, Eric. '"Ideal Presence" and the "Non Finito" in Eighteenth-Century Aesthetics', Eighteenth-Century Studies, 9 (1976), pp. 307-32.
Steig, Michael. Dickens and Phiz Bloomington, Indiana: 1978.
Stevens, Joan. 'Thackeray's Vanity Fair', Review of English Literature, 6 (1965), pp. 19-38.
-------------. '"Woodcuts Dropped into the Text": The Illustrations in The Old Curiosity Shop and Barnaby Rudge', Studies in Bibliography, 20 (1967), pp. 113-34.
Sullivan, Edmund J. 'Arthur Boyd Houghton: An Artist's Artist', The Print Collectors' Quarterly, February 7, 1923, pp. 91-122; April 1923, pp. 124-48. Includes interesting reproductions of this popular idyllic artist.
Sussman, Herbert. 'Hunt, Ruskin and The Scapegoat, 12 (1969), pp. 83-90.
Sypher, Wylie. Rococo to Cubism in Art and Literature. New York: Vintage, 1963, pp. 91-145. Although condescended to, this brilliant book contains an illuminating and useful explanation of the development of psychologically picturesque style.
Thorpe, J. English Illustrators: The Nineties. New York: Hacker Art Books, 1975
Treuherz, Julian. Victorian Painting. London: Thames and Hudson, 1993. An informative book filled with reproductions and perceptive commentary.
The Victorians: British Painting, 1837-1901. Washington, D. C.: The National Gallery of Art, 1997. A significant exhibition catalogue, filled with information, perceptive commentary, and many reproductions of significant paintings.
Ward, Mrs. E. M. Memories of Ninety Years, ed. Isabel G. McAllister. New York, 1925.
Whiteley, William T. Artists and Their Friends in England, 1700-1799. 1928; reprinted New York: Benjamin Blom, 1968. Two Volumes. This book is particularly rich in details on the lives of more obscure painters and illustrators of books.
Wildman, Stephen and John Christian. Edward Burne-Jones, Victorian Artist- Dreamer. With essays by Alan Crawford and Laurence des Cars. New York: The Metropolitan Museum of Art, 1998.
Witemeyer, Hugh. George Eliot and the Visual Arts. New Haven, Connecticut: Yale University Press, 1979.
Whitaker, Muriel. 'The Women's Eye: Four Modern Arthurian Illustrations', Arthurian Women, ed., introd. Thelma S. Fenster. London: Routledge, 2000, pp. pp. 263-87.
White, Gleeson. English Illustration 'The Sixties', 1855-70. 1897; reprinted Bath: Kingsmead, 1970. Together with Forrest Reid's book (see above), this thorough listing of periodicals which carried illustrations, their preferred styles and short biographies and analyses of the included illustrations is indispensable. It forms a basis for beginning.
Heinrich Wöfflin, Heinrich. Principles of Art History: The Problem of the Development of Style in Later Art, translated by M. D. Hottinger. 1932; reprint New York, 1950
Wood, Christopher. Victorian Painters: A Dictionary of British Art. Woodbridge, Suffolk: Antique Collectors Club, 1990. 4 Volumes. Essential encyclopedic volumes overflowing with colour and black-and-white reproductions.
-----------------. Victorian Panorama: Paintings of Victorian Life. London: Fabet and Faber, 1976.
-----------------. Paradise Lost: Paintings of English Country Life and Landscape, 1850- 1914. London: Barrie and Jenkins, 1997. A rich resource of coloured reproductions.
There are scattered comments on the visual nature of Trollope's imagination and his illustrators scattered in books and essays on Trollope's work in general, his art or in essays focused on other novels. Trollopiana often includes contemporary illustrations of Trollope's novels in its issues.
---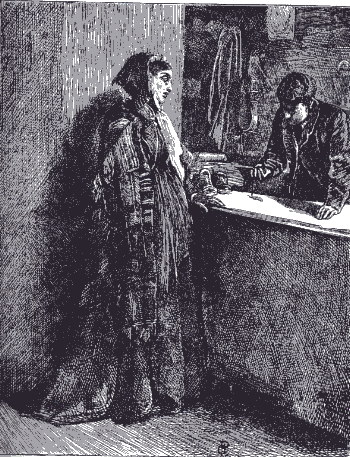 J. G. Pinwell, "Home", appeared in The Quiver (1867), reproduced in Forrest Reid, Illustrators of the Eighteen Sixties
---
Home
Contact Ellen Moody.
Pagemaster: Jim Moody.
Page Last Updated 17 February 2004