A Bibliography of Secondary Studies of Epistolary Literature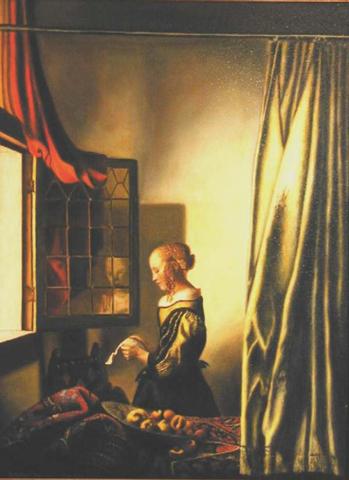 Johannes Vermeer (1632-1675), A Girl Reading a Letter by an Open Window (1657-1659)
Like the other bibliographies on this site, this is a working bibliography because I use it myself and add to it as my studies progress. It is mostly limited to secondary studies of letters and everything that concerns this form. The emphasis is on the eighteenth century, but I have many items of general interest and of interest to people working on letters in other eras. I make no pretence to completeness and am happy to add items which readers who come here feel ought to be here.
Alliston, April. Virtue's Fault: Correspondences in Eighteenth-Century English and French Women's Fiction Stanford: Stanford University Press, 1996
Allen, Ralph. Ralph Allen's Own Narrative, 1720-1761, ed. Adrian Hopkins Bath: Postal History Society 1960.
Altman, Janet Gurkin. Epistolarity: Approaches to a Form: Columbus: Ohio Univ Pr, 1982.
------------------------------. 'The Letter Book as a Literary Institution 1539-1789: Toward a Cultural History of Published Correspondences in France', Yale Studies, Speical Issue, "Men/Women of Letters,' ed by Charles A. Porter, 71 (1986), 17-62;and "Epistolary Conduct: The Evolution of the Letter Manual in France int he Eighteenth Century," Transactions of the Eighth International Congress on the Enlightenment, ed. H. T. Mason. Oxford: Alden Press, 1992, pp. 866-69.
Anderson, Howard and Philip B. Caghlian and Irvin Ehrenpreis, ed. The Familiar Letter in the Eighteenth Century. Lawrence: University of Kansas, 1966.
Anselment, Raymond A. "Katherine Paston and Brilliana Harley: Maternal letters and the genre of mother's advice," Studies in Philology, 101/4 (2004): 431-453.
Bachelard, Gaston. The Poetics of Reverie, trans. Daniel Russell. Boston: Beacon, 1960 This book contains a stimulating discussion of epistolary love.
----------------. Epistolary Fiction in Europe, 1500-1850. Cambridge : At the University Press, 1999.
Beer, Gillian, "Our Unnatural No-voice: The Heroic Epistle, Pope, and Women's Gothic," Modern Essays on Eighteenth-Century Literature, ed. Leopard Damrosch. Oxford: Oxford Univ Press, 1988, pp. 379-411.
Bion, Jean, "Une lettre au-dessus de tout soupçon", in Laclos et le libertinage, 1993, pp. 191-98.
Black, Frank J. The Epistolary Novel in the Late 18th Century: A Descriptive and Bibliographical Study, Studies in Literature and Philology, No. 2. Eugene, Oregon: University of Oregon Press, 1940.
Blum, Carol O'Brien. "The Epistolary Novel of the Ancien Regime," Ph. D. Dissertation, Columbia University, 1966.
Bochenek-Fanczowa, Regina. Le Roman épistolaire à voix multiples en France de 1691 à 1782. Cracow: Nakladem Universytetu Jagiellonskiego, 1986.
Bossis, Mireille et Charles A. Porter, ed. L'Épistolarité a travers les siècles, Centre Culturel International de Cerisy La Salle France. Stuttgart: Franz Steiner Verlag, 1990.
Bourgeac, Jacques, "A partir de la lettre XLVIII des Liaisons dangereuses: analyse stylistique", Studies on Voltaire and the 18th Century, 183, 177-188.
Bowler, Hugh, "The Caryll Letter," The Month, 161 (1933):265-71.
Bowstead, Diana. 'Charlotte Smith's Desmond, Fetter'd or Free: British Women Novelists, 1670-1815, ed. Mary Anne Schofield and Cecilia Macheski. Ohio: Ohio University Press, 1986.
Bray, Bernard. 'Quelques Aspects du système épistolaire de Mme de Sévigné,' Revue d'Historie littéeraire de la France, 69 (1969), pp. 494-500.
-------------. L'Art de la lettre amoureuse: Des manuels aux romancs 1550-1700 The Hague: Mouton, 1967.
Bray, Bernard and Christophe Strosetzki, edd. Art de la letter, art de la conversation a l'epoque classique en France. Paris: Klinkseick, 1995.
Brouard-Arends, Isabelle, ed. Lectrices d'Ancien Regime. Rennes: Presses Universitaires de Rennes, 2003.
Brown, Homer Obed. 'The Errant Letter and the Whispering Gallery', Genre 1977 (10), pp. 573-99.
Browne, Christopher. Getting the Message: The Story of the British Post Office. London: Alan Sutton, 1995.
Bulckaert, Barbara, "L'Education de la femme dans la correspondence d'Anna Maria van Schurmann (1607-1678) and Andre Rivet (1572-1651)", La Femme Lettree, ed. Michel Bastiaensen (Herent: Peeters, 1997).
Calas, Frédéric. Le Roman épistolaire. Paris: Nathan, 1996.
Carrell, Susan Lee. Le soliloque de la passion féminine ou le dialogue illusoire: Étude d'une formule monophonique de la littérature épistolaire. Tubingen: Narr, 1982.
Carroll, John, ed.. Samuel Richardson: Twentieth Century Views. New Jersey: Prentice Hall, 1969.
Carroll, M. G. 'Morality and Letters in La Nouvelle Héloïse, Forum for Modern Language Studies, 13 (1977), pp. 359-67.
Carteggi: Le figure dell'espistolare, Carte semiotiche, 9 (1984), pp. 13-126, 2 (1986), pp. 68-81.
Case, Alison. "Tasting the Original Apple: Gender and the Struggle for Narrative Authority in Dracula", Narrative, 1:3 (Fall 1993), pp. 223-243. This is a study of narrative form in Dracula, which is at its core a group of interwoven epistolary narratives.
Cherewatuk, Karen and Ulrike Wiethaus, edd. Dear Sister: Medieval Women and the Epistolary Genre. Philadelphia: Univ of Pennsylvania Press, 1993.
Chartier, Roger. La correspondance: Les usages de la lettre au xixe siècle. Lille: Librairie Arthème Fayard, 1991.
Chartier, Roger, "Introduction: An Ordinary Kind of Writing: Model Letter and Letter-Writing in Ancien Regime France," Correspondence. Models of Letter-Writing from the Middle Ages to the Nineteenth Century, ed. Roger Chartier, et. al., trans Christopher Woodall. Cambridge, UK: Polity, 1997:1-23.
Cherpack, Clifton. 'Space, Time, and Memory in La Nouvelle Héloïse, L'Esprit Créator, 3 (1963), pp. 167-71
Clifford, Gay. 'Caleb Williams and Frankenstein: First Person Narratives and "Things as they Are"', Genre 10 (1977), pp. 601-17
Clough, Cecil H. "The cult of Antiquity: Letters and Letter Collections," Cultural Aspects of the Italian Renaissance: Essays in Honor of Paul Oscar Kristeller, ed. Cecil H. Clough. Manchester: Manchester UP, 1976: 33-67.
Cohn, Dorit. 'Narrated Monologue: Definition of a Fictional Style', Comparative Literature, 18 (1966), pp. 97-11.
Cook, Elizabeth Heckendorn. Epistolary Bodies: Gender and Genre in the 18th Century Republic of Letters. Stanford University Press, 1996.
------------------------------------------. 'Going Public: The Letter and the Contract in Fanni Butlerd, Eighteenth Century Studies, 24 (1990), pp. 21-45
Couchman, Jane and Ann Crabb, edd. Women's Letters Across Europe, 1400-1700. Ashgate, 2004.
----------------------------. "Reading Early Modern Women's Letters," Attending to Early Modern Women, edd. Adele Seeff and Susan Amussen. Newark: University of Pennsylvania Press, 1998: 100-2.
---------------. "Charlotte Bourbon's Correspondence: Using Words to Implement Emancipation,", Women Writers of Pre-revolutionary France: Strategies of Emancipation, ed. Colette H. Winn and Donna Kuizenga. NY: Garland Press:101-15.
---------------. "Charlotte de Bourbon, Princess of Orange: Letters and Documents," Writings of Pre-revolutionary France, ed, Anne R. Larsen and Colette H. Winn. NY: Garland Press, 2000:107-21.
Craveri, Benedetta. A review essay, 'Talk!', translated from the Italian by Tim Parks, New York Review of Books 47:1(20 Jan 2000), pp 60-64.
Curtis, Judith, "The Epistolières," French Women and the Age of Enlightenment, ed. Samia I. Spencer, preface by Germaine Brée, introduction by Elizabeth Fox-Genovese. Bloomington: Indiana University Press, 1984. See pp. 226-41. See also Susan R. Kinsey, "The Memorialists," pp. 212-25.
Dalton, Susan. Engendering the Republic of Letters: Reconnecting Public and Private Spheres in Eighteenth-Century Europe. Monreal and Kingston, Ithaca, London: McGill-Queen's University Press, 2003. This is a study of the correspondence of four women: Julie de Lespinasse, Marie-Jeanne Roland, Giustinia Renier Michiel in Venice, Elisabetta Mosconi Contarini.
Daunton, Martin. Royal Mail: The Post Office since 1840. London: Athlone Press, 1985
Davis, Natalie Demon. Women on the Margins: Three Seventeenth-Century Lives. Cambridge, Mass: Harvard UP, 1995. From the correspondence (letters, memoirs, papers) of Glikl Bas Judah Leib, Marie de l'Incarnation, and Maria Sibylla Merian.
---------------------. Fiction in the Archives: Pardon Tales and their Tellers in Sixteenth-Century France. Stanford, CA: Stanford UP, 1987.
Day, Robert Adams. Told in Letters: Epistolary Fiction Before Richardson. Ann Arbor: University of Michigan Press: 1966.
Daybell, James, ed. Early Modern Women's Letter Writing, 1450-1700. New York: Palgrave/St Martin's Press, 2001. Reviewed by Elaine V. Beilin in Renaissance Quarterly, 55:1 (2003), 231-35.
----------------. "Women's Letters and Letter-Writing in England, 1450-1603," Shakespeare Studies, 27 (1999).
---------------- and C. Brown, edd. Women's Letters and Letter Writing in England, 1450-1700. Ashgate (?), forthcoming.
Decker, William Merrill. Epistolary Practices: Letter Writing in America before Telecommunications. Chapel Hill NC: University of North Carolina Press, 1998
Derrida, Jacques. The Post Card: From Socrates to Freud and Beyond, trans. Alan Bass. Chicago University Press, 1987
----------------. "The Violence of the Letter: From Lévi-Strauss to Rousseau", Of Grammatology, trans. Gayatri Spivak. Baltimore: Johns Hopkins Press, 1976, 101-40 .
Didier, Béatrice. L'Écriture -- femme. Puf: Écriture, 1981.
Doglio, Maria Luisa. 'Scrivere come donna: fenomemologia della 'Letter' familiari di Alessandra Macinghi Strozzi', Lettere italiane, 36 (1984), pp. 485-97.
-------------------. Lettera e donna: Scrittura epistolare al femminile tra Quattro e Cinquecento Rome: Bulzoni, 1993.
Doody, Margaret Anne and Peter Sabor, edd. Samuel Richardson: Tercentary Essays. Cambridge: Cambridge Univ Press, 1989.
Dowling, William. The Epistolary Moment. Princeton: 1991.
Duisit, Lionel. Mme Du Deffand épistolière Genève: Droz, 1963
Ehrenpreis, Irvin, and Robert Halsband. The Lady of Letters in the Eighteenth Century; Papers Read at a Clark Library Seminar, January 18, 1969. Los Angeles: William Andrews Clark Memorial Library, University of California, 1969.
Ellis, Kenneth. The Post Office in the Eighteenth Century: A Study in Administrative History. Oxford: Oxford Univ Press, 1958.
Farrell, Michelle. Performing Motherhood: The Sevigny Correspondence. NHampshire: Univ of New England Press, 1991.
Favrett, Mary. Romantic Correspondence: Women, politics, and the fiction of letters. Cambridge: At the University Press, 1993.
Fantoni, G. L. "Un carteggoi femminile del sec. XV: Bianca Maria Visconti e Barbara di Hohenzollern-Brandeburgo Gonzaga (1450-68)," Libri e documenti, 72 (1981):6-29.
Francis, R.A. `The Abbé Prévost's First-person Narratives.' Studies on Voltaire and the 18th Century, No 306. 1993.
Fuller, Wayne E Fuller. Morality and the Mail in Nineteenth-Century America. Urbana IL: University of Illinois Press, 2003
Galgano, Michael J. "Negotiations for a Nun's Dowry: Restoration Letters of Mary Caryll, OSB and Ann Clifton, OSB", American Benedictine Review, 24 (1973):278-98.
George, Margaret. Women in the First Capitalist Society: Experiences in Seventeenth-Century England. Urbana: University of Illinois Press, 1988. A chapter on the letters of Lady Brilliana Harley.
Gerber, David A. "Epistolary Ethics: Personal Correspondence and the Culture of Emigration in the Nineteenth Century," Journal of American Ethnic HIstory, 19:4 (Summer 2000): 5-23.
Godfrey, Frank Singer. The Epistolary Novel: Its Origin, Devleopment, Decline and Residuary Influence. Philadelphia: University of Pennsylvania Press, 1933.
Goldsmith, Elizabeth, ed. Writing the Female Voice: Essays on Epistolary Literature. Boston: Northeastern Univ Pr, 1989.
Grassi, Marie-Claire, "Friends and Lovers (the codification of intimacy)," Yale French Studies 71 (1986): 77-92.
----------------------------. L'Art de la lettre au temps de La Nouvelle Héloïse et du Romantisme. Slatkine, 1994
----------------------------. Lire l'épistolaire. Paris: Dunod, 1998.
Guillen, Claudio, "Notes toward the Study of the Renaissance Letter," Renaissance Genres: Essays on Theory, History, Interpretation, ed. Barbara K. Lewalski. Cambridge: Harvard UP, 1986: 70-110.
Gutwirth, Madelyn, "La Delphine de Madame de Staël: Femme, Révolution et mode épistolaire," in La Réception de Delphine, ed. Simone Balayé. Paris: Cahiers, Staëliens 26-27, 1979.
Halsband, Robert. "Lady Mary Wortley Montagu as Letter- Writer." PMLA: Publications of the Modern Language Association of America, 80 (1965), 155-163.
Headrick, Daniel. When Information Came of Age. Oxford: Oxford University Press, 2000.
Hofstadter, Dan. The Love Affair as a Work of Art. New York: Farrar, Strauss, Giroux, 1996.
Horowitz, Louise K. 'The Correspondence of Madame de Sévigné: Letters or Belle-Lettres?' French Forum 6 (1981), pp. 13-27
How, James. Epistolary Spaces: English Letter Writing from the Foundation of the Post Office to Richardson's Clarissa. Vermont: Ashgate Press, 2003. Includes a chapter on the correspondence between the Countesses of Hertford and Pomfret.
Huddleston, Heather. The Body of the Letter: Epistolary Fictions and Historical Practices. This is a dissertation on epistolary fictions which focus on the relationship between the way letters are presented and used in novels and the actual activities of the cuPost Office and its history. It may be an Indiana University, Pa, 1999 Ph.D. or UCI.
Jack, Ian. 'The Epistolary Element in Jane Austen', English Studies Today, Second Series (1961), pp. 173-86.
James, Carolyn. The Letters of Giovanni Sabadino Degli Arienti (1481-1510). Florence and Perth: Olschki, 2001.
Jensen, Katherine Ann. Writing Love: Letters, Women, and the Novel in France, 1605- 1776 (Ad Feminam: Women and Literature) Southern Illinois University Press, 1995
Jost, Francois. 'Le Roman épistolaire et la technique narrative au XVIIIe siècle', Comparative Literautre Studies3 (1966), pp. 397-427.
------------------------. Essais de littératire comparée, Tome II. Urbana, Illinois: University of Illinois Press, 1968.
Kany, Charles. The Beginnings of the Epistolary Novel in France, Italy, and Spain. The University of California Publications in Modern Philology, 21 (1937), pp. 1-158.
Kaplan, Deborah. 'Female Friendship and Epistolary Form: Lady Susan and the Development of Jane Austen's Fiction,' Criticism, 29 (1987), pp. 163-78.
Kauffman, Linda S. Discourses of Desire: Gender, Genre and Epistolary Fiction. Ithaca: Cornell University Press, 1986.
Keane, Angela. "Helen Maria Williams's "Letters from France," in Women writers and the English nation in the 1790s. Cambridge University Press, 2000, pp. 48-80; see also her "Helen Maria Williams's Letters from France: A National Romance," Prose Studies 15 (1992), 271-94.
Kenyon, Olga, ed. 800 Years of Women's Letters, foreword P. D. James. London: Penguin, 1992.
Keirstead, Christopher. "Going Postal: Mail and Mass Culture in Bleak House," Nineteenth Century Studies, 17 (2003):91-106.
Kinkead-Weekes, Mark. Samuel Richardson: Dramatic Novelist. Ithaca: Cornell University Press, 9173.
Kirby, Joan. "Women in the Plumpton Correspondence: Fiction and Reality," Church and Chronicle in the Middle Ages: Essays Presented to John Taylor, edd. Ian Wood and G.A. Loud. London: Hambledon, 1991: 219-32.
Kloocke, Kurt, ed. Madame de Staël -- Charles Villiers -- Benjamin Constant: Correspondance. Frankfurt: Peter Lang, 1993.
Kraus, Dalton. 'The Voices of Hydra: Diderot versus Falconet', The Eighteenth Century24 (1983), 211-26.
Laycock, Kelly. 2003. "I have sent you a Glas of Eye Watter: Maternal advice and Political Voice in the Early letters of Lady Brilliana Harley. Paper presented in a Conference on Culture and the State, University of Alberta, May 2003.
Lenta, Margaret. 'Form and content: A Study of the Epistolary Novel;, UTC: Studies in English, 10 (1980), pp. 14-30.
"The Letter in History": A 1995 Conference held at the University of Warwick.
Lewalski, Barbara Keifer, "Writing Resistance in Letters: Arbella Stuart and the Rhetoric of Disguise and Defiance," Writing Women in Jacobean England, ed. Barbara Keifer Lewalski. Cambridge: Cambridge UP, 1993, pp. 66-92.
Lipking, Lawrence. Abandoned Women and the Poetic Tradition. Chicago: Univ. of Chicago Press, 1988.
Lodge, David. The Art of Fiction. London, 1992 (Chapter 5: "The Epistolary Novel").
Lowenthal, Cynthia. Lady Mary Wortley Montagu and the Eighteenth Century Familiar Letter. Athens, Ga: University of Athens Press, 1994. This derives from her dissertation: "Lady Mary Wortley Montagu and the Eighteenth-Century Familiar Letter." Ph. Diss. 1987
MacArthur, Elizabeth J. Extravagant Narratives: Closure and Dynamics in the Epistolary Form. Princeton: Princeton Univ Press, 1990
----------------------------------. 'Devious Narratives: Refusal of Closure in Two Eighteenth-Century Epistolary Novels', Eighteenth Century Studies, 21 (1987), pp. 1-19.
Markus, Manfred. "Towards an analysis of pragmatic and stylistic features in 15th and 17th century English letters," Language and Computers, New Frontiers of Corpus Research, edd. Peters, Pam, Peter Collins and Adam Smith. Papers from the Twenty First International Conference on English Language Research on Computerized Corpora Sydney 2000. Amsterdam: Rodopi. 179-198.
Mary Humiliata, Sister. 'Standards of Taste Advocated for Feminine Letter Writing, 1640-1797. Huntington Library Quarterly: 261-77.
Mason, Margaret, "Nuns of the Gerningham Letters: Elizabeth Jerningham (1727-1807)", and Frances Henrietta Jerningham (1745-1824)" RH, 22 (1995):350-69; "Nuns of the Jerningham Letters: the Hon. Catherine Dillon (1752-1797) and Anne Neville (1754-1824): Benedictines at Bodney Hall," RH, 23 (1996):34-78.
Matthews, William, compiler. British Diaries: An Annotated Bibliography of British Diaries Written beween 1442 and 1942 and British Autobiographies: An Annotated Bibliography of British Autobiographies Published or Written Before 1951 Both thick books which contain hundreds of entries were published by the University of California Press, in 1950 and 1955 respectively. As these forms are often epistolary, these books are important tools for the person interested in epistolary narrative.
Maurice, Susan. M. Familiar letter in early modern English : a pragmatic approach. Philadelphia, PA : John Benjamins Pub. Co., 2002. PR914 .F58 2002.
May, Georges. "The Witticisms of M. de Valmont," Esprit Créateur, 3 (1963), pp. 181-187.
McCutcheon, Elizabeth and Sara Jayne Steen, "The Cloak of Language: Interpreting Women's Letters," Attending to Women in Early Modern England, edd. Betty Travistsky and Adele F. Seefe. Newark: University of Delaware Press, 1994:103-5.
McKenzie, Alan. Sent as a Gift: Eight Correspondences from the Eighteenth-Century. Athens: University of Georgia, 1993.
McKillop, A. D. 'Epistolary Technique in Richardson's Novels', Rice Institute Pamphlet, 37 (1951), 36-54.
Middlebook, Leah. "'Tout mon office: Body Politics and Family Dynamics in the verse epitres of Marguerite de Navarre," Renaissance Quarterly, 54: (2001):1109-40.
Mikalachki, Jodi. "Women's Networks and the Female Vagrant," Maids and Mistresses, Cousins and Queens: Women's Alliances in Early Modern England, edd. Susan Frye and Karen Robertson. NY: Oxford UP, 1999:52-67.
Miller, Nancy. "Rereading as a woman: the body in practice", in Susan Rubin Suleiman (ed.), The Female Body in Western Culture, Cambridge, Mass., 1985.
Milne, Esther. "Email and Epistolary technologies: Presence, Intimacy, Disembodiment", fibreculture 2.
Moody, Ellen. A Essay-Review of Per lettera: Le scrittura epistolare femminile tra archivio e tipografia secoli XV - XVII, a cura di Gabriella Zarri, published in The Sixteenth Century Journal: The Journal of Early Modern Studies, 33/2 (2001): 632-636.
------------. 'Partly Told in Letters: Anthony Trollope's Story-Telling Art', 12 (2000) Trollopiana: 4-31.
-------------------. 'Richardson, Reverie, and Romance'. Ph.D. Dissertation City Unversity of New York, 1979.
Mossiker, Frances. Madame de Sévigné: A Life and Letters. New York: Knopf, 1983.
Myers, Robin and Michael Harris, edd. A Genius for Letters: Booksellers and Bookselling from the 16th to the 20th Century. Pennsylvania: Oak Knoll Books, Publishing Pathways), 1995.
Nevala M. "Inside and out: Forms of address in seventeenth- and eighteenth-century letters," Journal of Historical Pragmatics, 5/2 (2004): 271-296.
Newdigate-Newdegate, Anne Emily Garnier (Lady). Gossip from a muniment-room; being passages in the lives of Anne and Mary Fitton, 1574 to 1618. London, D. Nutt, 1898.
Page, Norman. 'Frequent Conversations', The Language of Jane Austen. New York: Barnes and Noble, 1972, pp. 114-67.
Pascal, Roy. The Dual Voice: Free Indirect Speech and its functioning in the nineteenth-century European novel. Towota, New Jersey: Rowman and Littlefield, 1977.
Payne, P. and C. Barron, "The Letters and Life of Elizabeth Despenser, Lady Zouche (d. 1408)," Nottingham Medieval Studies, 41 (1997):126-56.
Pearson, David. '"The Letter Killeth": Epistolary Purposes and Techniques in Sir Harry Hotspur of Humblethwaite', Nineteenth-Century Fiction, 37 (1982), pp. 396-418.
Peers, E. Allison, "Saint Teresa in her Letters," Saint Teresa of Jesus and other Essays and Addresses. London: Faber and Faber, 1953:35-80.
Perry, Charles R. The Victorian Post Office: The Growth of a Bureaucracy. Royal Studies in History No. 64. London: Boydell and Brewer, 1992.
Perry, Ruth. Women, Letters and the Novel . New York: AMS Press, 1980.
Plaisant, Michele. "Les Lettres turques de Lady Mary Wortley Montagu." Bulletin de la Societe d'Etudes Anglo-Americaines des XVIIe et XVIIIe Siecles, 16 (1983), 53-75.
Porter, H. Abbott, "Letters to the Self: The Cloistered Writer in Nonretrospective Fiction," Publications of the Modern Language Association of America, [year, volume, pages, to be filled in].
Prince, Gerald. 'The Diary Novel: Notes for the Definition of a Subgenre', Neophilologus, 59 (1975), pp. 477-81.
Quondam, Amedeo, ed. Le 'carte messagiere': Retorica e modelli di communicazione epistolare: Per un indice dei libri di lettere del Cinquecento. Rome: Bulzoni, 1981.
"Reading the Emigrant Letter": A 2003 Conference held at Carleton Univeristy, Ottowa.
Redford, Bruce. The Converse of the Pen: Acts of Intimacy in the Eighteenth-Century Familiar Letter. Chicago University Press, 1986.
Reform of the Post Office in the Victorian Era and Its Impact on Economic and Social Activity. London: Royal Philatelic Society, 2000. No single author's name available.
Robillant, Andrea. A Venetian Affair. New York: Knopf, 2003. This is a cross between a historical fiction and genuine scholarly study and explication of the letters of Giustiniana Wynne and Andrea Memmo (18th century Venetian pair).
Robinson, Howard. The British Post Office: A History. 1948; reprinted Westport, Connecticut: Greenwood Press.
Rosbottom, Ronald, "Motifs in Epistolary Fiction: Analysis of a Narrative Sub-genre," Esprit Créator, 17 (1977), pp. 279-301.
Roussel, Roy. 'Reflections on the Letter: The Reconciliation of Distance and Presence in Pamela,
Rousset, Jean. 'Le Monodie épistolaire: Crébillon fils', études littéraires, 1 (1968), pp. 167-74.
----------------. ''Une Forme Littéraire', La Nouvelle Revuew francaise, 19 & 20, pp. 830-41 and 1010-1022.
Schneider, Gary. The culture of epistolarity : vernacular letters and letter writing in early modern England, 1500-1700. Newark : University of Delaware Press, 2005. PR914 .S36 2005
Siegert, Bernhard. Relays: Literature as an Epoch of the Postal System. Stanford: Stanford University Press, 1999.
Silver, Marie-France and Marie-Laure Girou Swiderski, eds. Femmes en toutes lettres: Les épistolières du XVIIIe siècle. Oxford: Voltaire Foundation, 2000.
Sobel, Dava. Galileo's Daughter: A Historical Memoir. New York: Walker and Company, 1999.
Sokoll, Thomas, "Old Age in Poverty: The Record of the Essex Paupers, 1780-1834," Chronicling Poverty: The Voices and Strategies of the Poor, edd. Tom Hitchock, Peter King, and Pamela Sharpe. NY: St Martin's Press, 1997:127-54.
Sol, Antoinette Marie, "Why Write as a Woman: The Riccoboni-Laclos Correspondence," Women in French, 3 (1995), pp. 34-44.
---------------------. "Mail Call: Epistlary Exchanges Explored" (a review-essay), Eighteenth-Century Studies, 36 (2003), 444-49.
Spacks, Patricia Meyer. "Female Rhetorics." Benstock, Shari, Ed. The Private Self: Theory and Practice of Women's Autobiographical Writings. Chapel Hill: UNCP, 1988.
----------------------. "Borderlands: Letters and Gossip," The Georgia Review, 37:4 (1983): 791-813.
Spender, Dale. Man Made Language. 2nd ed. London: Routledge and Kegan Paul, 1990.
Steen, Sara Jayne, "Introduction" in her edition, The Letters of Arbella Stuart. Brown University Women Writers Project: Writers in English, 13501850. NY: Oxford UP, 1994, 1-115.
Stewart, Alan. "The Early Modern Closet Discovered," Representations, 50 (1995):76-100.
Stewart, Joan Hinde. 'La Lettre et L'Interdit', Romanic Review, 80 (1989), pp. 521-28.
Stewart, Keith. 'Towards Defining an Aesthetic for the Familiar Letter in Eighteenth-Century England', Prose Studies, 5 (1982), pp. 179-92.
Striedter, Ann K, "Women Writers and the Epistolary Novel: Gender, Genre and Ideology in Eighteenth Century Fiction," Ph.D. Dissertation, University of California., San Diego, 1993.
Swain, Elisabeth Ward. "'My excellent & most singular lord': marriage ni a noble family of fifteenth-century Italy," Journal of Medieval and Renaissance Studies, 16:2 (1986): 171-95. On the letters of Barbara of Brandenberg, Biana Maria Visconti, and Eleonora of Aragon.
Thelander, Dorothy R. Laclos and the Epistolary Novel. Geneva: Droz, 1963.
Trollope, Anthony. ''Clarissa' Writings for St Paul's Magazine: Anthony Trollope, compiled and introduced by John Sutherland. New York: Arno Press, 1961, pp. 163-72
Versini, Laurent. Le Roman Épistolaire. Paris: Presses Universitaires de France, 1979
Ward, Kathleen. 'Dear Sir or Madam: The Epistolary Novel in Britain in the Nineteenth-Century'. Ph.D. Dissertation, University of Wisconsin-Madison, 1989.
Watson, Nicola. Revolution and the Form of the British Novel, 1790-1825: Intercepted letters, Interrupted Seductions. Oxford: Clarendon Press, 1994.
Whigham, Fran,, "The Rhetoric of Elizabethan Suitors' Letters," Publications of the Modern Language Association, 96:5 (1981):864-82.
Whyman, S. "Paper Visits": the Post-Restoration Letter as Seen through the Verney Family Archives", Epistolary Selves, ed. R. Earle. Aldershot, Hampshire: Ashgate, 1999.
Willcocks, J.M. England's Postal History with Notes on Scotland, Wales and Ireland. Published by the author, n. d. ASIN: 0950279714
Wiseman, Sue. 1999. "No Thanks.Politics, Networks and Civil War in the letters of Brilliana Harley and Margaret Cavendish's Sociable Letters." Paper presented to the Margaret Cavendish Society, June 1999, Paris Conference.
Wright, Susan, "Private Language Made Public: The Language of Letters as Literature," Poetics 18 (1989), pp 549-578.
Zarri, Gabriella, ed. Per lettera: Le scrittura epistolare femminile tra archivio e tipografia secoli XV - XVII, a cura di Gabriella Zarri. Roma: Viella, Libreria editrice, 1999.
Zilliascus, Laurin. From Pillar to Post: The Troubled History of the Mail. Heinemann, 1956.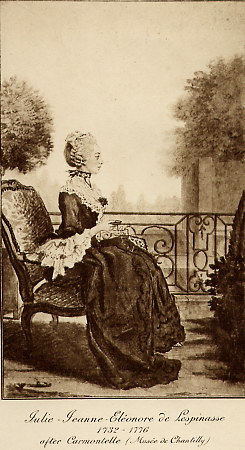 Julie de Lespinasse (1732-1776, letter-writer) after Carmontelle (Musée de Chantilly)
---
Home
Contact Ellen Moody.
Pagemaster: Jim Moody.
Page Last Updated: 17 February 2004.