The Last Chronicle of Barset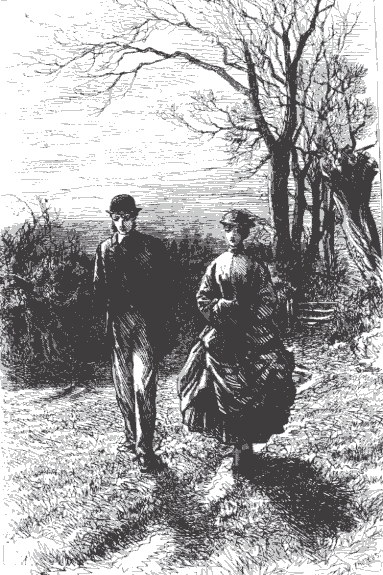 G. H. Thomas, "Lily wishes that they might swear to be sister and brother", Last Chronicle of Barset
It was at the close of June 2000 that our Barsetshire Marathon reached the last of the Barsetshire cycle, The Last Chronicle of Barset. As this was a very long book our conversation stretched across the summer and into the first week of October, Indian summer in Virginia (a beautiful time of year). We had many people posting; at the same time we were reading Cousin Phillis. This was a good summer. Once again each week I wrote an essay or essays in the form of postings to Trollope-l on the chapters we had read for that week. My "facilitating" postings of mine continued to be close readings of the text whenever I could, with some also simply in response to others, some on Trollope's sources and attitudes, some on the contemporary scene. Once again the conversation slowly emerges and moves back and forth on all sorts of things: character, scenes, personal impulses when we read. Participants included Clarissa Ackroyd, Roger Batt, Maureen Bixley, Catherine Crean, Sigmund Eisner, Judy Geater, Ellen Massey, Howard Merkin, Rory O'Farrell, Frank Felsenstein; Wayne Gisslen, Paul Goring, Susan Hankey, Paul Jacob, Kristie Jalicks, Kishor Kale, R. J. Keefe, Mark Jensen, Pat Mahoney, Allen Michie, Susan A. Nash, Rictor Norton, Hugh Osborne, Marian Poller, Michael Powe, Peter Radford, Teresa Ransom, Angela Richardson, Betty Rizzo; June Siegel, Jill Singer, Jill Spriggs, Francis F. Steen, Gene Stratton, Tyler Tichelaar, Bruce Toor, Judy Warner, Joan Wall, Jan Wellington, Dagny Wilson, Andrea Vangor, Amber Vogel, Todd Yelrom. Since people on this and Ms Thompson's list often talked of The Last Chronicle of Barset, I have included postings from people who wrote in about the novel well before this particular read. I also included postings from people on C18-l who answered some of my queries on this book.
I constructed a calendar based on the the first instalment publication of The Last Chronicle of Barset. It was published between December 1, 1866, and July 6, 1867, in weekly sixpenny parts and illustrated by George Housman Thomas. The Last Chronicle of Barset was first published as a book in 1867 (Volume I, March, Volume II, July) by Smith and Elder. In the first edition what had become the Barsetshire series (1878) Francis Arthur Fraser was the illustrator. I did what I could to make our calendar reflect the initial serial and first volumed publication. I also continued my habit of describing the original illustrations to the Barsetshire novels while we were reading this very last rich one.
Volume I
Volume II
About the Illustrations by George Housman Thomas and Francis Arthur Fraser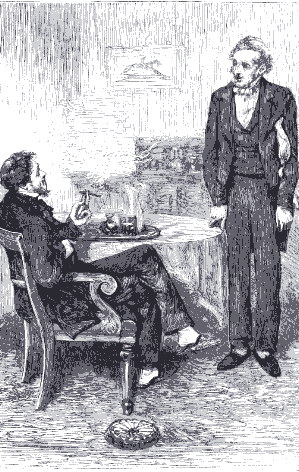 G. H. Thomas, "Mr Toogood and the Old Waiter", The Last Chronicle of Barset
---
Trollope's Apollo
A Guide to the Classics in the Barsetshire Novels of Anthony Trollope: an informative easy-to-use online guide created by students at Hendrix College and Professor Rebecca Resinski.
---
Home
Contact Ellen Moody.
Pagemaster: Jim Moody.
Page Last Updated 17 February 2004