The National Gallery
From St James's Magazine September 1861.1

[p. 163]

by Anthony Trollope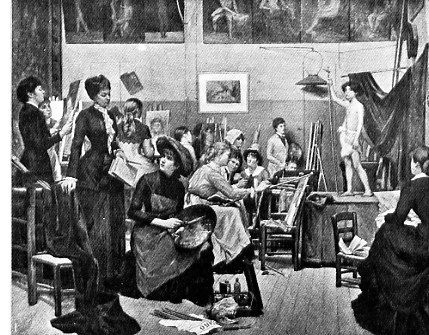 Marie Bashkirtseff (1858-1881/3) The Académie Julian (1880)
I must in the first instance express a hope that my readers will not expect a learned dissertation on high art -- a dissertation I mean which shall be learned in its terms, or which shall evince on my part any of that recondite knowledge of pictures which it is supposed that some men possess. I have no such knowledge, nor do I believe that such is possessed by many others. One man, no doubt, will know more of pictures than another, and will give a judgment on which others may more safely rely. But there is no broad line of demarcation between the man who understands a picture and the man who does not; -- as there is, between him who can and him who cannot paint it. Criticism on pictures is much the same as criticism on books. It is not probable that many of my readers are professed critics on books, and yet I take it there are but few of them who would not pronounce this to be a bad Novel, or that to be a true Poem. The uneducated, of course, do not form such opinions with correctness -- but the educated can generally do so with some approach to justice. I want men and women to believe that it is the same with pictures. There is no mystery in looking at a picture. There are no arcana with which the picure-seeker need be imbued before he can distinguish the true in sentiment and the true in drawing from that which is false in both. I want to impress this with all the strength my words can bear, because I know that many are deterred from following up one of the pleasantest occupations which civilization has afforded us by a fear that in doing so they may pretend to that which they have not. In becoming lovers of pictures there is nothing to which we need pretend. We need have no knowledge -- have been initiated into no arcana. God has given us eyes, and we must use them, as we do upon a landscape. But we must use them with patience. The canvas will not give forth its glory to us at the first glance. The great work of the Master who, with all his art, at the cost of his heart's blood, prepared for us the delight which we may enjoy so cheaply, will not reveal itself to us as we pass by -- talking perchance the while. There, on the canvas before us, are the minds and very souls of those great men, as well as all that their ingenuity of touch could achieve. It is open to us all to enjoy those delights with as keen a relish as the most finished connoisseur. But we must take some trouble about it. We must learn to stand before a picture till it will grow upon us. As that great Master poured out his mind on creating that work, so must we, in a degree much less intense, pour out ours before we can enjoy it. I have been asked how a man is to learn to love a great picture? My answer is, that he should stand before it till he does love it, or till he drops. Then he will have given himself, and have given the picture, a fair chance. The pretence and fanfarronade of some picture-gazers are irritating. It irritates us to hear the ignorant talk of breadth and depth; [p. 164] of impasto and false lights. But there is an attempt in this which may lead to true enjoyment at last. My irritation is much sorer when I see the hasty eye pass on from frame to frame, running over the canvas as though it were bare, and then hear the satisfied voice declare that all is barren, or else that all is good. I would by no means advise picture-seekers not to criticise Even the babes and tyros among such seekers should use their right to do so. But the criticism should be whispered into the friendly ear, should be given with its reason, and given somewhat slowly. It should tell something of work done by him who criticises; for the close scrutiny of pictures is work, and by no means easy work.
But these remarks, it will be observed, bear upon the subject of picture-seeing generally, and have no special reference to our own National Gallery, which is the subject of this paper. This is so, and my opening remarks are perhaps hardly relevant to that subject; but, before I touched upon the Picture Gallery which belongs to us, I was desirous of impressing upon those who will regard me, the fact, that all to us possess in that Gallery a treasure of our own, if we choose to to avail ourselves of the possession.
And now, touching our National Gallery. I think I may take upon myself to say that many to whom I address this paper have some slight feeling of national disgrace when they hear our National Gallery mentioned. Perhaps they have not analyzed the idea, and are afflicted with this disageeable sensation almost unconsciously. But the sensation is there. " Yes," men think -- and ladies, also, "we have a National Gallery, but we have made a mess of it. We have made a mess of it, as we do of everything. The building is bad; the pictures indifferent; it is managed badly; and it costs more than it is worth." That, as far as I can learn is the English idea of the National Gallery, --- as it is the English idea of all public English property possessed by Englishmen. If, in opposition to tha, I assert -- an opinion, of course --- that it, is in many respects the finest Gallery in the world; that, taking it all for all, it affords more accommodation for picture-seeing than any other Gallery in the world; that it is managed better than Gallery I know, and that it has been got together cheaply, considering the extent of worth achieved, -- perhaps I shall be supposed to hold a wild opinion upon the matter. Such is my opinion; and it seems to me that it cannot be so wild or so unfounded as that of men who condemn the Gallery, not on their own judgment, but because the public voice is supposed to have done so. I conceive that our National Gallery should be a subject of self-congratulation to every Englishman who sees it; that every Englishman should say in the pride of his heart, that in collecting it in so short a time his country has done what no other country couid achieve.
We are a very singular people. One of our most singular habits is that of not only washing our soiled linen in public but also of declaring that the linen just come home from the wash has been neither starched [p. 165] nor ironed. We do great things; but we express content with nothing that we do. Let any one of you go down to the Palace at Westminster, and walk through that Hall; let him ascend in those stairs, pass through the Statue Gallery into the centre Lobby, and then say if he has seen anything equal to it on any other spot of the world's surface. The interior of St. Peter's, with its painted plaster, is a gewgaw to it. And yet we are told that it is a failure, and that we have no grand public building in England! In the Crimean war -- if I may be allowed to go back to anything so remote among our national triumphs -- we sang so small that we lost, as we are told, all our military prestige. That deeds of daring were done never surpassed since men were made, was nothing. We lost our military prestige, and have been submitting ever since to told that we are not a warlike nation. It would be but half an answer to this to prove that we are the most warlike of all European nations. We are the only nation in Europe that is warlike, -- the only nation that shows a warlike taste naturally as its own. Every other European army is an army of proscription -- every soldier has been made a soldier by force. But in the English army, every man is a volunteer.
And so we are told that we, in England, have lacked the national spirit or the national taste to collect a good National Gallery! Ay, it is we ourselves who have told other nations that such is the case. And yet, I believe, there can be no doubt that here, in London, are got together more works of the Ancient Masters and those of greater value, than ever was collected in any other city in the world. I go further, and say, that this National Gallery -- of which I am at last going to say something -- is, of all the collections of easel pictures which I know, the one most capable of giving instruction toa patient student of high art. Of easel pictures, I say, or of pictures which are movable as having been painted on wood or canvas: because there is another branch of painting, to the possession of which we have no no pretension. If we want to see wall painting, or frescoes, we must go to the church buildings of Italy.
And now I will attempt to give some slight description of this Gallery, and to justify the praises with which I have spoken of it. It is probably known to all that this is a subject on which there has been much controversy, and that the names of friends and foes of the institution have been frequent in men's mouths, and have been treated of in strong language. I intend to abstain from the mention of any names -- keeping my strong language for the things that have been done. There is what the country has achieved for us, and of that, and that only, shall I write.
In the first place, I will say a few words of the age of our Gallery. In respect of antiquity we have not much of which to boast --unless, indeed , youth in such matters may not be a fairer subject of boasting than age. We cannot compete in this respect wth any large National Collection, extant, excepting, perhaps, those of Berlin and Munich. Most of the Galleries which are now best known to the world were venerable [p. 166] before ours was born; and, as regards many of them, not a picture of value has been added to them since ours first came into existence. I am obliged to remember that during the the first years of my own life we had no National Gallery, and that I was nine years old before the first purchase was made. Till the year 1821, less than forty years ago, England had no such possession as a National Gallery, and the Collection of which we have now to boast has been brought together within the memory of many of us. That in itself, I think, is much to say.
It is all very well to abuse the present building in Trafalgar Square; but let those of my readers who are sufficiently ancient to do so, bethink themselves of the small dingy house on the south side of Pall Mall -- No. 100 it was -- in which the pictures were first exhibited; the little house with the Hogarths in the dining-room, the tremendous masterpiece of Del Piombo in one drawing-room, and Susannah and the Elders, with the Rape of Ganymede, in the other. It was a dingy, dull, narrow house, ill-adapted for the exhibition of the treasures it held, and has now given way to some palace of a Club; but the spot is one which I shall always regard with warm affection, for there I conceived my first idea of the nature of a picture. I have altered much of my mind about pictures since then; and so I think has the public. Some of those in that collection which were then held to be masterpieces have since fallen away in men's esteem. But, nevertheless, the purchase then made was glorious in every way, and is now worth much more than double the money then given for it. Indeed, one picture then obtained -- the Raising of Lazarus, by Sebastian del Piombo.to which I have already alluded -- maybe said to be priceless in its value. On that occasion, in 1824, the country bought the Collection of the late Mr. Angerstein, giving £57,000 for 38 pictures. That was the beginning, and has been the nucleus, of the National Gallery. The pictures were allowed to remain in the old house, No. 100 -- it has been the house in which Mr. Angerstein himself resided -- till 1834, when they were removed a few doors off, to No. 105, and there they remained till they were taken to Trafalgar Square in in 1838. The Collection was very soon increased by magnificent presents and bequests, and by other purchases. In 1826, two years after the first purchase, Sir George Beaumont gave the country 16 pictures, and among them the great Landscape by Rubens and Wilkie's Blind Fiddler. In the same year three pictures were bought from Mr. Hamlet; and as the Bacchus and Ariadne of Titian was one of then, this, too was an important addition. In 1831, a cleryman whose name is familar to us, the Rev. Holwell Carr, gave us by legacy 33 pictures, and although there were among them many of a school which is not now popular, nevertheless the bequest was of great value. In 1834, we gave a very large sum of money to Lord Londonderry for two Correggios -- £11,500; but as the Venus and Mercury was one of them, I do not know that we need regret even that expenditure. In 1837, we bought the [p. 167] magnificent Holy Family of Murillo, giving for that and for a picture by Rubens £7,350; and in the same year 17 pictures were left to us by Colonel Olney. In 1838 Lord Farnborough left us his valuable bequest; and in 1839 we again paid £7,350, purchasing for that sum three pictures, the St. Catherine of Raphael being the one which was supposed to justify so large an outlay. I am myself inclined to think that this was about the most extravagant expenditure of public money that has yet been made by the Government on account of our National Gallery. There is a small picture by the same artist, now hanging close to it -- the Vision of a Knight, as it is called -- for which we paid a thousand guineas, and which I think gives us a fairer idea of the artist's power. In 1841 we bought what I imagine to be the finest easel picture extant by Francia, giving £3,500 for it. In 1844 we got, for £630, the portrait of the Doge Loredano, by Bellini, which, as I take it, would now be held to be worth five times the money; and in 1844 we bought for £4,200 the Judgment of Paris, by Rubens. But we bought at the same time, for £1,680, Lot and his Daughters, by Guido -- and Guido's Susannah and the Elders. Another Susannah came the next year, for £1,260. They may both be put into the same boat; and for myself, I should not care what accident might befall them. Then, in 1847, we had the Vernon Collection given us. This as my readers are no doubt aware, consists of pictures by English artists. It is exhibited, not in Trafalgar Square, where we should all be so glad to see it but at Kensington, and I do not intend to include it in the remarks I shall now make. I mention it chiefly to show that as we have continued to purchase, so have pictures been presented to us freely, either by the living or by the dead.
I will not repeat all the separate purchases made from that time to the present, more especially as they have been made the subject of much acrimonious criticism. For my own part I believe that criticism to have been unjust. Could we have had an angel from heaven to purchase our pictures for us, he could not have escaped censure; but circumstanced as we are here on earth, we cannot, have angels to do our commissions. In 1854 we bought the so-called Kiuger Collection. We may recognize what we have kept of them by their being described by Meister Von This and Meister Von That. I do not love them myself, but doubtless they have their value; and they did not stand us in a great deal of money. Many were sold again, and others sent to Dublin. I rather think they like the Kiuger Collection in Dublin, and I should not grudge that the others might follow. I ought to have mentioned that in 1853 had been given to us by Mr. Turner, who was then living, the two large pictures of his which are now hanging in Trafalgar Square. He, with an ambition we must call worthy since it has been so pre-eminently successful, gave them on the condition that they should be hung between two landscapes of Claude, specified by him. They are many lovers of art who deride the enthusiasm and [p. 168] "audacity" of Turner. For myself, I must say there is very much of what he has done which I cannot suppose to be of great value; but as regards those two pictures, the world has, I think, acknowledged tliat Turner was justified in demanding the position he has assumed. In 1856, we inherited the whole Turner Collection. As they are hung at South Kensington, it will not come within my scope to say anything further of them.
I will not, as I have said, go through the later various purchases made on the responsibility of the Director of the Gallery. That one or two pictures were bought for which I do not myself care, and as to which I would be glad to have back. the money, that we might lay it out elsewhere, I will allow. In such a business it would be impossible that it should not be so. But, taking them all together, I have no doubt that they have been purchased with sound judgment.
In December, 1855, we bought a collection of pictures from Baron Galvagna, at Venice, giving something less than £2,200 for the whole. Some of these also we sent to Dublin; some we sold. The gem of the collection is, or was supposed to be, a Madonna and Child, by Bellini. It has been much abused since it came here: but I can remember how much we Englishmen thought about it when it hung in a church in Venice. Then, in l856, we gave £3,570 for the picture in three compartments by Perugino. It was a very large sum of money; but there is no other such work of the artist's out of Italy; -- and probably not above, one or two in Italy that surpass it.
Then, in 1857, came the purchase of the Alexander and Darius, by Paul Veronese, for £13,650, and we all remember what a fury of discord there was on that subject. It was bought, we are told, on the authority of the Treasury, and not on that of the Director alone. In discussing the price, men, of course, discussed the picture also: and faults of all kind were found with a work of art which, till we had become the owners of it, enjoyed among us -- among such of us as had been able to look for works of art abroad -- a reputation surpassed by that of no picture then remaining in private hands. It was when we had gotten it that we began to think it too dear. Ha -- it not always been so with every thing of value? Is it not so with pictures -- with seats in Parliament -- with woman's beauty -- and with man's praise? Thirteen thousand pounds is a large sum of money; but had Sir Charles Eastlake allowed any other nation to buy that picture, I do not think that, with all his powers of endurance, he could have faced his enemies at home. How faultless it would then have been in English eyes! and how reasonable would have been the price!
In 1837 we purchased the Lombardi Baldi Gallery for 7,000 guineas. This consists almost entirely of works by old Tuscan artists, and gives as I imagine, a better continuous example of the way in which the Tuscan school worked than is to be found anywhere else out of Tuscany. To this [p. 169] sum of 7,000 guineas must be added another sum of £3,000, I believe lately given by us for a picture by Fra Angelico. I mention this here, as the picture is grouped with those of the Lombardi Baldi Collection -- as it ought to be -- but it did not belong to that Gallery, nor was it included in that purchase. It has only been hung on our walls since the recent alterations in the Gallery have been made.
In 1858 we bought a portrait of an Italian Noblemen, so called, by Moretto, for £360 -- a very cheap picture. -- And in 1859 we bought, among other pictures, at a sale of Lord Northwick's, a work called the Infancy of Jupiter, by Giulio Romano -- that is either by him, or not by him, as the case may be. We paid £920 for that; and there, I confess, I wish we had our money back again. I don't know why it is that one is always taking an aversion to certain pictures, but I have taken a great aversion to that. There is a lady there in an undress, unlike any lady I ever saw, either in full costume or otherwise. I wish my readers would look at her. We have heard, I think, in poetry, of a lady who would turn, and turn, and turn again; but I never yet knew a lady who could turn herself as that lady has done.
Our last great purchase -- except the Fra Angelico, to which I have alluded -- was that of the Beaucousin Collection. For this we gave £9,205, and among it obtained some very lovely pictures. The Portrait of Ariosto, bv Titian, is one; and a beautiful Landscape, with a Madonna, St. Catherine and Infants, also by Titian, is another. There is a wonderful painting also among them by that detestable artist, Angelo Bronzino. He was one of those followers of Michael Angelo, who did all within their power to lower art, and did that all with only too much success. This picture is an Allegory, consisting of naked figures twisted here and there; but it is wonderfully executed.
I should have mentioned that we had eight pictures left to us by Lord Colborue, including Wilkie's Village Beadle; and that, in 1859, Mr. Jacob Bell also bequeathed to us eighteen or twenty pictures mostly by English artists, including some of Landscer's works, Rosa Bonheur's Horse Fair -- which, however, we have not got as yet -- and Mr. Leslie's exquisite picture of Uncle Toby and tlie Widow Wadman.
We have altogether spent about £188,000 in the purchase of pictures. The Galleries we have purchased have been the Angerstein -- the Kiuger -- the Galvagna -- the Lombardi Baldi, and the Beaucousin. The Galleries given to us, either by deed of gift or by will, have been those of Sir George Beaumont -- the Rev. Holwell Carr -- Colonel Olney -- Lord Farnborough -- the Vernon -- Lord Colbome -- the Turner Gallery, and that of Mr. Jacob Bell. In numbers, those we have purchased are less than one half those that have come to us without purchase. We do not usually price the presents made to us, and I will not attempt to do so now. They are, however, almost invaluable; and I think we may conclude, that, had not the nation been liberal in purchasing, the munificent individuals who [p. 170] have enriched us would hardly have been prompted to that public spirit by which we have been such gainers.
I have attempted to describe the manner in which our pictures have been brought; together; and I will now say, first, a few words respecting the Building in which they are hung, and then a few words more as to the position in that building which is now occupied by some of the most remarkable of them.
The Building, as I have said before, and as we all know, has ever been the subject of unmitigated abuse. Nothing has been too bad to say of it; and, indeed, taking it exteriorly, as a work of architecture, it is very poor. It sins against almost all the rules that should govern a great architectural design. But it should be remembered that the architect employed to build it was crippled in every possible manner. He was crippled as regards space; he was crippled as regards money, and he was crippled as to materials; for he was called on to use columns from other places. I say this passing word from a feeling of justice to the Man, not because I like the Building. But who -- what people -- what nation -- have got a better Picture Gallery? We shall be told, of course, of the Louvre. No doubt that building is much grander. The architectural ornamentation inside and out is much nobler. I do not anticipate that we can do anything so grand as that, until, as a first step, we bless ourselves with a French Government. But has it ever occurred to any of my readers to examine whether they can see pictures better at the Louvre than in Trafalgar Square? For myself, there are many of them that I can never see at all. At the Louvre there is one large luxurious room. It is luxurious, in that it contains an enormous velvet-covered settee, on which visitors can sit. The velvet, when I was last there, was very dirty; but no doubt it can be changed. In that room you can sit and see the largest pictures very much at your ease. There is the Great Supper, by Paul Veronese -- one of the world's wonders. There is the Assumption, by Murillo -- a picture not worth quite all that we said of it when it was removed from Soult's Gallery: but still a fine picture; and there are others, -- wonderful works of art. But sitting there, on that velvet settee, you cannot see one half of what there is even in that room ; and what you cannot see sitting, you must look at standing. That is one room out of the very large Gallery. They have I believe, in that Collection, three times as many pictures as we have in Trafalgar Square and at Kensington together. In the remainder of the Gallery, you cannot obtain a seat in which you ran see a single picture; and the whole long Gallery is singularly ill-lighted. There is no comfort in it, and, consequently, visitors hardly go beyond the velvet settee, except with the object of inspecting the architectural ornamentations. In the Gallery at Munich there is no such thing as a seat at all, and the work of seeing the pictures is terrible. I used to lie along on the dirty floor; but there are many picture-seekers who would not like that. At the Uffizzi, the Government [p. 171] Gallery in Florence, you may get a chair in some rooms, if the place be empty. At the Pitti, in the same town, a delicious Gallery belonging, I believe, to the crowned head, whoever he may be, for the time being -- in the Pitti you can sit down in luxurious chair; but you cannot see the picture when you do sit down. Here, too, the lights are very, very bad. At Rouen, in the Vatican, the Gallery is in four small rooms in the attics, and there, among some forty pictures, are ten, perhaps, which are remarkable. At Bologna, where the Gallery is generally deserted, you may carry a chair about where you will; but the lights are often impracticable for picture-seeing.
I mention this, not to depreciate these Galleries, to which we are all so fond of running -- and none fonder than I am -- but to show you, if I can, that we pare not worse off -- but, on the contrary, better off -- than other people. In our Gallery we have generally good lights. That the lighting cannot be improved I am by no means prepared to say. Probably it might be. Probably full-roof windows, such as we have, may not give the best lights for pictures. But it undoubtedly gives better light than mere wall windows. Then, with us, you can seat yourself at any point of the room, and always make the best of the pictures according to the light which is given to you and the power of your own eyes. I know no Gallery in which this may be done so perfectly.
The point as to which other Galleries beat our own is their comparative emptiness. At Antwerp, and Rome, and Florence, and Venice, we are never crowded. The public Gallery at Venice is very delightful; perhaps a pleasant as any that I know ; but even there, in one of the largest rooms, you can hardly get any light, for some of their finest pictures. Their noblest work, by Giorgione, (the miracle of the Three Saints going out to sea to drive away the demons of the storm) is absolutely invisible. But, as I was living, a great part of the charm of these Galleries is their comparative emptiness. In that we certainly cannot approach them. We may often find a thick crowd in our National Gallery; but I do not know that we are by any means disposed to regret that such is the case.
About two years ago the crowding of the pictures in the rooms then allotted to the National Collection -- three large chambers and two smaller ones -- had become so great, that in the largest and best of those rooms two screens were put up; that is to say, two cross walls were erected, in order that pictures might be hung on them. I shall never forget my dismay when I entered the room and saw what the screens had done for us. They had given us some pretty small pictures -- not of transcendent value -- and had nearly altogether eclipsed the magnificent works of art which hung on the real wall. "The effect will be all that you can desire," a gentleman whispered to me who was very much at home there. "The public won't like the screens, and then they must make more wall room." And they have done so.
I will not drag my readers over the ground of that fight, well fought [p. 172] but not yet finished, as to the building to be erected for our pictures by some future generation. Some wanted to take our pictures to Kensington; others to keep them in Trafalgar Square. Then, some desired to erect a building altogether new on the site of that now existing, and others to turn out the Royal Academy from their side of the building, and use it all for the Gallery of the nation. Then there was Captain Fowkes' plan for altering the existing building so as to make room for both the Galleries, at a proposed expense of £34,000; and after that another plan, chiefly due I believe to Mr. Pennythorn, the architect who carried it out, for securing the same effects, for £15,000. This plan has been adopted; and the Gallery, as newly arranged, was opened to the public in May last. As regards the building, the chief thing done has been to give us an entirely new long Gallery lighted from the roof -- 75 feet by 30 feet -- into which the best of our pictures by the Italian Masters have been moved -- the best of our pictures by Italian Masters, excepting those by Tuscan artists. In studying the history of painting as far as it may be studied in our Gallery, this should be remembered. The other chief change has been in throwing down one of the parting walls of the passage, through which we used to enter the Gallery. There was then a small room or each side. One of these small rooms has been made larger by the size of the passage. In these two rooms are the Tuscan pictures. Then there succeeded three old square-shaped chambers; and these have been but little altered. The first now contains Italian pictures of the later schools; the second the French and Spanish works; and the last or larger -- the old large room now contains the pictures by Dutch and Flemish masters.
Having spoken of the manner in which we got our pictures, and of the building in which they are placed, I will now offer a few remarks on a few of the works themselves. And here I say again, I do not aspire to be regarded as a connoisseur possessed of any special art-knowledge. I have been looking at pictures for many years, till I have grown to be fond of them. It is a cheap amusement -- one full of an interest that does not pall; one that rather increases in intensity as it is continued from year to year. It is one that we can enjoy with our sisters and wives, that can lead us into no habit that is evil; one that educates the mind and softens the manners, and above all, it is within the reach of all of us.
Giovanni, or John Bellini, was the real founder of the Venetian school -- that school of painting which was specially pre-eminent for its colour. It was he who taught both Giorgione and Titian. There is in our Gallery a portrait by him of a doge -- Doge Loredano. This must have been painted when he was near eighty, as Loredano was not doge till Bellini was seventy-five. That is a picture which will not probably attract your attention if you merely pass it; but if you will stand over it and look into it, you will almost wonder that the old man should be so life-like and yet not speak to you. Go where you may, you will hardly find a better portrait than that. It looks hard at you without [p. 173] a shade but yet looks like life itself. Near to it there is a portrait of Ariosto by Titian, Bellini's great pupil. That, also, is a wonderful portrait, but so different! It possesses all the grace which polished art can give.
Still on the same wall -- that to the left as you enter the room, and close to the works above named -- there are two other pictures by Titian: the larger one is Bacchus and Ariadne. Bacchus is jumping out of a car in order that he may catch Ariadne, whom he is going to make his wife. Such subjects are generally not pleasing to us. We do not care for Bacchus and his brides, and do not understand that a god should find it necessary to take a leap from his carriage; but such a leap as is there depicted would ennoble any mythological god or any earth-born artist. The life of the figure as it moves towards the ground is wonderful and true feeling expressed in the celestial lover's face is equally so. And then observe the landscape in the background. Titian came from Cadore a village up among the Friulian Alps, to the north of Italy. His mountains are blue -- beautifully blue. They make you almost thirsty with their cool loveliness. If chance ever take any one to Cadore -- and chance cannot take him to a prettier place -- he will at once understand Titian's landscapes. Of the large picture by Paul Veronese -- the Family of Darius before Alexander have already spoken. According to my idea of the artist's works, it ranks second only to the great picture in the Louvre. In looking at it, remember that it is a picture which should not be seen too closely. All the works of Paul Veronese are painted with too coarse a touch for close inspection. Take it from the proper distance, and I think you will acknowledge that the grouping and colour of the chief personages of the picture can hardly be exceeded. This hangs on the centre of the wall, to your right as you enter; and opposite to it is the great work of Sebastian Del Piombo.
This picture, my readers will remember, was part, of the old Angerstein Collection; it is I believe, in general estimation held as second to no easel picture in the world. What shall be called the best or second best picture of all that art has ever executed, no man has ever said with any pretence to have his words received, and no man can say. Perhaps the five most celebrated pictures in the world are -- Raphael's Transfiguration, in the Vatican at Rome; the Assumption of the Virgin, by Titian, at Venice; the Supper of Cana, by Paul Veronese, in the Louvre; the Descent from the Cross, by Rubens, at Antwerp; and the Raising of Lazarus, by Sebastian -- the picture in our own Gallery, of which I am now speaking. It was painted at Rome in rivalry of Raphael's Transfiguration, and each, we are told had it separate admirers. A portion of the drawing of this picture is said to have come from the pencil of Michael Angelo -- especially the figure of Lazarus, as he is endeavouring to free himself from the grave-clothes. I know nothing nobler on canvas -- more full of dignity or of more perfect beauty, than the figure of Our Saviour in this picture.
The two other great artists of the Venetian School were Giorgione and Tintoretto. We have specimens of their works, but nothing worthy of special notice.
The Umbrian School -- so called from a district of Central Italy called Urmbria, in ancient days, but which district by no means includes the homes or places of birth of all the so-called Umbrian artists -- is chiefly to be noted for the pietestic enthusiasm of those who belonged to it. Its great master was Perugino. His great pupil -- an artist too great in fame to be classed with any school but that which he made himself -- was Raphael. And another painter, whose works were so much akin to the Umbrians in this pietestic feeling as to make it difficult to separate him from them, was Francia. On his pictures in the Gallery, Francia is said to be of the School of Bologna, because he was born in that city. But I must take exception to this, as misleading. The Carracci founded that school which we know as the Bolognese, and we might as well say that Sir Joshua Reynolds belonged to it as Francia -- better, indeed; for Francia was dead before the school was formed.
For the best specimens of Umbrian art, you must visit the wall painting or frescoes of Italy; but in the meantime you have leave to look at one of the best pictures ever painted by Perugino, and, as I imagine the best picture ever painted by Francia. They are both in this long chamber, and are hung on the same wall -- the work by Francia having been separated and divided into two, in order that it may be seen to more advantage. The peculiar grace and softness, together with the exquisite finish of these works, cannot but charm all who see them. I think I may at any rate say, there is nothing from the same artists to equal them outside of Italy.
I now come to Raphael -- and as regards that great Master we must undoubtedly own a sad deficiency. For myself, I do not go along with that large section of the world which accounts Rapliael the greatest of painters, and for this reason I may be inclined to rank our own Gallery higher than others do who think more of that Master, and conceive that no Gallery can be valuable without his works. He was no doubt a wonderful artist; but in nothing so wonderful as in this, that having reached the top of the tree himself in his very short life, he prepared absolute ruin for all who were to come after him. After him, sharp upon his death, there came ruin and decay, and hideous abortions, -- that ruin which will always attend departure from truth. Raphael's grace had been the grace of fiction, and not the grace of nature. The artists of Italy were stricken with wonder, and followed the falsehood faithfully, without attaining the grace. It was he and Michael Angelo, between them who did the mischief.
But the subject is too long for this paper, and is beside our purpose. It is only now that art is recovering herself, and it is a great glory to us that she is doing so here in England. [p. 175]
Perhaps it would be difficult to find anywhere a work of more exquisite finish than Correggio's picture of Mercury teaching Cupid, while Venus, with all a mamma's complacency, is standing by. The ease of the figures is wonderful, and the colouring is perhaps perfect. This work is infinitely superior to its comrade-picture, said to be by the same artist, the Ecce Homo, wliich was purchased with it. There is to my eyes an affectation about the sacred subjects of Correggio, which makes them almost always unsatisfactory. I must now hurry out of that large new room. I only wish it had been thought proper to have erected down its length, a large and deep settee -- and to suggest that we might have afforded to cover it with some material that might have been washed from dav to day, had that been necessary. The objection made to such a seat is, that it would so soon be dirty.
We shall now get among the Tuscan pictures; and here I will not attempt to describe; the works of the different Masters, nor will I even mention their names. Many of my readers no doubt know them well. To me they are specially dear, for I fancy I can trace among them that painful thinking, those ungrudged efforts after excellence, which by decrees brought up the art of painting to the highest excellence it has ever reached; as I can also trace in the next room the want of effort and the want of thought which led to its ruin. To the younger of my readers I would point out that a love for the older Masters generally comes later in life than an appreciation of the graces of their successors. But those successors were graceful because their ancestors had laboured with such honest industry.
There is a work in these rooms by an old Tuscan named Margeritoni. When you first look at that, your mind will probably suggest to you that it was executed by a conspiracy of school-boys. But when you have repeated your inspection frequently, you will begin to discover what Margeritoni was about. In the same way the great Head of the Virgin in the picture of Cimabue will grow upon you, and become less and less hard. The Saints of Orcagna will invest themselves with value. The horsemen of Uccellos battle-field will explain to you the first efforts of Italian perspective on a large ground; and on looking at the deliciously composed features of Helen, as she is being carried off by Paris from her father's house ladies will recognize in Benozzo Gozzoli, the artist who painted it, a complete man of the world of that day.
I have left myself but little space in which to speak of the other rooms of our Gallery; and have left my readers but little patience for a prolongation of the subject. In one of them are the landscapes of Turner, hung between the pictures of Claude. When you hear Turner ridiculed, as you often do and will do, go and look at those four works -- two by the Frenchman and two by his English rival; and then you will admit that Turner is worth something beyond ridicule. There is a fine Holy Family by Murillo, with all the usual characteristics of the latter style [p. 176] of the artist. Of his early manner the nation possesses very fine specimens at Dulwich. There are two works here by that great painter Velasquez; but neither of them are to me satisfactory. Singular to say, Spain, ill off as she has sometimes been, has contrived to keep the best works of her artists. To see Murillo's pictures you should go to Seville; for those of Velasquez, as I am told, to Madrid. As to the other great Spanish artists, I may almost say that none of their grander works have left that country.
As to Flemish and Dutch pictures, there are various private Galleries in England which, I believe, excel that of the nation. There is that of Lord Ellesmere; the gallery of Mr. Walter, of which I speak merely from my memory of tlie Manchester Exhibition; and that of Mr. Hope, of which all the world hears, but which I have never seen.
Nevertheless, we have some very charming pictures of these schools The Judgment of Paris, by Rubens, is, I think, almost unsurpassed in beauty of execution by that artist; although, of course, his works at Antwerp are much nobler as to their subject, and more magnificent in their conception and design. Of his pupil Vandyke we possess a portrait -- the portrait of Gevartius, whocver Gevartius may have been -- that can hardly be surpassed. Look into the eyes of the old gentleman, and see if it be not a wonderful work. I hardly know any other such eyes on canvas, unless they be those of a Jesuit in a portrait by Moroni, belonging to the Duke of Sutherland.
In one respect, I think that they who have the management of our National Gallery, may make -- for such of us as have daily work to do -- a very great improvement. The building is not open till ten in the morning, at which hour most men have gone to their daily occupations. There is no better time for seeing pictures than from eight till ten in summer; and a great boon would be conferred on men living in London if the National Gallery could be opened at eight, as the Royal Academy is opened. And I would also suggest, that the artists to whom the rooms are devoted on Thursdays and Fridays would be in nowise injured in their work of copying, if the public were admitted on these days on the payment of a shilling each.
I cannot close these remarks without saying a word of praise in favour of the Attendants at those rooms. In no public establishment have I encountered men more uniformly courteous, or who have the work of their lives more at heart.
ANTHONY TROLLOPE.
---
1 Anthony Trollope, "The National Gallery," St James's Magazine, June 1861, as reproduced in Miscellaneous Essays and Reviews, introd. Michael Y. Mason. New York: Arno Press, 1981, pp. 163-76.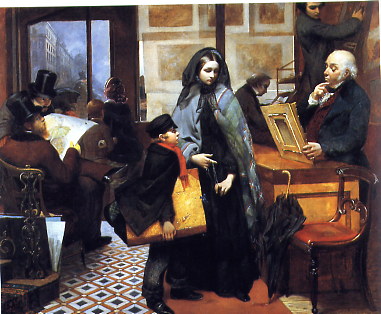 Emily Mary Osborn's Nameless and Friendless (1857)
---
Home
Contact Ellen Moody.
Pagemaster: Jim Moody.
Page Last Updated 15 December 2004