North America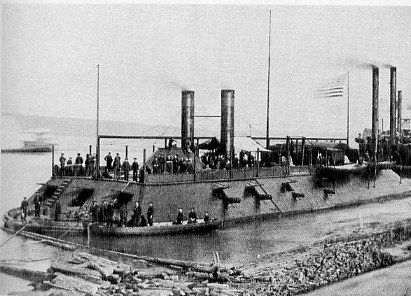 U.S.S. Cairo, one of "Pook's turtles," which fought on the Mississippi and Tennessee Rivers until sunk by a Confederate "torpedo" in the Yazoo River near Vicksburg, December 1862
In March of 2002 a few members of Trollope-l decided to read Trollope's travel book, North America together. We had read his mother, Fanny Trollope's The Domestic Manners of the Americans between January and February and now went on to read his in the light of hers.
The people who regularly posted to Trollope-l about this book included Judy Geater, Wayne Gisslen, Kristi Jaliks, Pat Maroney, Howard Merkin, Ellen Moody, Theo Nasser, Rory O'Farrell, Mike Powe, Teresa Ransom, Angela Richardson, Jill Spriggs, Joan Wall.
Volume I
March 3: Introduction: Editions, Contexts and Politics, Reviews and Reader Response, Trollope's Other American Books, Abridgements
March 10: Volume 1, Chapters 1-3: The Ambition of his Life; A Correction to His Mother's and other books; First Phase of Trip; Through English Eyes; Different Editions; Prohibition (Different Laws in Different States); Still in New England/Trollope's Book Not Respected
March 17: Chapters 4-6: A Taste for Parallelograms; On Travel Literature as a Genre; Contemporary Contexts; Sudden Moments; Trollope's Sympathy for Catholicism
March 24: Chapters 7-9: Romance and Realism; Niagara as a Required Magical Trope; The Maid of the Mist; Books on American Civil War; Still Fighting the Civil War; "The Two Generals" and Trollope's Brave Statements



The Falls of St Anthony on the Upper Mississippi


April 1: Chapters 10-12: Much Livelier; The Upper Mississippi; American Midwest; Soldiers Along the Mississippi
April 7: Chapters 13-15: An Apology for the War; New York; Genial Dogtrot; Boston
April 14: Chapters 16-17: Different Editions; Cambridge and Lowell (Harvard College); The Rights of Women; Emily Faithful; Trollope and the Superego; Crinolines; Trollope and Feminism
April 21: Chapters 18-19: Education and Religion; Boston to Washington

Volume II
Apri 28: Volume 2, Chapters 20-21: Slidell and Mason; Trent Affair; Washington, D. C: Dark and Despairing Tone (Reasons for Depression); Congress; The Albert Bierstadt in Trollope; Niagara Falls Redux; Bradbury's Trans-Atlantic Mythologies; Fanny Trollope Once Again
May 5: Chapters 22-23: The Causes of the War; Washington To St. Louis; Anthony versus Frances's views; The American Civil War
May 19: Chapters 24-25: Missouri, Cairo and Camp Woods
May 26: Chapters 26-27: The Army of the North; Back to Boston; Cairo to Baltimore to Boston; Snow; Railways & NYC; External Conformity a Substitute for Class
June 2/9: Chapters 28-30: The Constitution of the US, the Government: Trollope's Interest in Politics; The Post Office, American Hotels & Literature.
June 9/10: Chapter 31: Trollope's Warmth and Pro-Americanism; Generosity and Warmth of Tone; Self-Criticism; A 1951 Herald Tribune Review; Final Comments on Travel Literature and Trollope's Willingness to like the US.

---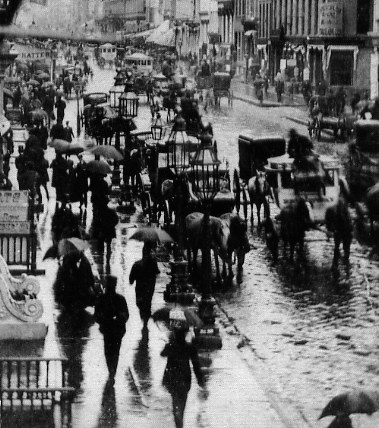 Broadway, Spring Street, New York City, 1860 (old photograph)
---
Home
Contact Ellen Moody.
Pagemaster: Jim Moody.
Page Last Updated 29 July 2004