La Vendée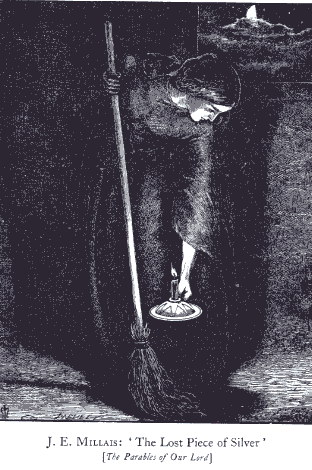 John Everett Millais, from Forrest Reid, Illustrators of the Eighteen Sixties1
In September of the year 2000 a group of us on Trollope-l read La Vendée together. Each week I wrote an essay or essays in the form of postings to Trollope-l on the chapters we had read for that week. Most of mine are close readings of the text; some are about Trollope's sources and attitudes; others discuss the nature of historical fiction. Then the conversation begins to emerge and moves back and forth on all sorts of things: character, scenes, personal impulses when we read. I have included many postings by other members as I could find and threaded them in according to a date or where they seemed to make sense. Contributors include: Roger Batt, Sigmund Eisner, Judy Geater, Wayne Gisslen, Mark Jensen, R. J. Keefe, Kristi Larsen, Richard Mintz, John Mize, Angela Richardson, Gene Stratton, Dagny Wilson, Robert Wright, Todd Yelrom.
Volume I
Introduction: Background, Sources, Editions, RMullen, Counter-Revolution
Chapters 1-5: Scene Settting, Character Portraits, The Initiation of the Revolt; Other Novels of the Period on this Counter-Revolution
Chapters 6-10: The Interlace: The Political and War Story; the Love and Human Interest Stories, Church Facades and the French Landscape
Volume II
Chapters 11-15: Scenes of War, The Presence of Walter Scott, The Private Impinged upon by Public Events: The Moving Death of Cathelineau, Family Conflicts
Chapters 16-20: The Social Meanings of War, Trollope the Conservative, RBolt's A Man for All Seasons, BBrecht, "A Worker Reads History"; The World-Historical Figures in the Novel, Trollope and Scott, Trollope and Sterne, Prejudiced "Introductions", Denot the Most Moving Character in the Book
Volume III
Chapters 21-25: Robespierre, More Trollope and Scott, Trollope's Politics; The Private Realm and the Women; Trollope's Identification with Cathelineau & Denot
Chapters 26-30: The Finest Chapters of the Book; The One Sexually Seen Loving Married Couple in all Trollopes (the Lescures); The Soldier's Angry Mother; "What Good Has the War Done?"
Chapters 31-35: Denot Again; Large canvas, Small figures, or Trollope's Denot in a Scott-like landscape; Denot as a Type Found Often in Trollope (e.g., Crawley, the Misfit, Louis Trevelyan, both labelled "insane"); And How to Achieve a Happy Ending -- Jump Forward to a Moment where all seems Propitious and Stop There, or It's Just a Matter of Pulling Down the Curtain 22 and then again 35 Years On, Nothing Simpler
---
1 The reproduction is a detail from a drawing whose caption is "The Lost Piece of Silver"; the picture belongs to Millais's series, The Parables of Our Lord. I find it beautiful and appropriate to a story focusing on country people in rural France.
---
Home
Contact Ellen Moody.
Pagemaster: Jim Moody.
Page Last Updated 4 February 2004