Trollope and Gender: the papers (2) · 29 July 06
Dear Marianne,
Tuesday was supposed to be a very long day. Sessions were to begin at 9 am and end at 5:30 pm; there was supposed to be a 2 hour break and then a dinner. In the event, one of the two keynote speakers didn't show, nor did he send a paper (!) and so the last sessions for the day were moved up, a tea was offered and the day was finished at 4. Three and one half hours was too long to wait in the heat for a dinner I'd have to leave early (as there was no late train back to Lympstone from Exeter St Davids), so I went back at 4:30 and arrived at the tower by 5.
The day again opened (9 am) with a keynote address: by one of the conference organizers, Deborah Denenholz Morse. Prof Morse presented a post-colonial reading of He Knew He Was Right. There is a long detailed summary of her argument in the Programme and Abstracts for the conference; basically she argued that beyond making visible in the story of Louis and Emily Trevelyan the oppressive patriarchal power structure, one where the male seeks to control and repress the distrusted sexuality of his wife, in He Knew He Was Right Trollope uses Emily and the place she comes from to show how European males sought to imprison and quell slaves, the colonized peoples they were exploiting. She used the analogy Trollope sets up between Shakespeare's Othello and this novel to suggest that we have a racial story. The three romantic subplots are there by contrast.
By the end of her talk she had convinced me. Strong evidence came from the descriptions of Emily (dark and passionate) and the many references in the book to England's colonial empire as well as the characterization of Hugh Stanbury and Nora Rowley's modern (relatively free and equal) relationship. I'm still inclined to find the analysis of the novel I present in one of the chapters of my book more central: that the Trevelyan story is one of sexual anxiety and jealousy, with an intensely frustrated wife who despises a psychologically weak if tyrannical husband, with the other three stories mirroring better and parallel situations and solutions to the problem of the interaction of dominance and submission in human relationships. Her reading added or uncovered another layer or thread of meaning running through this big complex book.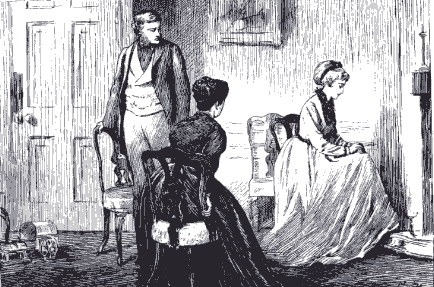 Marcus Stone, "'Am I to go? [back to the West Indies]," He Knew He Was Right
There again followed two sets of two panels run at the same time, with one panel directly after the other. The themes across both were class, gender, masculinity, race, ethnicity, and imperialism in Trollope's fiction.
This time I chose the session which was about the lesser known short stories and novels. Dr Helen Blythe examined Trollope's presentation of European colonizers who try to hold onto their Englishness or gentility. "Catherine Carmichael, or Three Years Running" (set in New Zealand) was her text. Holding onto genteel class ideals is seen by Trollope as central to their cherished identities and very survival. Catherine Carmichael endures brutal behavior from a husband who scoffs at such norms.
Dr Susan Shelangoskie presented a lucid thorough-going analysis of Trollope's presentation of young women in a newly technological world which offered them independence through work. Trollope is for this as long as the work remains subordinate towards what is to be the young woman's "real" goal: marriage to a man. She showed how the norms and customs used to control women in the home were transferred to work outside the home. Her texts were Trollope's short story, "The Telegraph Girl" and non-fiction journalistic article, "The Young Women at the Telegraph Office".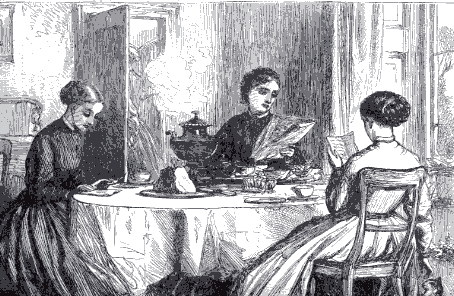 G. H. Thomas, "She read the beginning—Dearest Grace", Breakfast Scene, The Last Chronicle of Barset
I found Dr Blythe's analysis compelling and told her about the recent powerful Australian film, The Proposition where the goal English police officer (played by Ray Winstone) struggling to make a genteel life for himself and his wife (played by Emily Watson) in the bush in Australia, is much sympathized with, but shown to have a unrealistic if poignantly understandable goal. She is raped and he near murdered by the desperate bush rangers he must try to subdue. Dr Shelangoski's paper was sensible, straightforward and accurate. I was glad she called attention to the little-known article, and she told me afterward that she had found my online bibliography for the short stories and etexts of non-fiction very helpful.
To be honest, as I was to give my paper within the next hour I was too nervous to listen closely to the third speaker.
Of the papers in the panel I didn't hear, the one which had attracted me most (from the abstract) was an analysis by Prof. Mary Jean Corbett of the conflicts in identity Phineas Finn experienced (does he enact an Irishman really?) and the way readers have perceived Finn to be "too much like a woman." I now realize Prof Corbett discussed the intersection between Irish and English identities as they were seen stereotypically at the time1.
(From the abstract I had thought its phrases and thus paper referred to how Phineas might to conventional thinking appear to be weak because he is willing to change his mind (=womanish), especially since at the close of Phineas I, Phineas loses his battle to maintain his integrity and yet stay within Parliament. What attracts me to Phineas II is since he is Irish and Catholic but also a gentleman Phineas remains a half-outsider, a fringe person. Thus since most of the characters are indifferent to all but their own interests, Phineas becomes a target for radical distrust, is put on trial for murder, and experiences intense depression when his illusions about how his friends view him as one of them and as an honorable man, and about their capacity for loyal friendship, are shattered. To me Phineas's sensitivity is central to the finest elements in his character and Trollope's iconoclastic depiction of manliness in his heroes.)
I was the first speaker in one of the two second sets of panels, and have now put my paper online: Trollope's Comfort Romances for Men: Heterosexual Male Heroism in his Work. Here is my central argument:
My argument is that Trollope's most profound analyses of characters reside in his perceptive realistic depiction of male heterosexual patterns of sexuality as these conflict with the social customs of his age and ours. Drawing on his personal experience, Trollope justifies unheroic heroes and redefines worldly loss, defeat and individual withdrawals from social life and competition as misunderstood and understandable choices whose courage is underrated; through his presentation of heterosexual heroes Trollope defends his male readers against the norms he suffered from as a boy, young man, and as a older successful man too. There is much subversion here: very unusually Trollope gazes boldly on heroes who are not sexually and socially triumphant. He repeatedly presents the norms for such triumphs as oppressive, shallow, and even useless and counterproductive except when powerful characters instinctively admire them. He frequently sympathizes with males who regard the demand that they enact masculinity in dominating, aggressive, glamorous and overtly ranked-based ways as distasteful and against the grain of their character; they are unable or unwilling to articulate their point of view because they fear shaming and defeat. Their inability or refusal to manipulate these social codes disables them in the continual struggle for dominance against submission that Trollope depicts as also what shapes most human relationships. When their story is tightly interwoven with that of strong, passionate, frustrated or equally repressed, and obtuse and understandably vindictive women, they become crippled, paralyzed and tragic figures.
While I ranged across Trollope's oeuvre in my opening few paragraphs and closing two, I focused in the center of the talk on Miss Mackenzie, Is He Popenjoy?, and Ayala's Angel. In the last panel of the third day people were asked to answer the question why should we read Trollope today. My answer was:
In an era where we find ourselves in the midst of a re-masculinization of the norms of behavior and art in terms of a narrow macho male ideal, where not only a woman's freedom to express her sexuality is contested, but a man's is too, Trollope's male romances provide a salutary alternative and ironic reading of heterosexual male personalities. Trollope has provided us with material capable of opening up our understanding of masculinity, manliness, and heroism so as to enable men's lives to be less unhappy.
I was still too excited to listen to the second paper in my panel. I spent the time calming down. I did, though, listen to third presentation, Prof David Skilton's talk. He argued that the way that the thought processes in making choices which Trollope endows women with allows modern readers to find in the women's subjective life the same depth and richness of thought that we find in his men's subjective life so that it does not matter if the women's actual or literal choices for how they will spend their lives are severely limited.
I'm not sure I was persuaded that the literal limited choices can be overlooked just in favor of ethics and psychology as such, for the latter are dependent on experience hoped for as well as had. I'm also not sure that women's thoughts processes are the same as men's. However, he presented such good quotations from Trollope's novels, and included some of the most fascinating characters like Mary, Lady Mason, the tragic heroine of Orley Farm, who forges a will in order to give her son a chance at gentlemenly status, and women of "action" like Lady Laura Kennedy (the Phineas books), and women making conflicted major life choices (e.g. Alice Vavasour from Can You Forgive Her?) and women carrying on a career next to their husband's (Lady Glencora Palliser).
We all then broke for lunch. Quiche, sandwiches, fruit, coffee, juice and wine were on hand. We could eat at the large windows or outside on picnic tables. I much enjoyed mingling with the participants and talking to Nick, Clare, and Rob Polhemus for a while.
Again there were two sets of panels. This time I did not go to "Dissonant Feminities" but instead treated myself to Michael Brook's witty talk, "Anthony Trollope: American Feminism, and the women on the New York City horse cars." Since I still mean to try to write a paper on Trollope's North America, that being his text made his talk clearly useful for me. He divided the women Trollope encountered during his time in North America as women who challenged the system of separate spheres and women who didn't, and said that while Trollope disagreed with the first group, he responded to them with a patient tone (and liked some of them very much); as to the second group, Trollope castigated these women when they were aggressive. He said Trollope did not like women to have separate spheres (like ladies's drawing roolms) in public. These were invented for women to come out comfortably in public.
A good deal of Prof Brooks' talk was about Kate Field and Trollope's ambivalent and ambiguous love relationship with her. I'd like to read the biography of her life he mentioned and some of her writing. He also described some books by feminists which I'll see if I can get hold of, e.g., Catherine Dall's Women's Right to Labor. Like Field (and Barbara Bodichon whose Women and Work I argued in my notes to my paper Trollope read), Dall argued women had a right to a career, to do useful work for a living wage. Prof Brooks said Trollope's chapter on women in North America was partly meant as a refutation of Dall. In it Trollope insists "the best right a woman has is the right to a husband."
As I recall, Trollope said the woman question is about male power and to give women incomes and independence is to take power from men, i.e., jobs, money, control, the ability to dictate how their lives in private shall be led without having to shape themselves by a particular woman's needs. His strongest point I thought was the one that if you allow women to work for money, soon men will refuse to support them or demand that they equally support the household. His weakest point is his basis: he insists on pretending that men do in fact support women willingly and stay married to them, and that men do in fact treat women well. In reality a large proportion of women spend their lives single and when you give people power most will take ruthless advantage of those they can control, and here we are talking about men's control of women's bodies.
A smaller point brought up in Prof Brooks's talk: it is true that Trollope produces "astonishing diatribes" towards women who wear crinolines and demand equal literal space in public with men. When we read the text on Trollope-l and I studied it afterwards I became convinced that he deeply resented women behaving independently of men as if they were not beholden to men for not attacking them physically. He seemed to feel that "chivalry" was something men did by choice for women, and if women didn't show gratitude, the men were justified in "returning" to making visible how brute power was the source of the social order which gave men control over women.

John Millais, "Waiting at the Railway Station," from Good Words
The other two papers I heard and the three in the other session were all feminist in outlook. Maia McAleavey, a doctoral candidate at Harvard, showed how Trollope's request that the reader "love" Lily Dale revealed how he was imagining this reader to be a male who is erotically desirous of this imagined seductively sexually yielding victim-heroine. There was a paper by a DPhil student, Yvonne J. Huang, on Trollope's hunting women and one by Prof ILana Blumberg about how Trollope presents female self-sacrifice as something they take pleasure in which gives them what they (really?) want: both papers were about 19th century women's struggle for autonomy as mirrored in Trollope's strongly masculinistic fiction. Prof Anca Vlasopolos focused on Trollope's short story, "Mary Gresley" (as had Prof Polhemus) and Trollope's novella, Sir Harry Hotspur: for her in the first we see the destruction of a young woman from the distanced approving perspective of an older man; in the second, the erasure of a young woman who devalues herself. The value of these for the modern reader is they allow us insight into Victorian gender politics.
Just on Sir Harry Hotspur I've always felt this sympathetic tragic romance (Trollope wants us to grieve over the heroine's death) anticipates Henry James's Washington Square. I prefer James's story as it seems to me more truthful about how the relationship between parents and children are adversarial as well as supportive. Trollope buys into the myth of young female masochism before the sadistic rake male while James shows the cruelty and indifference of people (in this story just about everyone) and their willingness to bully and use the sensitive and good-hearted. I find it unbearably moving when Catherine Sloper turns her face to the wall and lives within and on herself rather than be hurt so radically again. Erasure in this James' story is safety and peace. James's heroine didn't have to die but can live on in the minimal way described by Virginia Woolf at the close of A Room of One's Own; alas, that she has lost all hope and will not create anything outside herself for she does not think anyone will appreciate or use it well. She does provide money and services for the poor.
When this last session was over, everyone trooped out to the front area where we had had lunch and there was tea and cakes and biscuits and cheese. To me it was too hot for tea and any sweets so I drank cool water. I talked with Nick and Clare for over half an hour and then Clare again drove me down the hill to the train station. I was very lucky as an air-conditioned long train (from London) had just driven up. I jumped inside.
Half an hour later Edward was walking on the beach just in front of the tower when I arrived. Since we had planned to do this (and had not bought anything to cook for supper), we went out to eat in one of the two good pubs (I liked the meal) and then went for another long stroll. We were back in our tower by 10 and asleep before the clock tolled 11.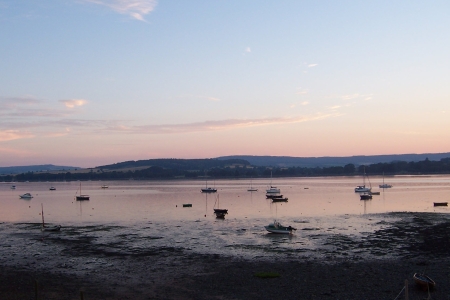 Peters Tower, late evening, before sunset, high tide, Lympstone Village, Devonshire.
Back again on Monday night to tell of the last day,
Elinor
1 See Professor Corbett's exposition in the comment section of this blog.
--
Posted by: Ellen
* * *
commenting closed for this article