Anthony Trollope, Exeter, Summer 2006 · 2 March 07
Dear Marianne,
You will recall that late in July of last year I and Edward went to a Trollope conference held in Exeter where I gave a paper I called "Trollope's Comfort Romances for Men.". We lived in a clock tower by the sea in Lympstone Village.
Remembering that happy week, I include an image of John Atkinson Grimshaw's painting of a bridge in a rural Yorkshire on an early spring morning in 1867: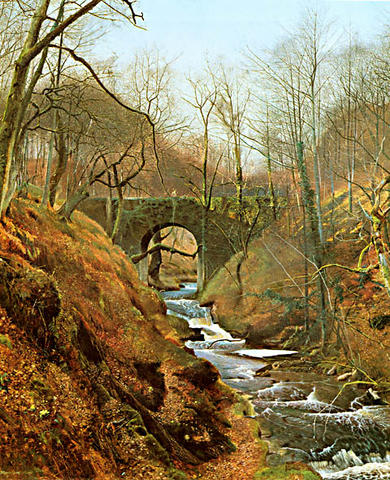 I wrote you three letters reporting the papers and conversation I heard and participated in. In the first I first focused on what in retrospect seems to me now to have been the best paper at the conference: Robert Polhemus's key note address about the frequent deeply felt relationships in Trollope's fiction between older men and younger women. In the second I reported on Deborah Morse's post-colonial perspective on He Knew He Was Right, along with many others (the second day of the conference was the longest and included many papers). In the third I told about a panel which included Margaret Markwick's iconoclastic paper arguing for the presence of homosexuality in Trollope by making visible Trollope's flexible and tolerant attitude towards loving relationships between men. I also told of the concluding plenary session where all participants got together and really talked for 2 hours about how to improve Trollope's reputation, why we should argue for studying Trollope, and (a real concern with some of the people), how change the perception of his work in the media and fan clubs from the idea they reflect a Tory and John Bull view of the world to the idea they reflect the views of a thoughtful enlightened compassionate man whose politicsa are ultimately liberal for our own time.
I then took these letters and turned them into a chronological document reporting on the conference from opening to conclusion.
Throughout both sets of reports I emphasized how much it meant to me that two friends from Trollope-l, Nick Hay, and Clare Shepherd were there with me.
Nick has now returned to Trollope-l (we are reading Trollope's almost astonishing The Bertrams) and resumed blogging. On his blog he has place three excellent reports of the three days of talks he heard. In his first he agreed with me about the excellence of Robert Polhemus's paper, and then went on to summarize three I had not heard, in particular one called "Dangerous Liaisons" by Lynn Parker. In his second, he summarized Stephen Amarnack's new paper on The Duke's Children. Amarnack has changed his mind and now thinks the unabridged original text of this novel is the superior one and seeks to publish it. Nick found Lauren Goodlad's paper on Trollope's rejection of liberal and radical imperialism. In his third, he again managed to hear different papers from the ones I did, but he also went to the plenary session and made the important point and qualification that
"that despite all that can said to the contrary there are limits to Trollope's radicalism. Nothing and no-one is going to turn him into a socialist. But the point which occurs to me subsequently is that I am not sure I even approve of this sort of approach."
Between Nick and I we have now made a record of what was said so that even if most of it is never published or published in some different form and scattered places, it can be found and retrieved in something of its original shape and place here on the Net.
I'd like to say I am puzzled about how many conferences occur where no attempt is made to report or comment on the papers given. I realize how expensive publication is, and how only a small percentage of the many papers given are of interest to sufficient numbers of the general public to warrant a publisher investing in the expense of an edition of academic papers. However, we now have this World Wide Web, and yet only a small percentage of people report on what they've heard or comment on it, or put their own papers on. The only explanation (beyond laziness and the lack of some tangible recognition or reward for doing it) I can come up with is people who are academics feel it's somehow not politic (as if somehow what was said should not be divulged beyond the few who heard the paper), simply not done or might perhaps cause resentment (if the person feels his or her paper was misreported or does not want commentary). I'd love to see more people put their papers on the Net or report on the conferences they've attended as most people can attend only a very few of all the conferences held each year in areas they'd enjoy knowing about.
Partly a result of going to this conference which helped keep my enthusiasm for Trollope alive and going to two MLA conferences and two given by the Victorian society (where Trollope figured again and again), all of which makes me feel I am part of a community of people who would be interested in reading about him, and partly the result of my paper on film adaptations of Austen, I have embarked on a long-term project towards a paper on film adaptations of Trollope's novels. So I end this letter to you with a still from early in the 1974 film adaptation, The Pallisers of Caroline Mortimer as Alice Vavasour.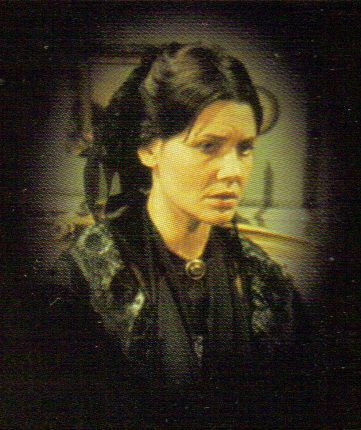 Of all the heroines in this series, Alice Vavasour is the one with whom I can most identify and one of several with whose preoccupations and feelings I can sympathize. Another is Lucy Morris. Trollope doesn't have many female presences I recognize as truly real; when he does, he does not allow them to have a full panoply of thoughts and choices and particularly angers that would naturally come to a woman and he turns them into partial male wet dream figures. An example of this would be Caroline Waddington in The Bertrams who declares that women in love want to become slaves to a man who if he loves them in return will be a kind master. Yeah. Right.
Elinor
--
Posted by: Ellen
* * *
commenting closed for this article