The allure of green thoughts: classic book film adaptations · 17 July 07
Dear Harriet,
Two nights ago I read an article by Fred Inglis which has suddenly given me an more adequate explanatory perspective on the traditional or older (1970s through mid-90s let's say) classic book film adaptation than I had. Inglis's article, "Brideshead Revisited: Waugh to the Knife" appears in Robert Gidding and Erica Sheen's The Classic Novel from Page to Screen.
While Inglis makes fun of Brideshead Revisted (that it's easy to do tells you something about its over-the-top nature), he loves the film and screenplay (by Mortimer), and he compares its attitudes and outlook to a group of these film adaptations made at just this time—and his remarks are intended to cover the mini-series film adaptation of The Jewel in the Crown, two LeCarre novels (done in the 1970s and 80s), and Fay Weldon's 1979 Pride and Prejudice. Inglis says Brideshead Revisited is not discussed as often as it should be because it takes 11 hours to watch.
His insight is this small group of older mini-series TV films are centered deeply on an English love of a certain green countryside landscape scenes deriving from a picturesque aesthetic as well as love of other high culture places (e.g., Venice, the highlands of Scotland, Tuscany), as offering some meaning and joy in life. This landscape he suggests is intertwined in mise-en-scenes in a drama which is haunted by a ideal of loving friendship, loyalty, companionate affection. They are anti-ambition, for retreat into art. He defends them against recent essays which see them as reactionary, retrograde, snobbish (elitist) by quoting at length Walter Benjamin who points out (more than once) that such nostalgia, such yearning "may well be a prompt to progressive action:"
"in our dreams of a better social order for the future we turn back to images of a pre-historic because classless past, in order to imagine how the wretched world might be transformed into utopia—hence News from Nowhere."
The enchanted garden is a compound of memories of history through ironically Arcadian books certain kinds of readers find irresistibly alluring. While we are watching, it stands up sufficiently enough after religion has vanished. Then "reality" (politics, war, colonialism, stupid petty nasty cruel people) becomes the disrupter, what destroys what's valuable. The class system which insists the value of the hero or heroine inheres in her or her social identity. The dramatic tension of many of these films comes from showing the good person is a winner in a finer sense than accumulated money or prizes can bestow.
He then goes on to discuss how apparent fidelity to the originating text is an absolute value for these films, the new significance of hedonistic travelling holidays, topographical similitude. These are travelogues as films. Except for Weldon's they are all masculinistic: what the viewer also is assumed to want is a beautiful intelligent and ever-so-kind mistress.
I suggest we can qualify and expand his remarks. The qualification is the characters in these series never worry about money to the extent they are at risk of destitution, and our intense pleasure in landscape comes from identifying with the class of people who through their money and power were able to exploit others ruthlessly as cheap labor or slaves or as people thrown off the land, and thus the rich transformed landscape to be images of the picturesque.
Inglis's thesis fits more than the films he talks of. All the Austen mini-series from 1971 to 1983. The 1974 The Pallisers (which are becoming a major interest for me) is not mentioned; these are continually ignored, possible because 26 are just too many to get through and a reputable critic would not mention a series as exemplifying his thesis unless he watched it at least once. A number of the film adaptations meant for movie distribution in the 1990s (the Ang Lee & Emma Thompson 1996 Sense and Sensibility leaps to mind).
The explanatory reach goes into more recent adaptations and shorter films for TV too. For example, that these older films depend on an appreciation of artifice, an education in the English classics and trained appreciation of older aesthetics, and is itself class-based suggests why the more recent Austen films (2005 – 2007 Pride and Prejudice, Mansfield Park, Persuasion_, and Northanger Abbey) are attempting to substitute a sheerly natural vision for the older book-based one. Also why the more recent mini-series (say Andrew Davies's The Way We Live Now) subverts many of the visual conventions of the classic mini-series (it has discordant music, grim mise-en-scenes of city life) while nonetheless maintaining a strong adherence to the value of unspoiled green countryside and retreat. It helps explain too why a film adaptation of a strongly conservative book by Scott, Rob Roy is turned into a film which critiques colonialism and an extravagant presentation of cruel bizarre court world and makes the Highland stand in for anti-colonialism. We can place Johnny Depp's The Libertine in this new trend of classic film adaptations: it shows despair and meaninglessness among those who've lost contact with the green world and have no absolute friends (a phrase LeCarre used as an ironic title for a recent book).
This theory helps explain why in the 1979 P&P we find ourselves suddenly in green landscapes which have no ready explanation: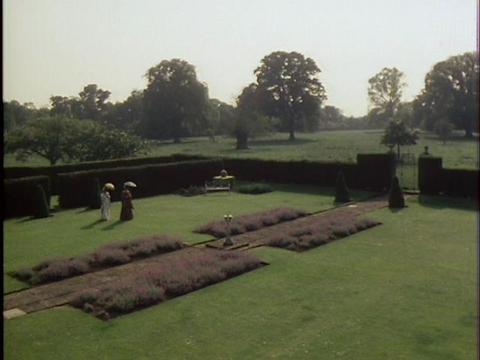 Elizabeth (Elizabeth Garvie) and Mrs Gardener (Barbara Shelley) walk in a green landscape Longbourne never had (1979 Pride and Prejudice)
Why also those older mini-series which rarely provide this kind of beauty are disappointing: the 1972 Emma, the 1977 Pallisers—- except in the last third of the films.
The book Inglis's essay is found in (Robert Gidding and Erica Sheen's The Classic Novel from Page to Screen) also has an excellent essay on the film adaptation of Oondaatje's The English Patient (and the screenplay by Minghella too): "'Piecing together a mirage: adapting The English Patient for the screen" by Bronwen Thomas. A third essay, Ian McKillop and Alison Platt's "'Beholding in a magic panorama:' televison and the illustration of Middlemarch, coins the abbreviations CNTVS for Classic Novel TV Series. This is a TV form which does differ from classic novel film adaptations meant for cinema distribution (though sometimes also played on TV) which abbreviate into CNFA. On Rob Roy I recommend Janet Sorensen's "Rob Roy: the other eighteenth century?" (Eighteeenth Century on Screen, edited by Robert Mayer). Wonderful essays on film adaptations are appearing hourly it seems to me. The field is giving a new lease on life to old-time English majors (like me).
In a well-known esssay, "Why Buy That Theory," Roald Hoffman (won a Nobel Prize in Chemistry) argues that we accept theories because 1) it's simple yet explains a lot in a flash (go over the theory of natural selection mentioned in one of the student book reviews); 2) weaves a neat pattern which is story-like (why are flamingoes colored scarlet—well that hides them from the dawn; why do chimpanzees have fur; it was hot in Africa—these are parodic because they are too neat—for example, we have no idea for certain what was the climate in Africa 200,000 years ago so when people tell these "just so" stories they are ahistorical; 3) theory or invention can be applied to other things; 4) they stimulate people to do science illustrating them or using them so forward other people's projects and careers; 4) they seem to classify reality : productive, portable, storytelling, aesthetically pleasing; 5) they are done by an insider. I am no insider, but this theory which I've developed out of Inglis seems to me to fit the other criteria.
I'd like to confide my wallpaper for my computer this season is Helen Allingham's Aldworth (ca. 1890s), an image consonant with the vision Inglis projects for these older films. The saying I used to have on my screen saver was another one from Marvell's The Garden ("Fair Quiet, have I found thee here/,And Innocence thy Sister dear!") than "Annihilating all that's made/To a green thought in a green shade." But the first gave rise in my mind to the second. Now I have Henry Tilney's "it is well to have as many holds on happiness as possible'."
Sylvia
--
Posted by: Ellen
* * *
commenting closed for this article