The Pallisers 2:3: Burgo & the female beggar · 8 September 07
Dear Marianne,
I'm writing a separate letter on a scene at the end of Chapter 29 ("Burgo Fitzgerald) in Trollope's Can You Forgive Her? and its transformation in the 1974 BBC Pallisers 2:3: it's touching in the book, and brilliant in the film.
We see Burgo (Barry Justice) walking late at night in the streets; we hear his shoes as they hit the pavements and in the distance the sound of a train setting off. He is dressed super-elegantly; he comes up to a hotel and we hear horses' hooves setting off.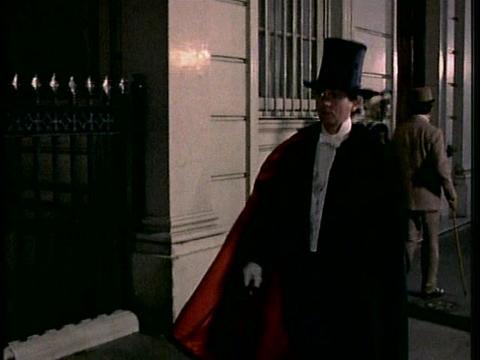 A girl of the streets (Stacey Tendeter), probably a prostitute and alcoholic comes up to him.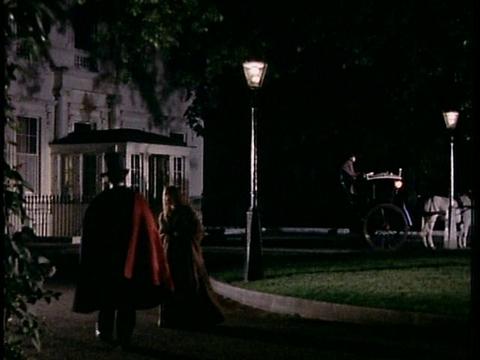 Girl: Please, sir. (Medium shot)
(Burgo seems to move on, attempt to shake her off so she stands in front of him and cluthes him by the shoulders to get his attention.)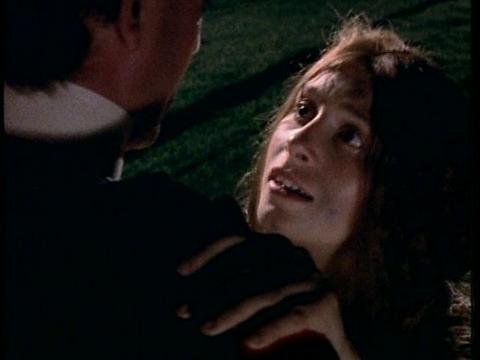 Girl: Please, sir (her hands moving quirkily, desperately clutching him), spare a penny for a glass of gin. Feel me hands, sir, how cold it is.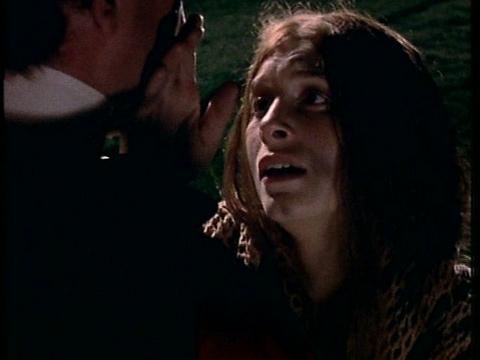 (The camera moves to his startled face as he sees a mirror image of himself writ large in her.)
Burgo: Yes, you're cold enough, all right. (His hands have white gloves on them.)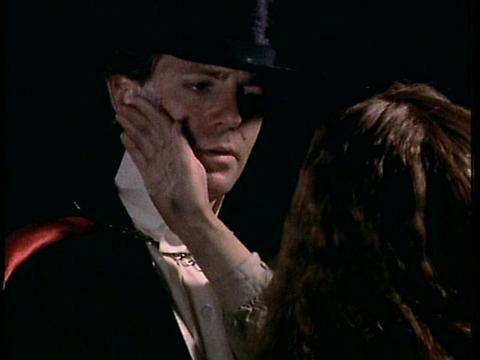 Girl: God! If you knew what it was to be so cold! I've nothing in the world. Not a penny. Not even a hole to lie in.
Burgo: We're the same then: for I too have nothing. You cannot be poorer than than I am. (He sees her as a mirror image of himself.)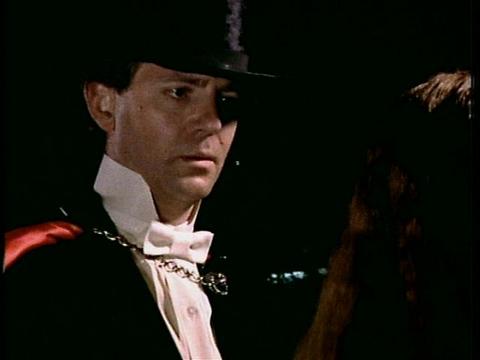 Girl: You poor? (She backs away and looks at him; we see in her eyes she finds him beautiful.) Oh! Gracious. How beautiful you are. Such as you are never poor.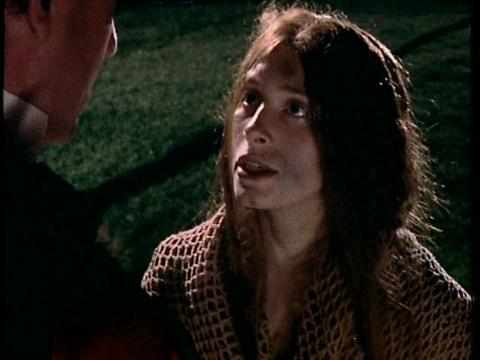 Burgo: I'm a deal poorer, my girl. You have nothing. I have £30,000 worse than nothing. (His face as intensely strained as his voice.)
(The girl, puzzled, looks at him.)
Burgo: Well, let's see, well, if I travel third class to Monkshade … (He holds a coin in front of her.)
Girl: What's that, sir?
Burgo: (Smiling.) Nothing to you. Will that get you a bed and a meal?
Girl: (Nods.) Oh, and breakfast too.
Burgo: Well, you take it.
(Girl goes for it with a smile, but he holds fast for a moment.)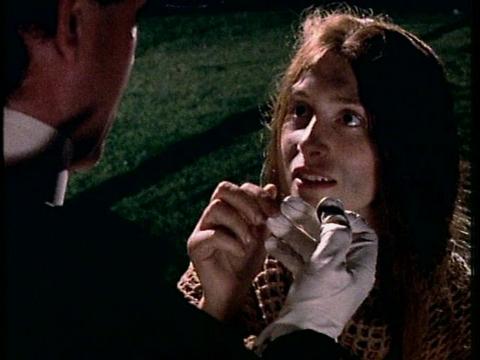 Burgo: But promise me one thing first. Don't spend it on gin. (Intense expression on his face reveals his identification with her as someone who needs to drink heavily, and his desire to see her refrain so as to spend the money on food, shelter, and warmth.)
Girl: I promise.
Burgo: Here you are then.
(She grabs his hand & hugs it tight to her face.)
Girl: Oh! Ah! I wish that I might see you again. Because you're so good and beautiful. (Camera's light shines full on her face.)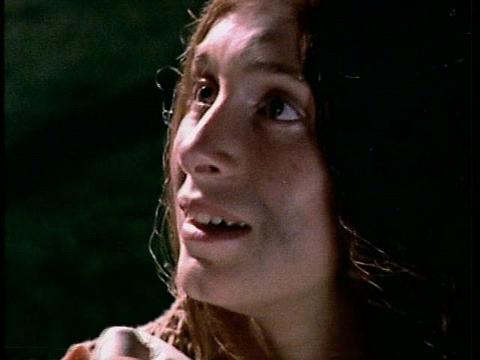 (He smiles at her, grimacing, moves away, turns and takes off his hat and bows, and then walks on.)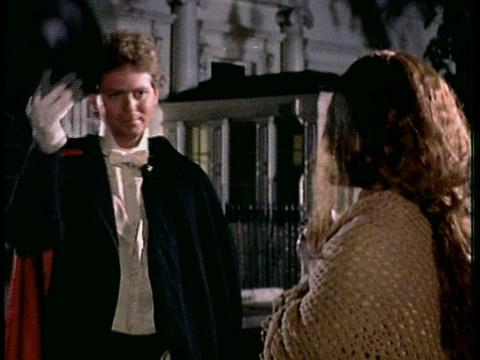 The next frame is of Lady Glencora Palliser (Susan Hampshire) reading aloud Tennyson's poetry to Alice Vavasour (Caroline Mortimer): childlike in her gestures, and self-evidently knowing almost nothing of money or how to support herself, the juxtaposition reveals this is what Lady Glencora is in danger of. All her money does her no good since she has no control over it.
The scene's literal source is Trollope's book, only there is a great difference. Some of the words are literally the same, but Trollope's character is not desperate, nor does he identify; he is under no strain. He takes the girl to a public-house and buys her food and drink, is relaxed enough to notice she is too embarrassed to eat in front of him so turns his back to her while she eats. We are told he does not try to go to bed with her nor act roughly and arrogantly, and insteads extracts a promise she will use the money he now gives her for a bed and breakfast. He feels for her and pities her, and our narrator tells us has gives her the coin "to comfort" her because she has "spoken to him in the streets." The overall structure of Trollope's book invites us to see a parallel between the girl and Lady Glencora, but it's not done viscerally directly.
The real source of the scene's power and characters' inner lives is in Simon Raven whose memories of his own drinking, encounters in the streets with those he saw also as outcasts. For Raven the girl is the real thing without disguises. His outcast state (gay, blackmailed) and remembered desperation is poured into the different parallel his Burgo recognizes.
I've identified my problem in writing about film adaptations of novels. First about the Palliser films. Can I write about the 1974 Pallisers in its own right and against let's say Simon Raven's other work (novels and film adaptations, memoirs and essays), then in terms of its genre, and only finally in terms of Trollope's Palliser novels? I want to analyze these films in terms of themselves.
Then the Austen movies. Can I write about the 1972 Emma in its own right and against let's say Denis Constanduros's Acacia Avenue and his Sense and Sensibility (the script for the 1981 S&S is by Constanduros) as a type of adaptation? then see the film as a product of a genre (costume drama, comic familial melodrama), the first in a 40 year development,;and only after all this, how it relates to Austen's Emma, the other 3 Emma films available, and then and what it, together with the other film adaptations of Austen, reveal about Austen.
In all the above stills more is communicated or makes the meaning as much as the words. The actors count so much; one cannot overemphasize the importance of their ability, looks, the sounds of their voices.
Do I have to write about the 1973 film Emma in terms of the other film adaptations of Austen's novel, Emma and Emma itself? To do so is simply to repeat what others have said. Perhaps I could produce a more perceptive analysis, but I've learnt most readers don't care about this. I would be doing to their eyes just what others do. Ho hum.
So while I know I do these projects to keep myself cheerful and occupied, and doing what I respect and fulfills me, I don't want to go on to a book (hard work) unless I'm doing something genuinely constructive and true and which somehow genuinely contributes to the discussion fundamentally. I want really to understand the material in the stills of the pathetic Burgo (Barry Justice) seen from the back by then calmed female beggar (Stacey Tendeter):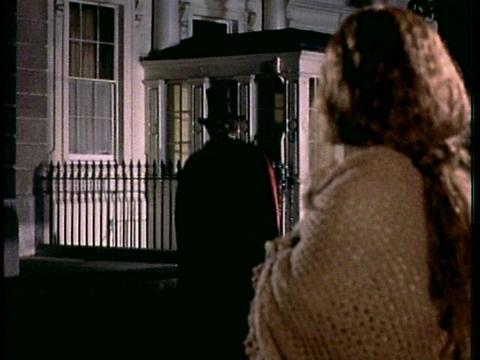 Elinor
--
Posted by: Ellen
* * *
commenting closed for this article