Mesmerized by _Brideshead_ all over again · 30 October 07
Dearest Marianne,
I began rewatching Brideshead Revisited (directed by Charles Sturridge and Michael Lindsay-Hogg, screenplay John Mortimer, based on Evelyn Waugh's novel) a few nights ago, and have found myself just bowled over all over again.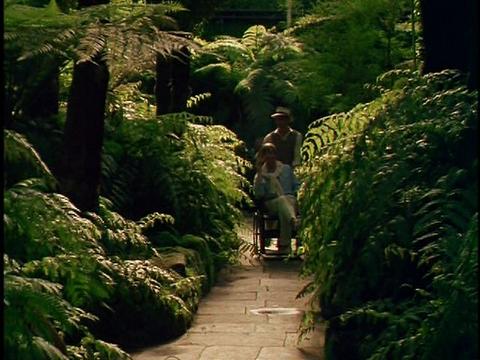 Sebastian Flyte (Anthony Andrews) and Charles Ryder (Jeremy Irons) wandering in the conservatory gardens (Brideshead Revisited (Granada 1981)
The film is different from other mini-series and it's not just the green landscapes (Oxford, Venice, the great house & so on). It is bold—and just shameless, really shameless as it pulls out not simply every stop of nostalgia, but nostalgia for not just a dream of an England that never was. For example, the first time Charles sees Brideshead, it's of a grand room already under wraps and in the dark: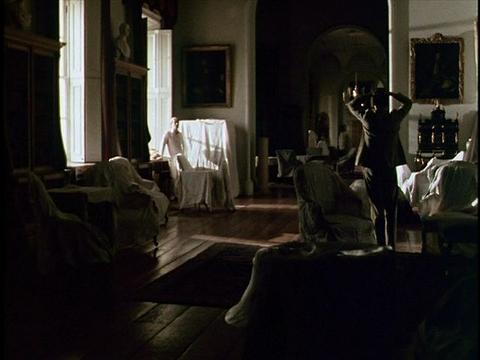 But what we yearn for is the love we dream we can know (and maybe do for a few weeks when we are still young enough—you must be under 30), deep companionship, the euphoric good time, freedom from worrying about where you are placing. All this.
Yes what's tongue-in-cheek and ironic refers to the classic or mythic manifestations of the Arcadian disillusioned England of art and literature, especially in the occasional ironic line given to Laurence Olivier as Lord Marchmain or Anthony Blanche (Nickolas Grace). But the powerful early content comes from Jeremy Irons as Charles Ryder standing there face open in front of Anthony Andrews as Sebastian Flyte and both faces and bodies reciprocating. Here they are, just a moment later, when Charles hhas flung his coat on Sebastian's lap; as Charles pushes, Sebastian directs their way: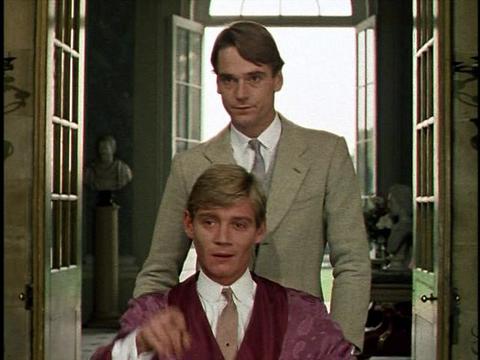 The content is a small part of what makes it bold and different. It's the music, silly (by Geoffrey Burgon). And Jeremy Irons's voice with those resonant narrator's lines. How few incidents we are given in each episode, how small they are in nature, and how slow the pace of the hour. Most mini-series have a lot of scenes and activity. The second episode was a travelogue of Venice as all say—accompanied by the drippingly kind tones of Lord Marchmain's ever-so-respectable mistress, Cara (Stephane Audran) and her minor Italian aristocratic (Count Guzzolli played by Victor Baring) with connections to get them in wherever they wanted.
I do admit by the fourth viewing (I watched the series twice in the 1980s and once again in the early 1990s), the series does begin to seem thin by Episode 3. Not everyone yearns to be in a homoerotic Oxford of the 1920s. But then Sebastian's tragedy begins in earnest, and I found it unbearably painful to watch. If anything I am responding more deeply this time to this story of the broken or unable young man turned alcoholic more than I did the first time I saw it. I am gripped far more forcibly than I've ever been that I can remember.
The causes of Sebastian's self-destruction are not made explicit. I identify, & recognize aspects of experiences I've known. Charles says Sebastian drinks to escape; I drink to cheer myself up. And what cruelty comes out of Lady Marchmain's mouth (Claire Bloom, and just perfect, inimitable), with her steely face once she dismisses Charles. Hers is a variant on the suddenly snarling or half-jeering closed face I referred to & have met whenever I've tried to what's called advance myself, get a place somewhere for something that mattered (especially if connected with money). But she as domineering mother (note the anti-feminism) is but one thread.
The other, more important, is the unspoken one about what to do when one finishes Oxford. What to do with one's life. How to earn a living? It's what's not said: Sebastian is surrounded by people managing to succeed, and how difficult, tenuous and problematic is that success: Charles by his ironic father's allowance (John Gielguld is extraordinary in the coldness he implies); Bridey (Simon Jones) by his rank and as heir; Samgrass (John Grillo) through plausible (utterly believable) sycophancy; and most of all, the apparently obtuse Rex Mottram (Charles Keating) who Julia Flyte (another innocent aristocrat, played by Diana Quick who alas does not physically resemble Anthony Andrews) describes (condescendingly!) as someone who has "friends" "in the city" and among "members of Parliament." It's Rex who gets Sebastian off in a trial; and it's Rex who knows of a terrible place, asylum he calls it, to send alcoholics and depressives to (said to "cure" them in just 3 months). Brilliant ironic touch, that. It would destroy Sebastian altogether. He'd be tied up and bullied ruthlessly.
One funny or peculiar element in the film is the Catholicism. The book is actually at its literal core about how Charles Ryder converts to Catholicism. I feel the film-makers are partly embarrassed by this theme, and awkward; they can link it to Charles Ryder as an artist in love with Baroque, someone who paints rococo pictures on walls of conservatories in great houses. But more revealingly, just like in almost every film adaptation I've ever watched, they have reversed the book's meaning. Waugh means us to see religion as giving meaning to a nihilistic world; in this film it's the Catholicism of the mother, the family surrounding Sebastian, the inner world view which is too austere and about sin and yet counsels failure, all of which surrounds Sebastian: this is what the film explicitly admits to is killing Sebastian. I may be wrong but wondered if the film partly relies on old English Protestant suspicion of Catholicism. This makes me laugh as I say: no matter what the theme of the book, the film-makers reverse it. My little moral is: it goes to show how different the audience for just about all books is from the much larger audience for movies :)
Through the lens of David Cannadine's Decline and Fall of the British Aristocracy, the movie is directly relevant to the 1974 BBC The Pallisers. Remember that Anthony Andrews played Silverbridge and Jeremy Irons, the close wandering-poet-idealist conservative Tory friend, Frank Tregear (a very different conception than Trollope's character). Sebastian would be all right if he could stand hunting; if only he could bear to support Catholic priests in their exclusionary clubbing together of other Catholic youth in Oxford, he could have stayed. It's to his credit he can't bear either. Meanwhile the film-makers get to please the status-hunters by filming a real hunt (red jackets, packs of dogs, and the fox all all).
The ironic undercutting statement: Contra mundi are the words of Sebastian and Charles's friendship pact.
And meanwhile during the day at odd moments I hear the theme music: the type, the music that frames a mini-series of the quality type is called anamnesic music. It pulses, now slow, now fast, and the melody is all allurement. Supercreamy. Yes, shamelessly laid on. I shall put some of Anthony Hecht's very great Proustian poem, Venetian Vespers on this blog soon.
Here is the inimitable closing moment of the 1st episode: Irons's voice-over is heard: "How I like to remember Sebastian as he was that summer when we wandered alone through that enchanted palace:"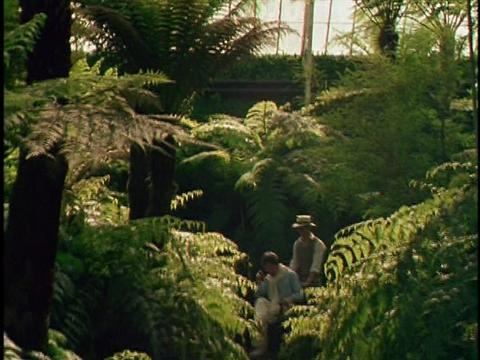 The last few nights have been the type where I can't read. I am too tired: I reread the same 3 pages over and over. I feel so bad that I don't carry on with my women's memoirs project. I don't put poetry on this blog nor women's pictures and art any more. The movie-watching takes up all my serious time and energy. But out of it I may write a Jane Austen book, It's an Ill Wind That Blows Nobody Any Good. How galvanized I'd be.
And then back to women's memoirs.
Elinor
--
Posted by: Ellen
* * *
commenting closed for this article