_Pallisers_: 3:6: The story horizon is reconfigured · 6 January 08
Dear Harriet,
As I wrote the day after Christmas, Pallisers 3:6 is transitional & presents problems for a close reader trained to analyze a work in terms of consistent overarching criteria with polished structure which has a beginning, middle, and end (even when the structure is a multiplot design the respected works are finished, have definite climaxes, denouements, and closure). In major ways Pallisers 3:6 manifests the distinctive aesthetic features of long-running soap operas which manifest a feminine aesthetic and are cyclical.
Specifically, Pallisers 3:6 takes us through into two open-ended evolving closures. (The oxymoron comes from uniting a masculine term with a feminine aesthetic.) One of the four long novels which carry the major characters and themes of across the 26 films, comes to a muted close in which basic conflicts are not resolved, but put on hold upon the birth of an heir: let's call this "the Lady Glencora and Plantagenet Palliser matter" (enacted by the series major stars, Susan Hampshire and Philip Latham).
In addition, the first of the three subsidary shorter novels is set adrift: the two major players of "this Alice and George Vavasour matter" (enacted by the secondary stars of the first six episodes, Caroline Mortimer and Gary Watson) make choices (marriage for the woman, departure for the man), and will be seen on screen no more. But all but those characters who have not died remain in the potential imagined large community of interrelated characters, which make up the film's universe, and are available to be mentioned again and behavior imputed to them off-screen. Late in the series John Grey (played Bernard Brown, probably long since gone to act elsewhere), is said to have been holding the seat for Silverbridge and now only too happy to vacate the Palliser seat for the now grown-up heir Lord Silverbridge (Anthony Andrews, a secondary star and major player in the concluding parts of the fourth novel) so he, Grey, can work for the public good elsewhere.
But by contrast (or on the other hand), Pallisers 3:6 also begins the second very long running novel of the series. "The Phineas Finn matter" (Phineas played by a third major star and second hero of the series, Donal McCann) is set on foot in the first scene of this part. This novel emerges gradually to take over the part in the scenes which occur in a return to the Arcadian gardens at Matching Priory (which open the first novel in 1:1), with a set of pictorial set-pieces, the first striking one with the heroine who will become Phineas's loving and politically astute wife, Madame Max Goesler (a fourth major star and second heroine of the series).

Phineas Finn (Donal McCann) as first glimpsed by Madame Max Goesler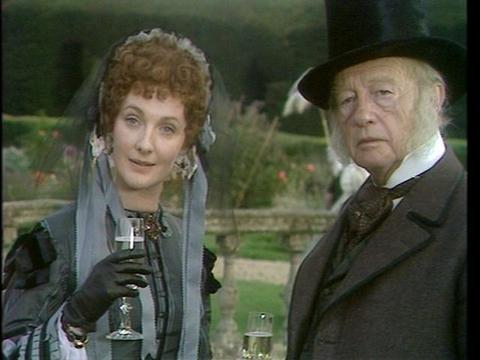 Madame Max Goesler (Barbara Murray) with the Duke of Omnium (Roland Culver) as first seen close up by Phineas Finn
The Phineas matter will be put on hold or deferred at 6:13 (when Phineas having impregnated Mary Floyd Jones [Maire Ni Ghrainne] and voted for Irish Tenant Rights loses his seat) to be replaced by a third much shorter yet central novel, the Lizzie Eustace and Lord Fawn matter (enacted by Sarah Badel and Derek Jacobi, counterparts to Caroline Mortimer and Gary Watson or Anthony Andrews in their place and function as actors). Lizzie Eustace is first encountered at 6:11 and she and Fawn move out of sight in 7:14, she to Scotland, he humiliated out of the public eye. The Phineas matter will not come to its open-ended conclusion until it resumes at 7:14 (the death of Mary and her baby in childbed and return of Phineas to London) and ends at the conclusion of the trial of Phineas for murdering a rival politician, Mr Bonteen (Peter Sallis) for advancement (9:19) when Phineas is exonerated (by Madame Max).
The mood and outlook of the Phineas Finn matter is strongly at variance with the long and shorter novel (i.e., the Pallisers and Vavasours, 1:1-3:6) which has come before: these are radical loss, grief, and failure turned into resignation and compromise, behind which is a very real continual threat to them all of becoming an outcast. This threat hovers over Lady Glencora and Alice whose alternative fates can be seen in the beggar girl and Jane, as well as Plantagenet Palliser who can be easily disinherited. The threat comes to pass or is made good (inflicted) on the two secondary heroes (George Vavasour and Burgo Fitzgerald, played brilliantly by Barry Justice). The climactic scene of this part is in fact the anguish of Burgo Fitzgerald: we see dramatized the reality that the building of this stable society around married pairs depends on the enactment and erasure from memory of violent and ruthlessly amoral acts.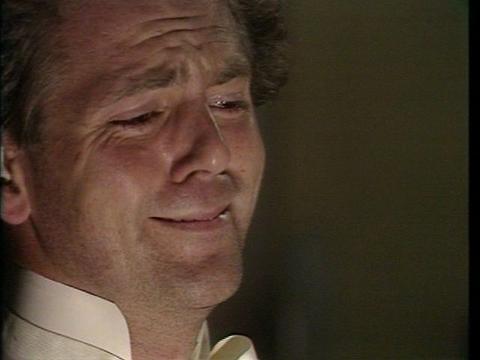 Burgo Fitzgerald (Barry Justice), the last we see of him, deserted, discarded, anguished, shattered
In this case the coerced match of the Pallisers; 2) (off-screen in this 1970s film) Plantangenet Palliser having sex with Lady Glencora, thus cutting off forever from her and Burgo a decent relationship (the virginity taboo is very strong in this series); 3) the fleecing of George Vavasour by Mr Scruby and Mr Grimes as his only way to get a seat in Parliament; and 4) George Vavasour's ineffectual violence in his attempt to break his grandfather's will disinheriting him, and to destroy his rival, the unambitious apolitical John Grey. As I've written four of the six first episodes end on a close-up of the contorted face of Barry Justice.
The emotionally wrenching scene of Burgo's despair at having been discarded is, however, assessed against the rising horizon of the new novel where a male outsider (Phineas Finn, propertyless Irish Catholic son of a doctor) and female outsider too (Madame Max, introduced in this part at the beginning of this novel as opposed to Trollope's Phineas Finn, where she first appears in Chapter 40 as an afterthought, a fourth woman and mature sophisticated mentor for Phineas) will succeed in integrating and becoming central to the lives of the powerful characters in the community.
The outcasts in the Phineas matter are those the viewer is encouraged to despise & see as "other" from him or herself, and scapegoat: Mr Bonteen whose politicking sycophany and competitiveness is done without good grace or manners, showing his far from upper class origins (recalling Mr Bott) and Rev. Joseph Emilius (Anthony Ainley), rejected because he is Jewish, whatever other unpleasant characteristics are given him, like violence towards his wife, which sort of violence is not rejected when George's breaking Alice's arm is made a joke of and Lady Glen encourages Grey to "shake" Alice into accepting him. Phineas is from the moment we see him here (and also in Trollope), a socially-upward idealistic-pragmaticist determined to advance himself, a believer in the potentials of parliamentary government to effect good.
The change in horizon causes an immediate change in emphasis in the presentation of Lady Glencora Palliser: at the close of the first scene where on the balcony at Basle she still pretends disinterest in politics, we see this is a facade as when Plantagenet Palliser and Alice leave the balcony to go for a walk together to discuss the election results, Lady Glen grabs the discarded newspaper and reads the news avidly: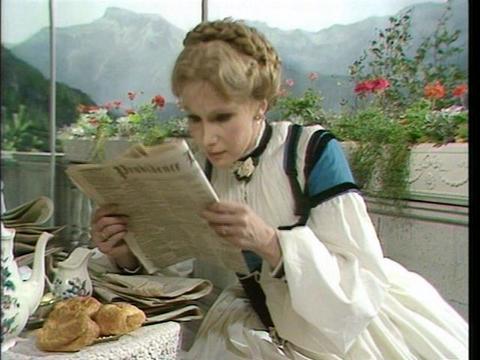 Lady Glencora Palliser (Susan Hampshire) avid for political news
By the end of the episode, she is ecstatic at her pregnancy and new born boy, and after an interlude where she and Palliser attempt to take care of the discarded inconvenient and permanently-damaged Burgo, she is seen complacently networking on behalf of her husband and heir and dismayed by the possibility the Duke may instead of taking Madame Max as his mistress, marry her and himself produce a son who would inherit before her and Plantagenet's child (for which possibility and their own future titles they have both given up much).
She also reverses herself and instead of rebelling against the norms of her society becomes someone who enforces them—with good humor and ironic wit, but enforces them nonetheless. Palliser himself has renewed hopes of becoming the Chancellor of the Exchequer and their private lives recede as the characters before us are seen to be maneuvring between fulfilling their private lives and public ambitions. For example, in Phineas's 4th full scene with a woman in 3:6, Lady Laura Kennedy (Anna Massey) we see someone who wants to be Phineas's political mentor & thus participate in public life, but she is at the same time intensely physically attracted to him. When Phineas kisses Lady Laura's hand, her eyes show a depth of feeling she can't quite control.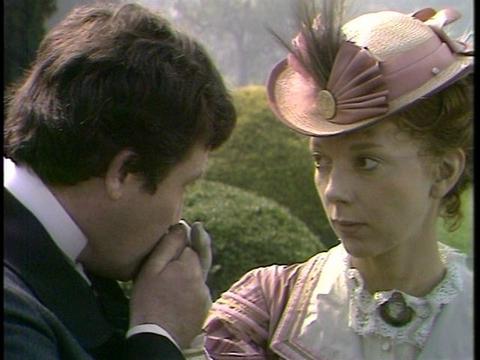 Lady Laura Standish (Anna Massey) her hand kissed by Phineas (Donal McCann), and showing in her face & eyes she's in love
(Phineas 1st scene is with Mrs Bunce (Brenda Cowling), his 2nd with Lady Glen, & the 3rd with Madame Max.)
Here is a summary of the episodes.
Episode 26: "Finding Alice." Scene 1) Lady Glen and Alice on the balcony in Switzerland; throughout the scene Lady Glen makes gestures which suggest she is suddenly physically uncomfortable and under distress, is now disposed to scold Alice into accepting John Grey, and Palliser comes with news of pivotal (for the series) outcomes of the election. As unlike Trollope's CYFH? where George Vavasour does run another time, Raven's Vavasour cuts his losses and departs upon his grandfather's disinheriting him, we do not hear that Vavasour has lost but rather a discussion regretting that people like Vavasour try for what they cannot afford (and from Palliser we are back to sympathy for George); we hear of the re-election of Palliser (of course he says), the defeat of Mr Bott (John Stratton now vanishes from the stage), and importantly a new member, Phineas Finn, about whom we are immediately told he is a "nobody" whose money is in as much doubt as George Vavasour's was.
A parallel is thus set up as Phineas replaces George. Scene 2) Alice and Plantagenet Palliser take their picturesque walk amid the scenery and (a still which repeats an early scene (in 1:1) of Plantagenet courteously, chivalrously helping Griselda, Lady Dumbello walk amid an artificially shaped wood):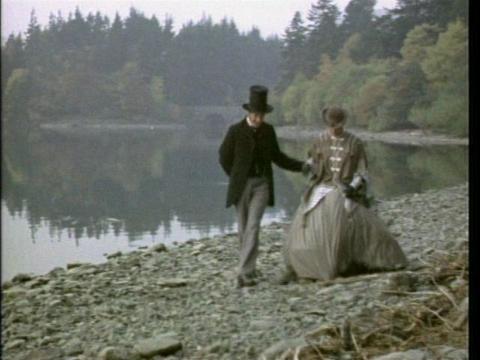 Plantagenet Palliser (Philip Latham) helps Alice Vavasour (Caroline Mortimer) negotiate the rocky terrain by a lake in Switzerland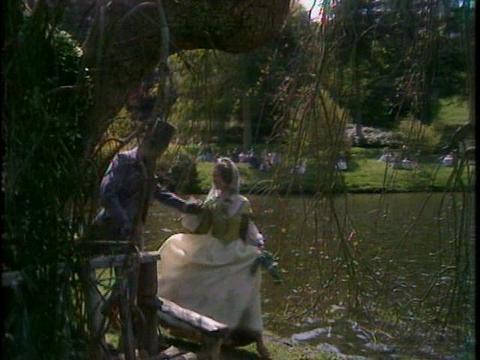 Plantagenet Palliser (Philip Latham) helps Griselda, Lady Dumbello (Rachel Herbert) negotiate the rocky terrain by a lake in a London Park
They glimpse John Grey coming to find Alice, Alice hurries off in a flutter, leaving Grey and Palliser to become congenial friends. Scene 3) Palliser suite in hotel, with Lady Glen fingering her wedding ring, and drinking some concoction; to her the upset Alice, who tells of Grey's coming, and again Lady Glen is unsympathetic (we are not supposed to ask if she has forgotten all she felt in the earlier parts, all her warnings against marrying without certain love, as the series is shifting into a different key; as Raven's George Vavasour was suddenly blackened to enact Trollope's story line ending, so Lady Glen is altered in the way to fit new material; she will have a different relationship to other women from here on in and no longer carry any feminist theme.) Scene 4) Back to lakeside where Grey and Palliser talk; to them Lady Glen, who vows to help Grey win Alice. The tone of the scene is of a comic coda (as are those which follow immediately) as it ends Plantagenet looks surprized and pleased and we look at the lovely still tranquil scenery.
All's well that ends well? Scene 5) Alice on the balcony and then drawing room in the hotel, pacing, walking, thinking, to her Grey, vexed conversation where she confronts him with the money she owes him and shows considerable resentment; he is presented as weary and agreeing with Lady Glen Alice just needs to be shaked, but he won't shake her. I can't resist: gee, thanks mate: no sense that Alice has any case at all in not wanting to marry Grey is presented.
Scene 6) the corridors of power just outside parliamentary chamber. The Duke of St Bungay (Roger Livesey) and Barrington Erle (Moray Watson) are choral figures who discuss who is new, and encounter Laurence Fitzgibbon (Neil Stacey), Irish friend and companion to Phineas, and now we get new important information about Phineas: he "rides well," is a "good fellow" (by Fitzgibbon's lights), has "got a clear head and a pleasant manner," but alas is suspected of "exaggerated views." Fitzgibbon defends his friend by saying "he worries a bit about the peasants" (for real), but "ain't got enough tin in his pocket to start shucking his weight around." Contrast and compare this to Phineas's earliest [the third] spoken sober line in Trollope's novel: "'But I have views of my own,' said Phineas, blushing again. 'Of course, you have my dear boy,' said Barrington, clapping him on the back (Ch 1, p. 50). (This interchange will become part of the first scene where we see Phineas speak and act.)
Episode 27: "Glencora's News." Scene 7) back to the balcony in Switzerland, again a reference to George Vavasour with Grey talking in a sharp disparaging manner and Palliser echoing: "a man like George Vavasour … they should not sit in the House of Commons. We need solid men like you." Grey demurs at public life, Lady Glen appears and on her advice Grey goes off to woo Alice, then a moving scene beautifully acted between the husband and wife when she manages to communicate the news (he is at first absorbed in his newspaper) she is pregnant, e.g.,
Lady Glen: You're becoming dramatic. No, no, it happens every day.
Palliser: But not to us, my dear …
Delightful comic moments include his tracing an itinerary that would take months, his rushing off to call for doctors which include Trollopian characters from Barsetshire novels ("Dr Thorne, of Silverbridge"), her now for the first time looking fondly at him as child-like; the scene ends with their first kiss on screen, a tender gentle one.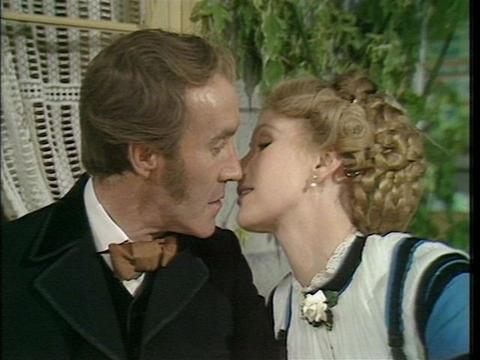 Plantagenet Palliser (Philip Latham) kisses Lady Glencora Palliser (Susan Hampshire) on screen for the first time (she's pregnant)
Scene 8) a return to gothicism (Lady Glen at Matching Priory grieving over her imprisonment and loss and desire to run away, to die even, was our first). In this one Grey persuades Alice to succumb to him on the grounds life is short and death all around them. "It is getting late" and this is what's on offer for them for passionate love; it ends in a passionate kiss very like that between Alice and George Vavasour (the first in the series, 2:3, Episode 14, "Lady Glencora's Illness."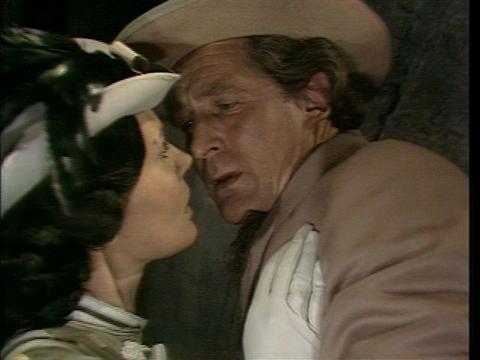 John Grey (Bernard Brown) kisses Alice Vavasour (Caroline Mortimer) passionately in the crypt after she has accepted him
Scene 9) the sitting room of the Duke of Omnium (Roland Culver) who approved of the match engineered by Glencora's vicious-minded aunts and carried it through by effective threats. They drink to the health of the coming heir. The Duke persists in discounting any concern for Glencora's health and will not hear that the baby might be a boy. (I think we are supposed to be comically [alas] appalled.) Scene 10) on the balcony in Switzerland after Alice tells that "she is vanquished at last," Lady Glen confides that she is pregnant. Alice's feeling she should be a penitent and Lady Glen's pregnancy used for jokes (mock gestures of cradles, references to Palliser's overprotective care). Scene 11) Another coda scene in the drawing room off the balcony between Lady Glen & Palliser and Grey and Alice; Palliser invites them to be wed at Matching; Lady Glen is given the Duke's telegram to read and at long last there is some self-assertion when Lady Glen reads (and Palliser silently acknowledges) the Duke's unearned unmerited control over them (he wants them to come home immediately), for which distasteful acceptance Palliser must allow Lady Glen to visit the gambling rooms at Baden once again ("Well, you did say, Plantagenet, that I could have whatever I wanted").
Episode 28: "A Helping Hand." Scene 12) The gambling room, where Lady Glen and Alice see Burgo betting despairingly and losing all, and Lady Glen goes to Palliser (who has been discussing the way the Grand-duke uses this exploitative place to support his state) to help Burgo as they owe it to him. Scene 13) Burgo's Lodging room. Perhaps the most moving episode and climactic final key moment in the Lady Glencora and Plantagenet Palliser story. Plantagenet goes to Burgo's lodgings and we watch the anguished man try to refuse help, cry out, weep; Burgo asks how is it he has "been ordered to go to the devil …". Scene 13) the Pallisers' bedroom with Lady Glen again in virgin white, Plantagenet tells Lady Glen he has set up arrangements to supply Burgo with regular money and move him from the gambling town. She is all gratitude at his generosity; the scene is saved by Latham's part where he acknowledges he has unjustly won and paid off the loser by saying he is Burgo's "brother." This is another scene where the two hug tightly at the close. (There are quite a number of these throughout the series, starting with the scene at the breakfast table where she tells him she loves Burgo and does not love him; Pallisers 3:5, Episode 21, "Love Declared."
Scene 15) Aboard ship, on deck, at night. The two winning couples return home; Palliser has persuaded John Grey to take the seat at Silverbridge; moments of tender affection between Palliser and Lady Glen (and again they kiss), and strong quiet satisfaction between Alice and Grey where she speaks lines which feel Shakespearean about when they will wed, e.g., "when the bands are called thrice, and the feast has been spread, and the guests are all bidden, to watch us wed" (and they kiss, passionately). As with soap operas there is much repetition, but it is to be noted that in each case or different scene where we learn nothing new, the scene itself brings the characters into different contexts and thus represents the same information in terms of other story lines which are thus slowly developed. The new story line here is Grey will go for a seat, and politics can be discussed in the scene (which thus becomes part of the Phineas matter).
Episode 29: "Alice and John." Scene 16) Lady Midlothian's spiteful triumphant card is not allowed to change the atmosphere of congratulations as the two couples (Alice & John & a very pregnant Cora & Plantagenet) look over the wedding gifts at Matching Priory; the conversation now brings in new players when Grey now announces he is going to stand for Silverbridge, and Lady Glen says (as if this is just another passtime men happen to have) "Politics. I knew they'd start them again the minute we got home …" We now hear of Mr Mildmay, Mr Monk, and especially Phineas Finn. Thus Lady Glen: "this new young lion from Ireland Mr Phineas Finn, who from the sound of it is seven feet tall and as beautiful as Apollo." Scene 17) again in the corridors of power outside parliamentary chambers; first Erle and Bungay meet, then Palliser to them, and the talk is of the new Chancellor of the Exchequer (not Palliser) and to them come Phineas Finn and Laurence Fitzgibbon. Finn does not please Bungay; he is ironic when asked how he finds Parliament:
Finn. Oh fascinatin' Duke. Slightly worrying.
Palliser. Worrying?
Finn. Hmmm. That so many men in the house should be so little representative of those they claim to represent, mmmm?
When he and Fitzgibbon depart, Erle remarks: "Confounded insolence." A concluding conversation pair between Bungay and Palliser where they discuss Lady Glen's health, Palliser asserts "she is anxious lest the child be a girl. Oh I have told her of course that any child of hers is equally precious to me, but it is important that we have a son." Bungay says he must be patient and takes his arm and they walk off discussing when the baby is due.
Scene 18) Matching Priory, midnight, the Duke and Palliser waiting below. We hear nothing above of cries or pain, only finally as Palliser worries away, a child's cry; the nurse comes down with the baby, and the Duke and then Palliser check the genitals. Perhaps the most distasteful scene for me in all the Palliser series. The Duke will not acknowledge that Glencora is anything more than simply necessary for such an occasion. Scene 19) sheerly church bells ringing to announce this great event. Scene 20) Phineas Finn's lodgings. A scene where Mrs Bunce (Brenda Cowling) is packing Phineas's things before his eyes; Fitzgibbon and Mr Bunce (Haydn Jones) come in. The burden of this scene is how Phineas's clothes are barely adequate. Phineas's replies are variations on "This will have to do." We see Mrs Bunce dismiss the political views of Mr Bunce as unimportant, and insinuate all political principles are unreal and irrelevant to real life. Is this a sop to a TV audience? a satire on women or Mrs Bunce? or perhaps what Raven thinks of ideological positions?
Episode 30. "The Christening." Scene 21) Exterior grounds of Matching Priory, people coming out of the church. Our two couples (John & Alice, carrying the baby, and Plantagent and Lady Glencora, continually coming over to talk to the baby, make eyes at and fondle him; to them important moment of Phineas Finn and Fitzgibbon's appearance and camera dwells for a moment on Lady Glen lifting her veil and Phineas looking at her.
Lady Glen: "Oh! So you're Mr Finn (shakes hands). I've heard about you. Well, I hope we'll see your at Matching on some less formal occasion."
Phineas: "I should be honored, Lady Glencora."
Lady Glen. Smiles. Holds up veil to show her face to his.
This is a grand musical chair kind of scene like the one that began the series, where we move from one set of characters to another as they move or the camera does. So after Finn leaves, Alice declares him "very charming," but Lady Glen protests, "Not as charming as my boy"; then Fitzgibbon and Phineas are in another part of the garden as the two men begin to discuss politics, Finn asks why he is invited when he's a "penniless barrister from Ireland" and Fitzgibbon replies that he supported Mr Palliser and has show himself to be a "brilliant member." They cross through a high hedge, a liminal kind of moment where we feel we are in another novel at last.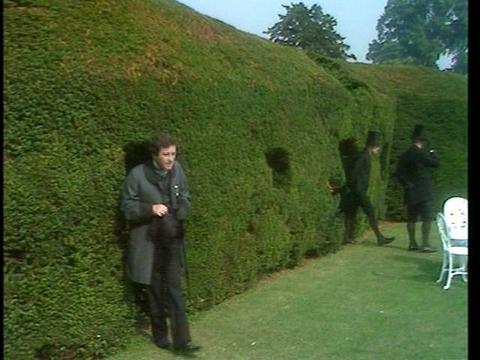 Phineas Finn (Donal McCann) crosses the hedge in Matching Priory Gardens and we are in his novel
A group passes by where we glimpse Lady Laura and she and Phineas exchange glances (this is conventional Hollywood camera technique; you highlight a character suddenly and this tells the viewer we are seeing someone and something important).
Phineas espies Madame Max bowing to the prince with the Duke by her side from afar; the camera then brings us close to the Duke of Omnium and Madame Max and we hear their flirtatious teasing talk. Her talk is calculated to let the Duke know she is not sexually promiscuous but is sophisticatedly aware of sexual pleasure. The Duke says the prince was taken with her, to which she replies, "But not I with his Royal Highness, I fear Duke," because the "prince presumed:"
Madame Max. His smile was for a merry widow, Duke, and the prince is a married man.
Omnium. Married men may surely flirt. Do you never flirt, Madame Goesler?
Madame Max. Never at christenings, Duke.
Camera back to Fitzgibbon and Phineas watching from afar, and Dolly Longestaffe (Donald Pickering) appears, to make choral comments (as he did in 1:1 with George Vavasour, and then in subsequent appearances, e.g., 1:2, Episode 10, "New Candidate," with Barrington Erle). We hear that Madame Max is "a Jewish widow from Vienna"; at this her eyes seem to signal them, and Phineas darts off towards her and the Duke, and a tracking shot takes him over to the part of the garden where they are, and in a strong peremptory tone Phineas addresses her, and forces an introduction, then walks off, to leave the older man indignant (and echoing Erle: "Damned insolence")'; the camera takes us back to Fitzgibbon and Dolly to hear Dolly say "I must say, Finn seems to get on weell, particularly with the ladies."
Camera now tracks Phineas as he moves to be part of a group of 5: Bungay, Lady Laura, Robert Kennedy (Derek Godfrey), Barrington Erle, and he tells Bungay he and Lady Laura "have met several times." Back to Dolly and Fitzgibbon. Dolly (chorus like) notes Lady Laura is "ready to eat" Phineas and ask "what is it Laurence about this Phineas Finn?" Dolly moves off and Fitzgibbon goes over to the group of 5, and we hear of the Chancellor's making mistakes, a possible coming election, Finn attempts to solicit opinions but finds himself offered only enigmatic comments, Kennedy (already in character) says "it would be premature to express" any and Finn is put in his place by references to the tenuousness of his seat in Ireland. Erle: "They do say he [Lord Tulla] wants it [the seat] back for his brother." Phineas now snubbed by Bungay who takes the others off to discuss what they should agree on about the coming election. Lady Laura and Phineas left, he sulking, and she gently & alternatively reproaching and encouraging him.

Phineas Finn (Donal McCann) snubbed by the Duke of St Bungay (Roger Livesey) as the others stand by
The camera swings back to the baby and widens out to show us Lady Glen, Alice, Palliser & Grey, and Bungay coming over to them; Bungay talks of the baby and Lady Glen offers (in her new role) a prudential comment ("Wise baby. He knows on which side his bread is buttered"); Bungay takes Palliser off to talk, but not before Palliser urges Lady Glen to go over to the Duke of Omnium, so Lady Glen leaves Alice to take the baby upstairs. Brief conversation pair of Bungay and Palliser if there has to be a general election; then they join Kennedy, Fitzgibbon and Erle and ask them who they trust, a comic silence, camera on goldfish in the lake, and then widens out to locate us by Omnium and Madame Max who are also looking at goldfish in the lake.
Now Lady Glen comes over to Omnium and Madame Max and find herself partly snubbed by Omnium and commanded to keep Phineas Finn away; her teeth clench as she regards the pair and then looks at them from the back (Omnium's arm is now around Madame Max's waist). Brief flirtation of Omnium and Madame Max where she looks uncomfortable about what has happened.
Back to Phineas and Lady Laura, continuing the subject of his having to accept he will be treated as a new man, not about to be given an office; someone who must work his way in. Camera over to Bungay, Erle, Palliser, Kennedy, Fitzgibbon and we hear of someone who didn't stay the course (George Vavasour not named but meant), and Palliser's servant brings a note, Palliser gives it to the Bungay and we see excitement on Bungay's face.
Scene 22) Upstairs, Matching, Lady Glen's room now a baby's room too, maid there, and goes, and then Alice and Lady Glen watch from window and Lady Glen confides her fears about Madame Max; they look down and see signs of excitement.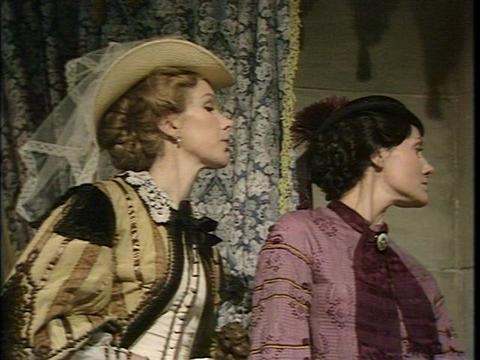 Lady Glencora Palliser (Susan Hampshire) and Alice Vavasour (Caroline Mortimer) watching signs of excitement
The men are gathering: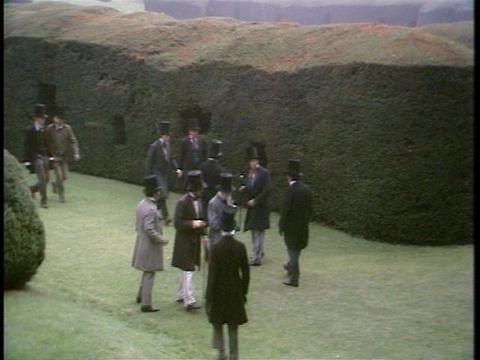 But Phineas off to the side (nervy, determined) tips his hat to Madame Max: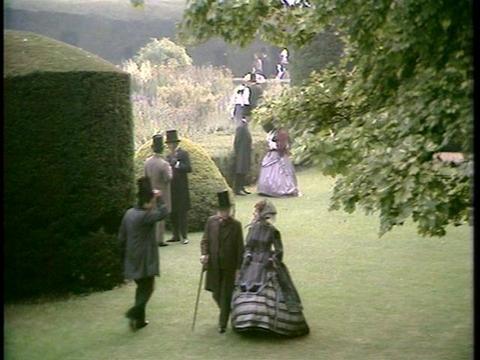 Lady Glencora Palliser (Susan Hampshire) and Alice Vavasour (Caroline Mortimer) watch Phineas Finn (Donal McCann) tip his hat to Madame Max (Barbara Murray) while she is with the Duke of Omnium (Roland Culver)
Palliser rushes, asks Alice to leave (and thus we see her for the last time). We end on a moment of great intensity and the first upbeat close of the series: Palliser's face aglow with the possibility as change of players may (so Bungay has intimated) pave the way for him to take office as the Chancellor of the Exchequer.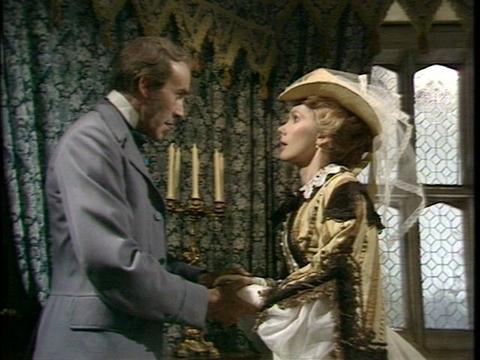 Lady Glencora Palliser (Susan Hampshire) and Plantagenet Palliser (Philip Latham) looking forward to the future with grave hope
Alas, she hangs her head in shame as it seems it was she who was responsible for his almost losing it (this new perspective is all public), but he is too excited to observe this:
Palliser: Cora! Cora! Tis a great thing and it may not be offered again.
And the anamnesic music begins again.
***********
For commentary click on comments.
Sylvia
--
Posted by: Ellen
* * *
commenting closed for this article