Pallisers 5:10: A Double Life · 13 April 08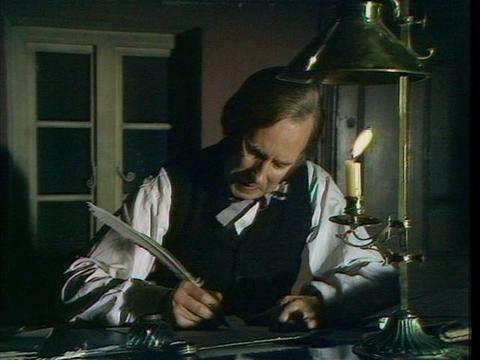 Quintus Slide (Clifford Rose) writing contumely against Phineas Finn ('74 BBC Pallisers)
Slide (Clifford Rose) composes an article: "Suddenly he burst forth a member of Parliament and the friend of cabinet ministers, and more particularly of their wives … There is a strong smell of the boudoir about Mr Finn … (The first clause is taken from Trollope's Phineas Finn, Ch 38, the rest Raven's invention)
Dear Harriet,
Another three letters in this growing series of blogs on the 1974 BBC Palliser film series. I want first to make the point that in 5:10 we are at nearing the close of the first of two phases of the Phineas matter of the series, and describe a central 20th century theme which shapes the film.
We have watched Phineas (Donal McCann) first enter public life in 3:6, as a decided outsider, someone snubbed with impunity and begin to watch him being watched (by among others Madame Max [Barbara Murray], introduced in the same part) and mentored (by Lady Laura Standish [Anna Massey]). In 4:7, one of the episodes is called "Sizing up Finn;" in that Part the theme was Phineas, the beginner, the young man just learning how to negotiate the pitfalls of public life. To repeat what I said in that blog, 4:7 is the story of a young male beginner in public life. We are watching a young man learn lessons in how to behave at a salon, at a great country house where powerful politicians gather, how to inveigle invitations to such a house, and the price of keeping up friendships.
In 4:8, which I called in the thick of life, politics and marriage, the emphasis is on Phineas learning to be a politician, specifically becoming the eloquent orator his friends and associates thought he had it in him to be; the issue in this part is the ballot, and we see Phineas contrasted to Bunce (Haydn Jones), the common man thrown in prison who Phineas springs because he is a gentleman whose bribe will be accepted. There are a number of major salon scenes as Lady Glen (Susan Hampshire) becomes an effective hostess, and we see Lady Laura begin to realize she has made an irretrievable mistake in her marriage. It's in 4:8 too that Phineas is a hero twice: he saves Oswald, Lord Chiltern (John Hallam) from physical maiming at a hunt, and he saves Kennedy's (Derek Godfrey) life, for which he is rewarded by Lord Brentford (Lockwood West).
5:9 throws the emphasis back on private life, love stories, and the perspective is an adult one: strained and broken relationships dominate the series: the Pallisers once again, Kennedy and Lady Laura, Chiltern and Phineas, Phineas and Laura.. It is here that we see Phineas take advantage of Mary Flood's (Maire Ni Ghrainne) attachment to him to have sex with her. Poetry emerges in the development of the core idea voiced by Madame Max: "Time is pressing us all, Mr Finn." Women dominate this part (as they did 2:3, Splendours and Miseries of Courtesans) and Finn is rescued from Mr Clarkson (Sidney Bromley) and debtor's prison by a dea ex machina, Aspasia Fitzgibbon (Rosalind Knight).
In 5:10, Raven's originality or commentary type adaptation has a modern perspective not quite found in Trollope's Phineas Finn, or at least not found shaped so explicitly and sharply. Phineas is now leading a double life where whatever he does he betrays part of himself. In order to stay with the wealthy and powerful people who have now let him into their set, and given him places and (in this part), office, he must vote against the needs of his Irish countrymen whom he thought he was seeking power partly to help. He must find an income, and in order to do this he chases a woman he does not really love (Violet Effingham [Mel Martin]), and by so doing is treacherous to the head of the family who has supported him, Lord Brentford, since the one sure way the Standishes can retrieve financial security would be for Violet to marry Chiltern, and the only hope that Chiltern will make himself a useful member of society and not burn out would be for him to become a good husband to Violet. He takes advantage of Lady Laura's intense continuing desire for him and despair in finding herself married to a man she can't stand to make her his gobetween, all the while he is having sex with Mary Flood Jones.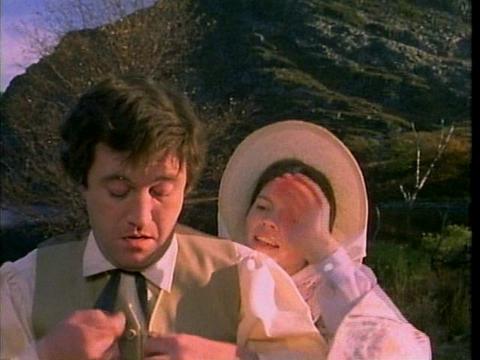 Phineas Finn (Donal McCann) explaining to Mary Flood (Maire Ni Ghrainne) he must go see Mr Monk
We see Phineas and Mary rise from the ground in a scene juxtaposed directly to the one where Phineas has been imploring Violet to marry him.
A couple of weeks ago there was a perceptive interesting essay in the London Review of Books by Colm Toibin on just this topic: "The Art of Being Found Out", LRB, 30:6 , 20 March 2008, pp. 24-27. Toibin argues that many 19th century people had to lead double lives, especially those whose identities were dependent on transgressive, socially unacceptable behavior; although exposure could destroy them, they nonetheless did want others to know what they did or were—in order to validate their existence. The problem is to do this without bringing down upon yourself terrific punishment. In the course of the essay Toibin outined a later Victorian personality type he thought was forced to live a double life (say Wilde or James), a gay man, an Irish man.
I think this enforced double life is characteristic of modern life too: in order to survive in the business or political or social world, we have to present a false self and sometimes violate our deepest feelings. This is Conrad's theme in his famous story, "The Secret Sharer." Trollope does say when his Phineas manages to escape temptation by proposing to Mary Flood Jones (in the novel they do not have sex before marriage), he breathed a sigh of relief as now he would not violate his deepest feelings by marrying Madame Max for her money (which in the novel ironically it's Lady Laura who urges him to do).
But the whole part of 5:10, as written by Raven and directed by David shows Phineas to be leading a double life. He chases Violet while having sex with Mary Flood Jones. He lives one way in luxury but his feelings are with Mrs Bunce (Brenda Cowling—there is a moving scene with her packing; it was she we first saw with Phineas alone just before the Christening, helping him with his clothes; in Trollope the scene occurs with Mr Bunce and it more strictly about politics and whether Phineas will betray an ideology).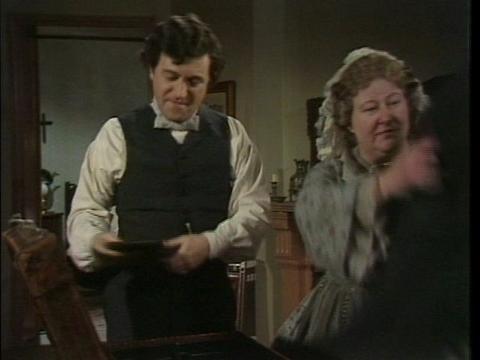 Phineas and Mrs Bunce (Brenda Cowling) packing
Mrs Bunce helping Phineas with the packing; she was the first woman we saw him close to in 3:6; then she was readying his clothes and he was telling her what he had would have to do.
To stay in office he must violate his real self (this idea is not in Trollope; I suspect Trollope would see it as sentimental.) Violet is right to say Phineas doesn't love her.
And he is told this point-blank in a powerful scene with Laurence Fitzgibbon (Neil Stacy), the younger son of an estabishment landlord; Fitzgibbon will fight Irish Tenant Rights fiercely for the exploitation of the Irish keeps him in luxury. Fitzgibbon tells Phineas his life is a lie.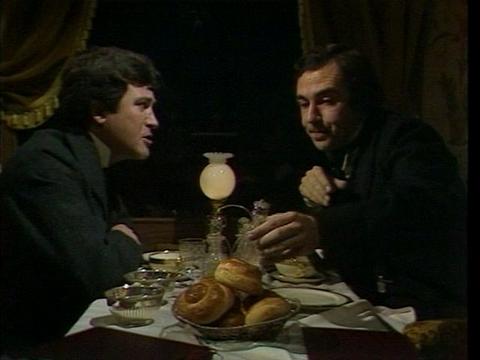 Phineas Finn appealing vehemently to Laurence Fitzgibbon (Neil Stacey) as they ride on the luxurious dining car of a train
Trollope chose an Irish hero and has him at the end of the book be true to his national roots and vote for what's good for his country as a whole, but Raven has gone further and emphasized what Trollope adumbrated: the double life of Irish people of the upper class until recently—those who had to come to England to make it.
I very much liked the way Nick on Trollope-l put it:
"Phineas' dilemmas are becoming sharper by the episode. The objective contradictions of his circumstances are being coming home to roost. This is cruelly brought home to him in the conversation with FitzGibbon. This is another brilliantly realised scene – they are in a railway dining car and FitzGibbon orders about 7 courses, a bottle and a half of wine, a decanter of port – then proceeds to talk dismissively of Irish tenant farmers (who's miserable living conditions we have just seen – although I would have to say that these were not very effectively conveyed in the shots used; the poverty was too picturesque)."
It's important to notice that this train scene occurs nowhere in Trollope. In Trollope's Phineas Finn, Barrington Erle (Moray Watson) warns Phineas not to vote for Irish tenant right, and the scenes where Monk urges Phineas not to go out with him, but ignore what he said on the hustings, and only after Phineas has said he resigned his office, does Monk shake his hand with gratitude as of a fellow soldier in the good fight. In Raven's 5:10 we get a scene where Monk urges Phineas to go with him, and Phineas is reluctant. Raven's Monk (Bryan Pringle) also at the same time tells Phineas this will not be a debate, but a row and a nasty one, and we see an example of this on the train scene.
I'll end this blog by setting forth an outline of the whole series, from Part 1 to Part 26 (see overview of CYFH? material alone). The consitent reader (if I have any) can see where we are now at 5:10. Then I'll have three blogs again. This time I'll begin with a summary of the episodes (which includes the emergence of Madame Max as the most admired and admirable character in the series thus far); then turn to discuss the themes after we look at the episodes; finally I want to write separately on the introduction of Lord Fawn (Derek Jacobi, of the Lord Fawn and Lizzie Eustace story).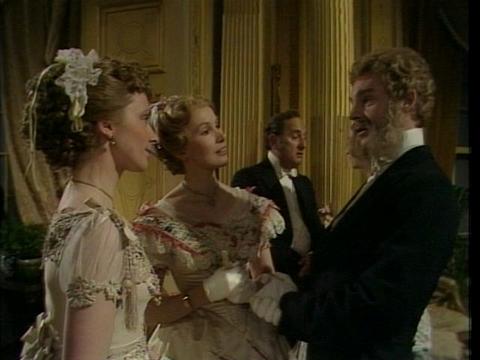 Fawn (Derek Jacobi) regales the encouraging Lady Glen (Susan Hampshire) and patient Violet Effingham (Mel Martin) with stories of his "119 sisters"
An Overview: the four central subject matters or novel trajectories treated centrally (coming from Trollope's six novels called Parliamentary or Palliser) are the Plantagenet and Lady Glen story (this comes from The Small House and Can You Forgive Her?), the Phineas matter (Phineas Finn and Phineas Redux), the Lizzie Eustace story (The Eustace Diamonds), and the Pallisers story (Phineas Redux, The Prime Minister_, Duke's Children). However, the Lizzie story is really an interlude and might well be as short in episodes as any of the smaller parallel stories which are interwoven with the Pallisers and Phineas's matter. These are George/Alice/Kate Vavasour & John Grey story (against the first CYFH? matter); the Adelaide Palliser and Gerard Maule story (against the PF matter); and the Emily Wharton and Ferdinand Lopez story (against the PM matter).
1:1-3:6 is the Plantagenet and Lady Glen story (CYFH?)
1:2 to 3:5 is the George/Alice/Kate Vavasour story; Vavasour story set adrift in 3:6 (CYFH?)
3:6 transitional from Plantagenet and Lady Glen story to Phineas matter (CYFH? combines with PF)
4:7 to 6:12 is the Phineas matter (with the Brentford family, Lady Laura & Kennedy, Violet and Chiltern matter a subsidiary parallel; the story does not exist apart from Phineas's; Madame Max is a linchpin combining the Lady Glen/Plantagenet/Palliser matter with Phineas's story) (PF)
Like 3:6, 6:12 is transitional: we have the end of the Phineas/Lady Laura matter (PF) and beginning of Lizzie Eustace/Fawn in earnest (ED)
7:13: the Lizzie Eustace and her suitors and hangers-on story (what's left of ED after much chopping and alteration; no Lucy Morris, no Lady Fawn, no Lucinda Roanoke)
7:14: transitional: it begins as Lizzie's story but also has Mary's death early & by its end we are in the thick of Phineas's story once again
8:15-9:19: Phineas story second phase, with destruction of Lady Laura, Madame Max's rescue of him and their marriage, (PR)
9:19-12:26: begins the long trajectory of the Palliser story and matter (PR and some of PM much changed; Chiltern supports Phineas, Palliser & his other allies stands aside)
12:20-11:23: is the Emily Wharton/Ferdinand Lopez story; ended more than set adrift as man commits suicide and woman retreats to father's arms in 11:23 (a PM story which actually takes over Trollope's PM at times)
12:24-26: The ending of the Palliser story, with emergence of Silverbridge and Mary as new generation, and death of the now Duchess of Omnium in 12:26 (more PM and DC, with much new invented matter and episodes realigned).
The subsidiary story of the Lizzie Eustace and Lord Fawn story (Eustace Diamonds) in Raven is the consciously distancing one of the Pallisers as chorus: the Duke is aging, ill, with Lady Glen superintending his care. There is also a brief ludicrous comedy of Fawn chasing Madame Max (justified by a paragraph in ED where Trollope tells us Fawn asked her to marry him three times, but never bothers to dramatize or develop the idea) in this matter, but it's hardly three scenes altogether, and is part of the mockery of Fawn. The Adelaide Palliser and Gerard Maule is (to my memory) made up of the fewest scenes of the novellas and really gives Lady Glen something to do in the second phase of Phineas's story.
Sylvia
--
Posted by: Ellen
* * *
A PS. Many of the parts have tended to have a consistent set of colors; a palette. So in 4:7 the tendency was to greys and darker colors; in 2:1 (the beginning of the marriage of Palliser and Lady Glen) light blues, bright colors, pastorals. In 5:10 we have many striking colors against grim and black backgrounds.. The designer and costumer have dropped their grey palate of the early scenes, and only use pastoral ironically; different colors dominate different scenes. So blood red for one between Kennedy and Lady Laura (Anna Massey's into blood red maroons); greens for the polluted mad idyll in the park. Yellow for Lady Glen, and an off green and mostly grey and black for Madame Max. The outfits of the women are spectacularly luxurious in this episode, very alluring; the man except the Irish tenant, all dressed as supercomfortable gentlemen.

E.M.
— Elinor    Apr 13, 2:23pm    #
commenting closed for this article