Pallisers 6:12: Isolated People Herding Together; Lonely Friends (2) · 12 June 08
Dear Friends,
Yesterday I sent along transcripts from key scenes at Portray Castle, Matching Priory, and Phineas's London office from Pallisers 6:12. Now I offer a thematic discussion.
Raven cuts Trollope's Eustace Diamonds ruthlessly, especially the array or continuum of women characters struggling to find an endurable place in the social order whom Trollope provides: Lucy Morris never appears; the harassed and destroyed (driven mad) Lucinda Roanoke doesn't exist, nor the companion whom her employers treat with utter disrespect, Miss McNulty. We barely see one the two women who are at least comfortable, Lady Fawn, very limited in her kindness because of her conventional ideas (and not identified as a cast member at IMDB), and the bully dragon woman (with one of these poisonous tongues), Lady Linlithgow has vanished.
We also never see the lawyer who initiates and keeps the suit against Lizzie to return the Diamonds: Mr Camperdown; we are told by Frank (Martin Jarvis) and Fawn (Derek Jacobi) about Camperdown's opinions, actions, and respectability (which is never, not once doubted as a criteria for judging him). The matter of the novel begins in earnest in the setting of Chapter 21, Portray Castle where Lizzie (Sarah Badel) arrives after having escaped the physical efforts of Camperdown to wrest her jewels from her (in a remarkable scene in the book which Raven gives up), and we get in this part two long scenes of her against the landscape, first alone reciting verses by Byron, and then met by her cousin, Frank Greystock.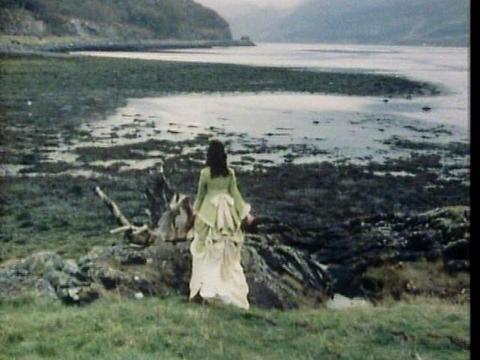 Just after Lizzie (Sarah Badel) has finished emoting over Byron and told Andy Gowran (Leonard Macguire) she has every right to have her cousin, Frank (Martin Jarvis), as a male visitor at Portray Castle
There are none of the parallels of Trollope's book. In addition, unlike Raven's work for 1:1-3:6 and 4:7-6:11, his Eustace Diamonds matter lacks a substory: in the first case the Vavasour/Grey group; in the second the Brentford/Kennedy/Chiltern/Violet matter. For the Eustace Diamonds, Raven provides only the Palliser chorus and the remnants of the previous major story (Phineas's). We learn nothing of Lizzie's marriage to the alcoholic and probably diseased (venereal) Lord Eustace who provided the diamonds in the first place—beyond the fact that it occurred and caused her to have the diamonds to wear, Portray Castle to live in, and an income to attract desperate and unscrupulous.
Again we begin at Portray in earnest. We first see Lizzie with Lord Fawn (Derek Jacobi) visiting Matching (6:11); dismissed is the whole complicated opening story of Lucy Morris, the vulnerable powerless governess & lady's companion mistreated by Frank and his family, cruelly denigrated by Lady Linlithgow (the parallel for Lizzie in Trollope's book), Frank's career in parliament, indeed everything leading up to Lizzie's retreat to Scotland (which is where we first see her in 6:12, Chapter 21 in the book).
In Trollope's Eustace Diamonds Lizzie is parallelled to Lucy Morris; she is paralleled to Lucinda who is being harassed and bullied into madness by her mother, Mrs Carbuncle (passing as her aunt, here Helen Lindsay) and her father (Lord George de Bruce Caruthers, here Terence Alexander—there's a scene in the book, slipped in quietly where we are to understand they are talking in bed) into marrying brutal man. Raven's Lizzie is not a commentary on Thackeray's Becky Sharp (as Trollope intended his heroine) or any other of the subversive disillusioned amoral women who are found in the English novel from the early 18th century (in Aphra Behn, Mary Manley, Haywood), into the 19th, via Les Liaisons Dangereuses, Austen's Lady Susan, with apotheosis in Becky Sharp and beyond).
Trollope has a powerful woman in the early Palliser books he sympathizes with: Trollope's Widow Greenow (cut entirely from the earlier parts), a woman who will not be abused by the marital system, shows it up, and protects herself. The Widow Greenow is not simply a powerful frivolous slut. That's how the old Duke (Roland Culver) sees Lizzie: oh what fun is titillation. He's made into an ass (the tasteless anti-age joke about how funny it is when old men want sex is part of this episode). Trollope's Duke is simply aging, ill, and provides the excuse to keep Lady Glencora Palliser (Susan Hampshire) at Matching where she forms her set to comment on the doings of Lady Eustace and the diamonds.
Raven's "Lizzie" is utterly conventional, a dullard, and falls for silly superficial glamor and romance at every turn. What saves her is her position and money, which she married to get before we meet her; she is an odd sort of widow when we meet her (never wearing black at all).
The decision was made to keep this novel as short as possible, keeping only what is necessary for people to regard the series as faithful enough. Instinctively Raven also went for a wholesale cutting of the proto-feminist story one can enter into in the book without reading so much again the grain. Granted, this leaves Raven room for full development of the Phineas matter and original elaboration of the stories of the Palliser children (Lord Silverbridge played by Anthony Andrews, and Lady Mary, played by Kate Nicholls) from Trollope's Duke's Children without having more than 26 part. But we are lose much of depth of meaning from the original book. For example in this part, Lady Glen may be weary, but that is the extent of her objection to her self-sacrificial repressed way of life; she is otherwise in the film complicit and compliant ("dutiful") as spokesperson reading Dolly's cynical sardonic letters to the Duke:

Lady Glen reading Dolly Longstaffe's letter to Duke; he tells of Phineas's exile and marriage to a pregnant Irish girl; the Duke makes sarcastic replies
Told by letter that Phineas has been forced to resign his post over this "Irish business" (Lady Glen's word, and we see the scene of forcing; that is, Palliser and Erle show up to take Phineas's letter, thus pushing him into signing and handing it over) to resign his post over this "Irish business," the Duke comments: "Started fancying his chances and pushed himself a bit too hard, eh?". Lady Glen then continues (in Dolly's idiom)
"Phineas' resignation was no surprize, but there is something rather odd about the way he is carrying on. Although the session's not over yet, he's gone galloping for Ireland as if the devil himself were after him, and some story is going round that he's gone to succour a maiden in distress, if you get my meaning, Lady Glen."
The Duke laughs nasally and repeats his idea: "It's just as you said, he's taken his own line about some Irish business." Lady Glen: "Oh! Foh! For shame, Duke." But she really doesn't mind this rough external take on what has happened..
Lady Laura (Anna Massey) vanishes from this episode too—as both she and Phineas do from Trollope's Eustace Diamonds. All we have in Raven (Episode 17, Lord Fawn's Visit," Scene 8) is the irony of Kennedy (Derek Godfrey) shouting hypocrite at Phineas, when the one thing Phineas is not is a hypocrite.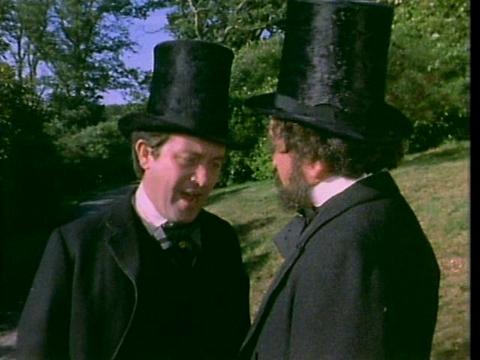 Phineas shouting down Kennedy to say he's got troubles too
What we have are contrasts: Phineas has done the right thing in politics and as a man: he is resigned out of kindness and desperation (he hasn't the money to keep himself going if he wants to be a politician with a conscience, which he does); Frank is not doing the right thing; Fawn doesn't know what the right thing is, nor the Duke; and especially not Lizzie Eustace. Since as we don't see Lucy Morris, it's impossible to see her as a parallel to Madame Max (Barbara Murray) whose offer Phineas (for a third time in this hour) doesn't take up, not because he doesn't want to, but because he can't. The politics of ED is removed so one cannot see Frank as a parallel to Phineas, though he is a contrast in his hypocrisy: his distaste for Lizzie's demi-monde friends.
We also have the development of one theme from the book. Stephen Gill in his introduction to Trollope's Eustace Diamonds, suggests a central theme of the book is "the lonely man" (p. 22) and shows how many of Trollope's characters are shown to be without people to care for them or help them; no friendship is to be depended upon in this book, only money. A. O. J. Cockshut in his Anthony Trollope argues the "drama of loneliness" is central to the situations of Trollope's greatest books, one rooted in Trollope's perception of the experience of life; he also says that Eustace Diamonds is the first of Trollope's later great dark novels. I see in the enunciation of this film part (e.g., darkness everywhere, gleaming light which lets you glimpse someone but not see them whole) an enactmen of this theme, e.g,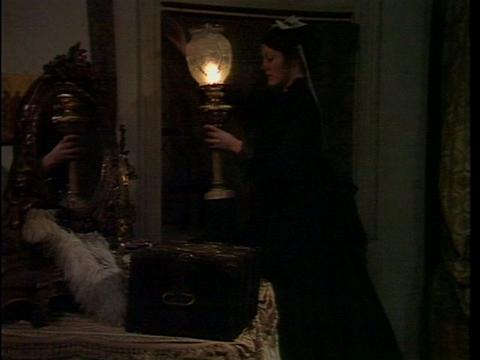 Patricia Crabstick (Carolyn Jones) in Lizzie's bedroom
However, the characters are not seeking companionship and do not see their angst as a product of loneliness; rather a result of social demands on them which the experience as hostile to them, or simply can't meet to get what they want. Thus the lines Lizzie keeps reciting have relevance, and are ironic only because it is she who declaims them: "THERE is a pleasure in the pathless woods,/There is a rapture on the lonely shore,/There is society, where none intrudes &c&c (Byron's Childe Harold, Canto iv, Stanzas 178-79). Probably though much more relevant to Raven's vision in this part and 7:13 is John Gay's soliloquy given to Lockit:
"Lions, Wolves and Vultures don't live together in Herds, Droves, or Flocks.——Of all Animals of Prey, Man is the only sociable one. Every one of us preys upon the other, and yet we herd together.——Peachum is my Companion, my Friend.——According to the Custom of the World, indeed he may quote thousands of Precedents for Cheating me——And shall I not make use of the Privilege of Friendship to make him a Return (Beggar's Opera, Act III, Scene 2).
One does not take one's own line. It's dangerous. In this context Madame Max's perpetual relief to get back to Matching Priory where she feels she finds people who can listen to and understand her has some felt resonance: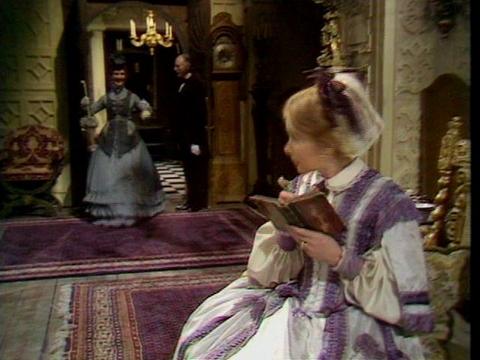 Marie returns, glad to accept friendship on the terms Lady Glen has offered
So too the Duke's comment to Madame Max when Lady Glen has left the room that he doesn't really doesn't want to hear about Lizzie Eustace, but Vienna and we see her sit down to tell him. Lizzie's friends are there to prey on her; she has no kindness of heart in her to anyone, least of all the man she will want to bully into asking her again, Lord Fawn, if only for the triumph (this is in both Raven and Trollope).
Ellen
P.S. That we keep re-entering the Lizzie matter through Portray reveals the importance of place in films.
See various links and a concise summary of 1:1-3:6, 4:7, 4:8, 5:9, 5:10, and 6:11.
--
Posted by: Ellen
* * *
commenting closed for this article