Pallisers 7:13: Phineas and Mary, the penultimate scene from the marriage · 12 July 08
Dear Friends,
I continue with my essays-reviews, summaries, scenes and stills from the 1974 BBC Palliser movies.
As with Pallisers 6:12, for 7:13, I have decided to transcribe a scene, then provide a summary, and finally a thematic analysis. Here's where we are in the Lizzie story: in 5:10 we saw the introduction of Lord Fawn, one of the three characters who importantly will reappear in Phineas Phase 2 or Phineas Redux adapted (7:14 to 9:19), also re-attached to Adelaide Palliser matter. In 6:11 two scenes in allow us to meet Lizzie and Fawn as a couple in front of the Duke of Omnium (Roland Culver), a major presence in Raven's version of Lizzie's story (this is very unlike Trollope's Eustace Diamonds where he is a barely seen sick and dying old man). And in 6:12 we had the last lingering episodes of Phineas's and Laura Kennedy's first crashing failure, with the Lizzie matter interwoven in: which consists of scenes of her alone, 1 scene with Fawn at Portray (introducing the problem of the diamonds), several scenes with Frank Greystock (Marvin Jarvis) and and three hangers-on, Lord George de Bruce Caruthers (Terence Alexander), Mrs Jane Carbuncle (Helen Lindsay), and Mr Emilius (Anthony Ainley), who is the second character who will figure importantly in Phineas Phase 2. Lizzie herself is the third.
The one scene in 7:13 which is not about the Lizzie matter, and to my mind, the only non-pastiche one, is the third and penultimate scene (the other two are in 6:12) from the marriage of Phineas and Mary Finn. The next scene will not be of their marriage, but Mary's dying with Phineas by her bedside after an apparently painful birth of a stillborn son (7:14).
This scene stands out amid all the others in 7:13 for the genuineness of deep emotion felt by the two characters, with Mary looking not well, a visible clue and foreshadowing: so the doctor's orders about not drinking coffee (in the previous scene between them we saw) had something serious to do with her pregnancy. The dramatic scene captures the mixture of irritation, frustration and resignation and love too which Phineas feels—and Mary's lack of comprehension.
1) Place: Phineas's lodging in Ireland.
Establishment shot: Mary heavily pregnant, has some kind of pain, holding herself. Walks over to fire to make it burn stronger and keep room warmer.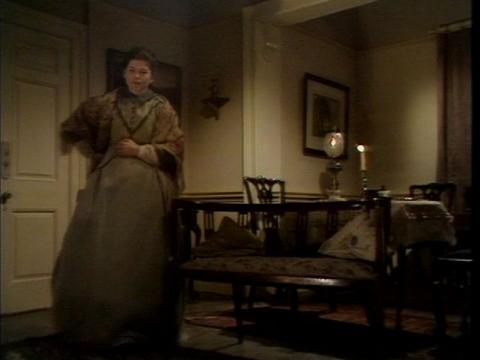 Mary's (Maire Ni Ghrainne) difficult pregnancy (Pallisers) (BBC 1974)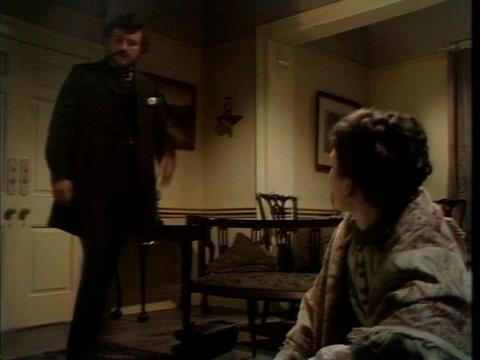 Mary increasing the fire for him, Phineas (Donal McCann) enters lodgings
Phineas walks over to sofa, and throws down bag in disgust.
Mary: "Phineas!?"
Phineas: "Poor houses! (sits down). Ah, there is nothing I can do about them. Mary, I just go there and look at them and come away again. There is no money hardly to spend on them. Most of the money available they pay me for inspecting them (sighs and makes fist)."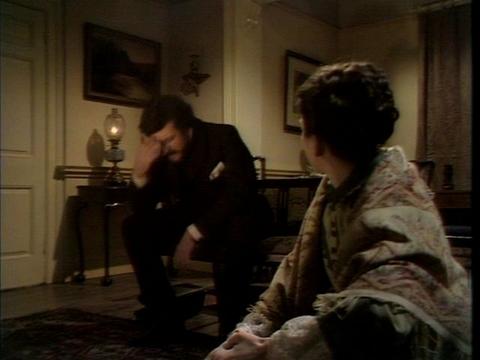 Phineas frustrated, despairing.
Mary (She goes over and picks up case.) "I've got lamb chops for your supper. I sent the girl to fetch the porter."
Phineas. "Mary, even in Ireland there is such a thing as wine. I want a bottle of claret."
Mary. "You're getting very extravagant."
Phineas. "On a thousand pounds a year I suppose I can afford to drink claret when I like."
Mary. "Well, just for this once."
Phineas. "Why just for this once (angry)?"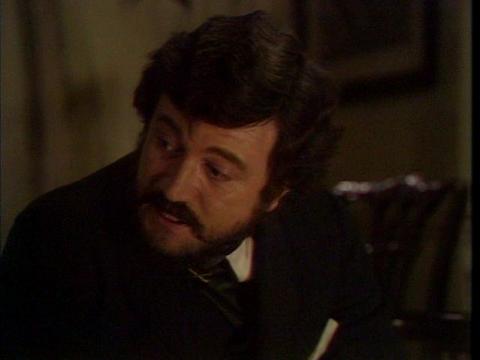 Phineas angry
Mary. "We're got to be careful, Phineas, with the baby coming."

Mary defensive
Phineas. "Oh, even with the baby, I think we can afford to drink claret."
Mary. "Well, we need to save, Phineas. Babies aren't babies for long you know. They need things. Not only food and clothes, but education and rooms to live in."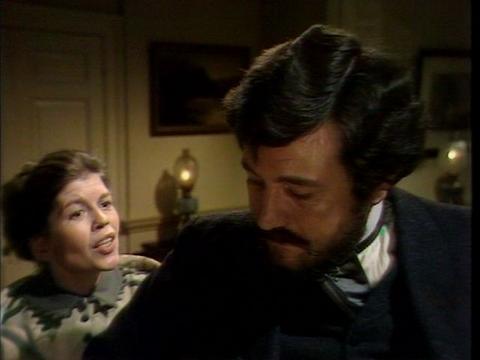 Mary appealing to him
Phineas (sighs in kindly way, puts his arm around her shoulder) "Yes, well, this big baby wants a bottle of claret."
Mary smiles. "And didn't you hear me say that tonight you shall have it, and Phineas, there is a special bottle of champagne for you to drink on the day the baby comes."
Phineas. "I hope you have everything else as well organized as that."
Mary. "Oh yes, as soon as it starts …"
Phineas (interrupts, and puts his hand gently over her mouth) "As soon as it starts, the girl will send for the midwife, then for the doctor, and then she'll come for me at work so that I can come home …"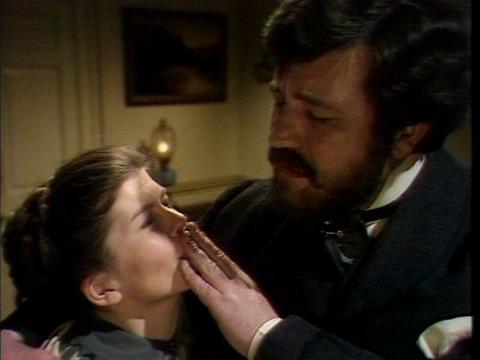 Phineas has heard this anxiety speech too many times
Mary. "To drink your champagne to the health of your new baby son."
Phineas. "And the health of my little wife as well."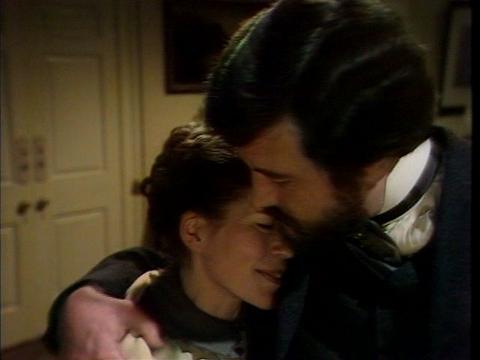 They kiss. An ominous note of worry has been struck in his last comment which matches the opening still.
There is no equivalent scene in Trollope's Pallisers novels. Unlike Trollope who as a novelist who brought out a Palliser novel every three years or so (with others inbetween) and is therefore allowed to dismiss an important character who has probably been forgotten and never embodied in an actress, Raven has to create continuity, and once having introduced Maire ni Ghianne as Mary Flood Jones Finn over the weeks & weeks of the previous parts, she is allowed to enact her adult burden, and give the viewer a chance to come to terms with her fate compassionately before she is dismissed from the stage.
See various links and a concise summary of 1:1-3:6, 4:7, 4:8, 5:9, 5:10, 6:11, and 6:12.
Ellen
--
Posted by: Ellen
* * *
commenting closed for this article