Pallisers 8:16: A transition within the Phineas matter starring Bonteen · 10 November 08
Dear Friends,
Here I am with 4 blogs on the 26-part 1974 BBC Palliser films, adapted by Simon Raven from Anthony Trollope's parliamentary or Palliser novels (plus The Small House with some memories of a few others). I have updated my thumbnail outline of all 26 parts. At 8:16 we are now in the thick of Phineas Redux (PF2), which stretches from 8:15 to 9:19. Paradoxically, there are few direct stills of him in his troubled state in this part: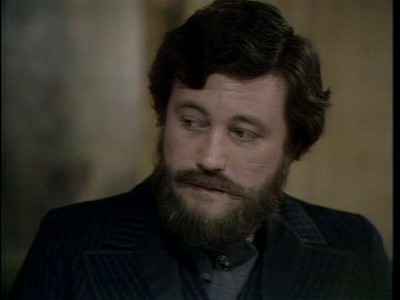 Phineas (Donal McCann) acknowledging his anxiety and disquiet to Madame Max—unlike the Duke, untroubled even in death
The emphasis is on what is whirling around him, especially what whirls around his enemy, Mr Bonteen:

Bonteen (Peter Sallis) listening to Mr Monk defend himself and Phineas for voting for Irish Tenant Right
In sum, it's another transition (soap opera aesthetics are central to all mini-series), this time starring (paradoxically) Bonteen who is featured in this part, partly because his involvement with Lizzie Eustace's story is brought forward while Chiltern's story and presence is marginalized.
*****************
Discussion of the series' parts has become more difficult because Raven has begun to call up scenes and memories of earlier parts, as we see in the series' 8:15 midpoint: the Palliser story will gradually be moved to center stage (for The Prime Minister and The Duke's Children). Not that it has ever been off the screen for long.
Further, Phineas Redux is a very long complex book, which contains yet another newly developed substory (the love story & marriage of Adelaide Palliser and Gerard Maule); the first third of Trollope's novel focuses on the county life of hunting and the squirearchy in the characters of Oswald and Violet, Lord and now Lady Chiltern and a new semi-grotesque caricature character, Spooner (crudely spooning after Adelaide). Trollope's novel also includes a sort of separate new character, Gerard's father, Maurice Maule, who wants to marry Madame Max (for her money mostly), described accurately enough by Trollope's Madame Max to Phineas as "a battered old beau about London, selfish and civil, pleasant and penniless, and I should think utterly without a principle." (1982 Oxford PR, ed JC Whale, Ch 30, "Regrets", p. 271); he is thematically important in Trollope's book.
The difficulty of presenting this new material is compounded by the reality that Raven has radically condensed and departed from Trollope's Eustace Diamonds and altered the first part of Phineas Redux not simply to make a commentary kind of adaptation where the writer modernizes and alters the hinge-points (crucial events), and drops characters too. Raven adds scenes that he finds amusing; he makes Madame Max central from the get-go. She is a significant figure in the 3:6 transitional Arcadian scene to Phineas Finn.
He has also deleted and rearranged a lot simply to make coherent one-hour programs. Raven's departures from Eustace Diamonds include adding to Frederick, Lord Fawn (brilliantly performed by Derek Jacobi) scenes of a failed pursuit of Madame Max (out of two sentences by Trollope); yet another expansion of Madame Max (Barbara Murray) and the Duke of Omnium's (Roland Culver's) roles so Madame Max becomes central, with Laura Kennedy (Anna Massey) marginalized to a secondary position. There are from 4:7 on scenes from the marriage of the Pallisers (Philip Latham and Susan Hampshire), dwelling on their very different responses to and interaction with their children in short but strong scenes. In this we see the changing nature of their relationship, making it seem more contented yet charged. None of this is in Trollope's books until it's remembered (but in truncated version) in The Duke's Children & not concretely.
The result is Raven's films have come away sufficiently from Trollope's novels that it would overcrowd his canvas to add so many new characters, and he has built up existing characters in new directions. A symptom of the transitioning nature of this part is how few scenes and only parts of them we see Phineas in. Out of a total of 19 (the scenes are many of them long), only in 2 and 1/2 does Phineas appear centrally.
There's a pattern in the way Raven changes the books which reveals something about how Trollope writes his Palliser books: Trollope characteristically begins with the new central character, develops him or her in a series of effective scene and meditations and it's well after we are one-third through that he or she is linked to Pallisers and the overriding action of the story gets going.
The result in the films is just about the whole of the first third of PR is dropped from Pallisers 8:16. Going back: while Raven used material from Dr Thorne and The Small House for 1:1, 1:2 begins with the Pallisers which is about the 30th chapter in CYRH?. In Pallisers 6:12-7:14, the heart of Eustace Diamonds in the series (only 7:13 is wholly devoted to ED), Raven begins more than a third of the way through at the point of Lizzie at Portray with Fawn and then Frank coming to visit. Likewise, Pallisers 8:15 begins with brief dramatization (7:14) of Mary's death and then in 8:15 a plunging into Phineas in London after he had visited Harrington Hall. The whole of the Chiltern material, the meeting with Madame Max through hunting, the Adelaide-Maule material against Spooner, all dropped. We first meet Adelaide at a dinner party to which Fawn has been invited and where she finds herself out of her depths when decimal coinage, its politics, and its effects on inflation and rich and poor come under discussion: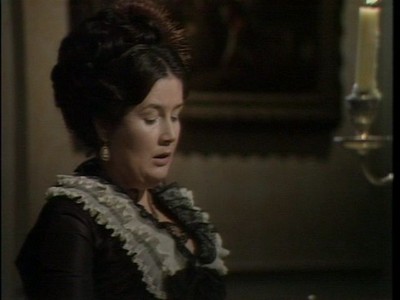 Adelaide (Jo Kendall) uncomfortable
*****************
The part is dominated by a mood of quiet worry and insider politics (including sneers, aspersions, attempts to influence someone), discomfort and disquiet interspersed with melancholy playfulness, the Adelaide and Gerard Maule (Jo Kendall and Jeremy Clyde) scenes especially. We have the kind of cheer where characters are bucking one another up, until the climax when the quiet drama becomes riveting, with the Duchess's treacherous behavior exposing Bonteen's pride and aggression, and the scene of intense pressure between the two Dukes (Philip Latham and Roger Livesey) and Gresham (Robin Bailey) where they get him to rescind his near promise to give the Chancellorship to Bonteen (Peter Sallis) and he gets a half-promise, a face-saving bargain they will agree not to seek an office, however minor, for Phineas (Donal McCann). Perhaps Chekhovian is not too strong a word for its best moments, as when the Duchess tries on her crown and Madame Max asks her if it is not too heavy for her;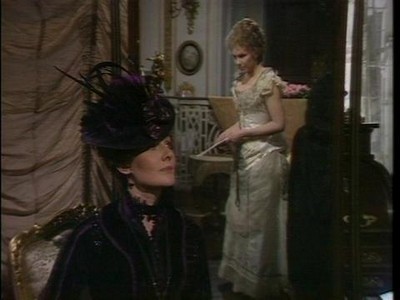 "Is it not too heavy?" (Barbara Murray and Susan Hampshire as Madame Max and the Duchess)
and when in response to Phineas complaining he has not deserved this total exclusion, Madame Max says "we are reliably informed on the best authority that no man should 'scape whipping:"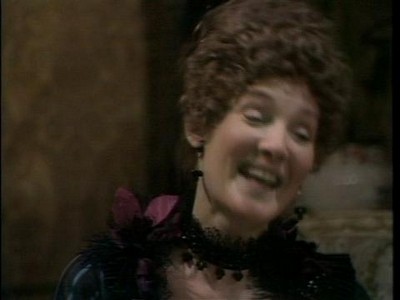 "Who shall 'scape whipping?" (Madame Max to Phineas)
Trollope's Adelaide is an escapee from a Henry James novel set in Italy, an intelligent woman who could be writing for Italian newspapers (in the morning at her desk), fully capable of running a household; at the end of Phineas Redux, Trollope's Adelaide ends up taking care of Maule junior (after given Marie's 20,000 pounds, with Maule Senior having coughed up the old homestead, Maule Abbey, for them to live in).
In the film, Trollope's Adelaide Palliser is transformed into a female Squire Western (I allude to Tom Jones). Raven's Adelaide is more than a little dull, not educated, not thinking, instinctive, and her instincts lead her to the frivolous, mindless Maule who attracts her by his stance of physical teasing and animal magneticism (or so we are to assume). She does not realize or does not care if he's trash. In Trollope's novel, Gerard Maule may be inadequate before the world's demands, but he is essentially moral, decent, earnest. Not Raven's. Raven's Lord Fawn hints Maule is a womanizer (this is in Raven's mind and throughout the series something which attracts women), utterly selfish, useless; in a scene with Dolly Longestaffe (Donald Pickering) there are hints Maule gambles. Raven has remade Trollope's younger Maule into a composite figure who includes the elder useless roue who chases after Madame Max's money and drawing room.
Raven's Young Maule is then yet another male suitor type in this series; each time a new secondary hero male type (handsome, young, supposed attractive) in a love story is introduced, he is new type or variation: George Vavasour, Burgo Fitzgerald, Oswald, Lord Chiltern, Frank Greystock. So now we have the useless drone; sarcasm is his stance to the world, as someone just not quite a rake; he contains in him older and younger Maule. So while the particular character is very different from Trollope's figure as Adelaide as a caricature of horsewoman (squire Western made a woman) is very different, nonetheless this new type is one which functions importantly in Trollope's novels. I'm with Raven's Fawn in scorning him—though Fawn supposed to do this from his own troubles with masculine norms.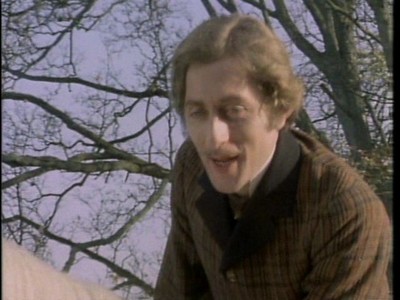 Our first close-up of Maule (Jeremy Clyde)
Trollope's Lady Chiltern was also radical in ideas and intelligent, proto-feminist. Both become unchallenging figures in the films. Lady Chiltern is made into an innocent frightened young woman, first set upon by Laura for Phineas; and then taken by Chiltern for sex and physical comfort, to serve him. Chiltern is kept on as a loyal friend to Phineas, and conflicted brother to Laura; the brilliance of Trollope's portrait of him as a man who succeeds in supporting himself and his wife as a master of the hunt is gone.
The Laura scene (there is but one) is beautifully done so that we remember it strongly—Raven is in tune with Trollope's attitudes towards women and love here but he has altered the character's details. In the scene in Raven (Episode 39, Scene 13) she has given up all for Phineas and wants to live again vividly with him and through him, dressed in lovely subdued brown auburn tones, her face open and vulnerable: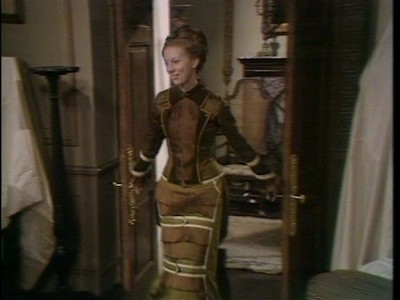 Laura (Anna Massey) with eager face—before she hears of Phineas's exclusion
In the scene in Trollope (Phineas Redux, Ch 38, 340-43) she is in black, much more openly ravaged, much older, and it seemed as if her idea she could live again through him was a dream. She had been destroyed herself, ravaged herself by what had happened to her. The Victorian novelist takes failed marriages as really terrible and something one does not get over—at least in fiction. In his life he saw his mother and many others get over such failed relationships and himself endured his marriage (not that satisfactory by many signs) with equanimity and probably had casual encounters (and perhaps an affair quietly memorialized in Spanish Main and West Indies) while travelling too
In Trollope's Eustace Diamonds we had a continuum of women and a proto-feminist novel. (In Raven a continuum of women emerges in 2:3.). In Trollope's Phineas Redux, we have a continuum of things men really do in the world to survive and how rough it is, with Phineas as our prime endangered example. How could everyone think he'd commit a treacherous cowardly murder for advancement, he asks? What can they really think of him? The question is what do they think of themselves :) In Trollope, Chiltern, the two Maules, the new Duke of Omnium, and Bonteen are figures in this continuum. In Raven it's Omnium (he that was Plantagenet Palliser), Phineas, Bonteen, Fawn, and Maule. Chiltern is as marginalized as Violet and only turns up as Phineas's steadfast friend, the man who would stop Laura from giving away her money to Phineas because it looks bad.
Bonteen is strongly built up in the Raven films. I know he's made really awful in many ways, but he is also an Everyman, one of us, below the lucky 10,000—like Phineas, his rival. He is made a helpless (deluded, repressed) victim of the wiles of Lizzie Eustace (Sarah Badel) while what he is, is a man who is petty, small, stupid (common enough), jealous of the handsome Apollo type who votes his conscience (deeply resentful), and he does go over the top nastily. But he is also the hard-working outsider who has been led to believe he is going to get a position he has earned by hard work and loyalty all his life, and he is cheated of this because the Duchess doesn't care for his work ethic and bourgeois ways.
In Trollope there is sympathy for him, but there is also distaste, and more to the point, he is picked up as a convenient puppet for the murder subplot. He is not continually developed from the opening of PR as he is in the Palliser films.
First, here's how sparse Trollope's references to Bonteen are until Bonteen's needed to supply an enemy Trollope's other characters will be ready to believe Phineas could have murdered. In Phineas Redux, most surprizingly Bonteen as a character is a felt presence for the first time in Ch 32, Vol I, p. 280 and then 284; that is, Trollope took him up opportunistically. He had mentioned him in PF 4 times and ED once (I use the Oxford editions which have a very useful index of characters in the back, telling the first and following times characters who are more minor are mentioned):
PF: I, 50; we meet Mrs Bonteen with other ladies in Lady Laura's drawing room salon and are told Mr B is a "gentleman who had been a Junior Lord of the Admiralty in the late government, and lived in the expectation of filling, perhaps some higher office in the Government which, as he hoped, was soon to be called into existence." I, 86: he is mentioned in a group of names as sent to the Admiralty. II, 136: again it's Mrs Bonteen who is dramatized, and she is someone who parrots common opinion about Brentford, is surprized to hear Violet has accepted Chiltern (Mrs B emits a sarcasm over how Chiltern is "just a little wild"). Bonteen is given a mild line where he shows off his knowledge of where Chiltern is and what are Brentford's intentions: he's showing he's an in-person. II, 327: Bonteen is the man who replaced Phineas; Phineas is not keen on him in the previous scene and this is part of the small stings Phineas receives upon following his conscience. In none of this is there a sense of the man. Far more of Mrs Bonteen, but nothing is told which is out of kilter with what develops in PR.
ED II, 68: Mr and Mrs Bonteen are invited to Matching (among the crowd, and this is a choral chapter) as Mr Bonteen will be useful to Mr Palliser's arduous efforts at decimal coinage. Mr and Mrs Bonteen are characterized as "near to madness" over this work, and Trollope tells something Bonteen had said to friends about how this effort to put 2 extra farthings in a penny would send him (Bonteen) to his "cold grave before the world knew what he had done."
And then suddenly, in PR Volume I, Chapter 33, Bonteen emerges. Trollope concentrates and brings the felt presence vividly into our minds. More than 23/s of Volume I is over, beginning PR, Ch 32, I 280 and then the sketch on 28: he had been a hack, just the type it grated others to watch rise. This is in the chapter "The world grows cold." It's really on p. 311 (Ch 34, the quarrel at the club, the Universe) that the function of the man (having this "irrational" dislike to the handsome easily rising young man who "scuttled the ship") begins to be developed and then it's done almost magically in a very few suggestive concise highly dramatic scenes from which Raven took amply. Phineas's hatred of Bonteen is mentioned before Bonteen's of Phineas (p. 307)
To sum up: Raven is interested in Bonteen from the get-go as a person used when convenient and then shut out because of his non-aristocratic manners; Trollope doesn't care about that so much but rather different aspects of corrupt and irrational political life (courts, voting, staying in power, party voting) with Bonteen a plot-device made to fit in
Now while Trollope does not sympathize as strongly with Bonteen as Raven does, he is not without sympathy. Those who read the book despising Bonteen have fallen for their own snobbery and not read carefully. Here and there are sudden phrases filled with recognition and identification: the man's heart was "broke" is just one moment. Trollope tells us how Mr Bonteen "misbehaved" especially right after he was not given the positon he had almost been promised. Gresham's hard-faced denying behavior is given to Erle in the film. In these passages Trollope enters into Bonteen's natural dismay, and how he couldn't get himself to buckle down to the Board of Trade quietly – who would? (II, 22-23). The one thing left out of the film which could increase sympathy is Trollope presents Bonteen as getting sick of Lizzie Eustace and while there are whiffs of sexual attraction (these are far greater in the film), in fact in Trollope "the terrible distress of" Mr Bonteen's mind" (partly brought on by his disappointment and vexation and how now he can't stand Palliser who he had relied on and liked) is what lies behind some of his over-the-top anger at Phineas. Like many underlings, he preys on the person he can reach.
Trollope's Bonteen is also smarter than Phineas when it comes to letters. He is blindsighted by the Duchess who goes to work to poison her husband and Bungay's mind. In a paragraph Trollope throws away a scene (suggests in a few told sentences) where she got Bonteen drunk and led him to expose his bad manners. This is dramatized by Raven and becomes a climax to 8:16, one of the great bravura subtle scenes of the series (see transcript) where he is made to preen over both Dukes: he may do some decimal coinage but in its place; he'll have more important things to do. All along Bungay has said Bonteen is not the thing, is vulgar, isn't "one of us." As people on Trollope-l agreed, there is real cruelty in this scene towards Bonteen (see transcript).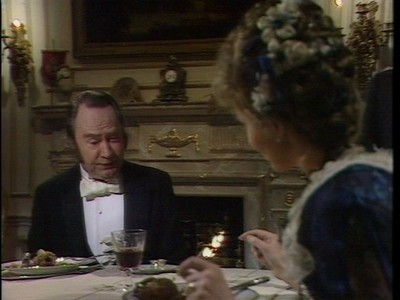 Bonteen (Peter Sallis) befuddled and trying to make sense; the Duchess (Susan Hampshire) coolly leads him on
Compare the long development of many scenes, some brief, but some considerably longer and emphatic Raven gives Bonteen in these Palliser films: In Phineas's very first re-entries into the world, there's Bonteen (as he is not in Trollope's PR, where Phineas is first off to Harrington Hall, then to Dresden, then the election, then Harrington again, and then in London while we go watch the Duke die):
Raven introduces Bonteen in 7:14 in strong antagonistic scenes—far more than in Trollope, Bonteen is centrally made alive for us. The key is we've little or no Chiltern: Trollope's brilliant portrait of Chiltern as a gifted master of the hunt is omitted. We have time for a clash at club at Finn's return (Phineas says the Irish do not gladly suffer people who bray) and then a clash in salon, Episode, 30, "Trouble brewing," as Palliser warns Phineas against voting for disestablishment and Phineas confronts Bonteen's insults about his time in the Irish poorhouses and tells Bonteen there are harder people to deal with than paupers.
In 8:15, Episode 32, Scene 6, Bonteen again insinuates Phineas is untrustworthy and may not vote with them; Episode 33, Scene 7, Erle and Bonteen threaten Phineas before Slide shows up, and Bonteen gets in nasty crack about Laura. When Slide comes to area outside Parliament, Bonteen is part of the in-crowd walking by.
Finally in 8:16 as whole arguably Bonteen has more centrality than Phineas, especially if you take into consideration the three scenes with Lizzie Eustace, all coming from one paragraph in "Some passages in the life" (PR). Unlike in Trollope's novel, Bonteen is never shown to be sick of Lizzie, is shown so physically desirous of her, he hardly can keep himself from grabbing her. And like Hamlet when Bonteen's not on stage, others talk of him: e.g., upstairs in her boudoir, what subject does the Duchess introduce but that "disagreeable" Mr. Bonteen? As part of Raven's change so that the viewer will suspect Phineas (Trollope very quickly tells us Emilius committed the murder), Raven has added to the passage about how Phineas hates Bonteen and Bonteen Phineas (p. 307 of novel, Episode 38, Scene 7 of 8:16) these lines in Phineas's 2nd scene with Madame Max: "I shall never achieve office except over his dead body"
In 8:17 Raven of course keeps Trollope's scene in the club where Phineas clashes with Bonteen and expresses a desire to smash Bonteen with his life-preserver.
On the other hand, all the scenes Bonteen is in are chiefly other characters' stories and they carry on after he is gone (Lizzie and Phineas and Palliser/Omnium matter).
Next blog, the summary of the scenes.
Ellen
See various links and a concise summary of 1:1-3:6, 4:7, 4:8, 5:9, 5:10, 6:11, 6:12, 7:13, 7:14, and 8:15, 31-33, 8:15, 34-35
--
Posted by: Ellen
* * *
commenting closed for this article