Foremother Poets to Wompo: Henrietta St John Knight, Lady Luxborough · 12 October 08
Dear Friends,
Since I last wrote about the foremother poet postings I've been sending Wompo each Friday, and those I'm readying for display on the Wompo Festival website in November, I've written two more spontaneous ones on Friday: on May Sarton (1912-1995) and on the early to mid-18th century woman, Henrietta St John Knightley, Lady Luxborough. Since Henrietta Knightley is the unknown of this pair, and what I wrote was briefer, I sent that one along here today:
Henrietta St. John Knight, Lady Luxborough (1699-1756)
Written to a near neighbour in a tempestuous Night, 1748
You bid my my muse not cease to sing,
You bid my ink not cease to flow;
Then say it e'er shall be spring,
And boisterous winds shall never blow:
When you such miracles can prove,
I'll sing of friendship, or of love.
But now, alone, by storms oppressed,
Which harshly in my ears resound;
No cheerful voice with witty jest,
No jocund pipe, to still the sound;
Untrained beside in verse-like art,
How shall my pen express my heart?
In vain I call th'harmonious Nine,
In vain implore Apollo's aid;
Obdurate, they refuse a line,
While spleen and care my rest invade.
Say, shall we Morpheus next implore,
And try if dreams befriend us more?
Wisely at least he'll stop my pen,
And with his poppies crown my brow:
Better by far in lonesome den
To sleep unheard-of—than to glow
With treacherous wildfire of the brain,
Th'intoxicated poet's bane.
(written 1748)
She combines irony, poignancy, sadness and fanciful imagination all at once.
Henrietta St John Knight left ten poems, one of which is a long beautiful & playful georgic ("Asteria in the Country to Calydore in the Town"). In the 1980s when I used to go to the Library of Congress twice a week I copied out five that had been printed in Dodsley in my own hand. Then I typed them at home on a manual typewriter. I discover "Asteria" is not in Chadwyck-Healey so it's still unavailable, and I've scanned in a corrected copy here.
I don't know who is Calydore:
Asteria in the Country to Calydore in Town, 1747-8
To you, my Friend
From chearless hearth & lovely grots I write,
Which once were scenes of Friendship & delight
When zephyrs breath'd, where now the tempest roars;
And linnets warbled, where the screech owl snores;
How pleas'd would you, at noontide, quit rest rest
To hear the black-bird or to seek her nest
In grove obscure! where Phoebus rays to shun
I fondly view'd my sportive lambkins run
Or with Eliza, curious in each flow'r,
Cropt eglantine & rose to grace my bow'r
Dauntless we dar'd the thorny guard disdain
Well-knowing, pleasure must be bought with Pain.
That season past, tho' driv'n from sun to fire
The genial blaze would wit & mirth inspire
While social friends around of converse mild
Asteria chear'd; her every care beguil'd
Two nymphs, adorn'd with every pleasing art
To charm the fancy or engage the heart
Would with their pencil some fair Landskip trace
Or stag, or hound—as just as in the chace
Our Somerville describes their pleasing race.
While courteous You, in matchless verse explain
The Deeds of mighty chiefs untimely slain:
Of Homer's heroes, nightly? let us hear
As Pope transmits 'em to the female ear.
Or when you had reveald the Suitor's doom
Harangue of Cronstrom & of Berg-op-zoom
Till clockks unkind & snoring slaves betray
How swift the social moment speeds away
Patty reluctant, Harriot more submiss
Part from Asteria with a frindly kiss
0! if so short an absence tedious prove
O think how must it their Asteria move
To find her favorite nymphs from BareIs lost
For charms like theirs will soon be Londons boast
And who can leave the town, when once a toast
Three sisters more will grace your smoaky town
Fir matron like my lov'd Johannah's gone
That parent-bird, with five fair chirpers blest
To warm, to skreen them in her downy breast
To these succeeded at Asteria's board
What seldom schools or colleges afford
A parish-priest; nor fop, nor unpolite
Tho' comely yet not vain; tho' gay not light;
Tho' young ywet learnrd; no pedant, nor no clown
Of morals good—as well becomes the gown.
Next came with friendly zeal, as well you know
Thro' trackless roads, oer mountains pild with snow
Our own Salopian bard*; the muse's friend (*Mr Shenstone)
Taught high to soar; yet deigning here descend
To lowly chat, & to as lowly fare
At whist to play, or loll in elbow chair.
Tho' uninspiring such amusements seem
Thro these we saw his piercing genius beam
He sung, yet undersrving was his theme
In softest verse Asteria's praise he sung
For never left the muse his lyre unstring
The sister arts alike attend his call
And fancy joins, & nature smiles on all
While gratefull he to nature, of her charms
Enamor'd sings; nor heeds the fate of arms
If peace at Aix, or war in zealand reign
Who lose their ground, or who their ground maintain.
But with unerring taste, the dame his guide,
Her steps to trace his pleasure & his pride
He forms elysian shades in his retreat
His house, like good Laertes rural seat
Farm-like adorn'd, but elegantly neat
The charms, the sweet environs of his place
No phrase uncouth to men gallic race
Let Thomson tell; or Virgil's awfull shade
If e'er it stalk among your pensive glade
From whence, mid groves of poplar, it may view
Just honors paid, where every praise is due
There plaintive Naids leave their spatious bed
And tears incessant round his column shed
While peacefull Dryads, listning to the sound
Protect from busy fiends the sacred ground
Nature herself in Baice's blissfull clime
Preserves his tomb from all-devouring time
With myrtle bands, & ivy wreaths imbrowns
With ever beauteous vay spontaneous crowns
His dust rever'd—Our bard records his fame
In humble offerings to his deathless name
And shews, whene'er he tunes the votive lyre
How much his great Idea can inspire
Could I, like Him, attune my artless reed
I'd sing like Shenston; sing each flowery mead
Each fertile field enrich'd with flocks or grain
Each spiral grove—above my rustic strain
Where the deighted eye from lawns to hills
Unwear'd wanders o'er meandering rills
Where artfull toils to nature homage pay
Assist but never check her lawfull sway
Return's to these, the tiremaids of his woods
Or gone to scoop new windings for his floods
The Bard to us is lost—& so are you
O Calynorel sincere amongst the Few
Who to that noblest praise a right may claim
From real acts of Friendship, not the Name.
The Chaplain's visit here I'd gladly place
But apparition-like he shew'd his Face
And yielding up to cares the social flame
Surpriz'd us when he went, & when he came.
Great change & dire at poor Asteria's cott
Silence & solitide her hapless Lot!
Unjoyous days, & evenings full of thought
Yet happy still; & still with pleasure fraught
Were present bliss reflection on the past
Her hoarded treasure then might ages last
But much I fear Regret were too revid'd
For sublunary joys are all short-liv'd.
May yours be long—not trivial as these rhimes
Less tune full than some squirrels tiresome chimes
Yet no so pleas'd with jingle as to think
Like Prior's squirrel that I rise, I sink
Alas from Prose-like verse to verse-like prose
Like as the Painter's lion to his rose
Why then, you cry, on me bestow your trash?
A rhimeing Princess cuts a tinsel Flash.
Hold courteous Heroe! tho unskill'd in Art
Alike my tongue, my pen, & friendly heart
And rude my Lays—receive at least my pray'r
May happiness unchecquer'd be your share
Again, poignant and witty, self-deprecating.
Henrietta also left a bunch of effective (witty, imaginative, friendly, ironic) letters and they've not been destroyed! I have these in a xerox as well as a short life of Henrietta. These are printed (together with some to her by her famous brother) in Walter Sickert, Bolingbroke and His Times, Vol 2 (1901-2, rpt. Haskell, 1968). The book also includes a "prefatory memoir of Henrietta St John, half-sister of Lord Bolingbroke."
If recognized at all, Henrietta's known for being a member of William Shenstone's poetic circle, for one poem (of her as a bird in a cage, very stereotypical choice, reprinted in older anthologies) and because she was St John Bolingbroke's half-sister. She was the youngest child but one of Bolingbroke's father by his second wife, a French woman, Angelica Magdalena Pelissary. All her life she kept up a correspondence with her much older brother, and knew his French wife, the Marquise de Villette. From these letters it seems she shared an outlook and tastes with this older brother.
She married, Robert Knight (1702-1772), of an old Essex family. In the early years she found herself having to manage a household headed by a difficult father-in-law in Paris, and forced over the years into service on behalf of the Knight family which kept her away from English friends, her two children, Henry (b. 1728) and Henrietta (b. 1729), and pushed into going back and forth from England to France. Her friendship with Lady Hertford began during the years of her marriage and was a strong solace for her throughout her life.
Finally, she separated from her husband. It seems she had an affair with London physician, Dr Charles Peters (1695-1745). She was accused of having become pregnant by John Dalton (1709-63), a tutor in the house of Lady Hertford. Dalton adapted Milton's Comus for the stage and wrote verse. She was treated very cruelly by her husband and father-in-law. She was forever after that forced to live in seclusion, on 500 pounds, in Barrells, a an estate in a remote part of Warwickshire. She was forbidden all contact with her children. Only when they grew up did they visit her. She was also forbidden contact with former family friends and that's why letters meant so much. The husband would not give her enough money to live on so she lived for a while in a house without doors and windows. The husband even tried to stop her continuing her friendship with Francis Seymour Thynne, Lady Hertford (1699-1754). I suppose he thought nothing of Shenstone, Somerville and the group of minor poets she finally became close to and was much appreciated by.
She was at first ostracized but gradually accepted by her local community. From the ODNB life by Joan Lane:
"she became friendly with the poet William Shenstone (1714–1763) of The Leasowes, Worcestershire, and with others, including Richard Jago (1715–1781) and William Somervile (1675–1742). They formed the 'Warwickshire coterie'; she was known in their literary circle as Asteria. Much of her correspondence with Shenstone (1742–55) discussed garden design, literature, decor, and architecture, and they exchanged several visits. At Barrells she created a ferme ornée, with many rare plants, exotic birds, and fowl. She was slowly accepted into midland society as visitors came to view the gardens at Barrells. She continued to correspond regularly with Bolingbroke until his death. Her married daughter was also involved in a scandal, eloping and being divorced in 1753."
I first became "acquainted" with Henrietta through my love of Anne Finch and her niece, Lady Hertford; Hertford had enough money for herself and Henrietta (to bring Henrietta to her house) so the friendship was able to continue in person and by letter.
William Shenstone was a mid-century mildly romantic poet, imitator of Spenser, and known for spending huge sums on his beautiful house and landscape gardening at Leasowes. He is online for his aphorisms. He divides all humanity into those who think, those who read, and those who write—and fox-hunters.
Jilly asked if what I meant by Georgic is Virgil's Georgics. The answer is partly. Eighteenth century Georgics derive from Virgil, but they transform their "source" text. They take off from Virgil's apparent usefulness: the georgics are presented as giving young men coming home from war advice on how to farm. They are often set in rural areas and celebrate landscape, the work ethic, the seasons, and anything that may be taught is grist for the mill, including things that are shaped into lessons. How to take care of sheep (The Fleece); how to do the most mundane of tasks; how to make wine. And the prosody tended to be Miltonic—as highly poetic.
Very early on (the later 17th century when this begins) poets were parodying this mode, and John Philips's wrote The Splendid Shilling, about a poet starving and homeless who gets a splendid shilling and tells us how he spent it. Poets write about the city: John Gay writes "Trivia" or the art of walking the streets of London. Language becomes a kind of fantastic phantasmagoria as metaphors are developed. You could say Cowper's Task is georgic-like. Numbers of the great poems of the century incorporate georgic mode, e.g., Pope's Windsor Forest. Anne Finch, Countess of Winchilsea has a parodic one in imitation of Milton called "Fanscomb Barncomb."
For all I know Henrietta is an ancestor of Keira Knightley.
***************
On Friday last I also sent along 5 later 17th century women, and this Friday 7 18th century women, and 1 19th century, to Louisa Howe who is compositing them beautifully. With the 6 women originally put on the Wompo website, this brings the number done to 28 for public display on Wompo sites:
10 early modern women: 2 women troubadours, Castelloza and Beatriz, Countess of Dia; 3 medieval women poets, Marie de France, Christine de Pisan, and Elizabeth Plantagenet or of York; and 5 Renaissance women poets: Marguerite de Navarre, Vittoria Colonna, Gaspara Stampa, Isabella di Morra, and Mary Sidney, Lady Wroth (with a link to the poems of Anne Cecil de Vere, Countess of Oxford).
5 later 17th century: 3 Civil war poets, Katherine Fowler Philips, Margaret Lucas Cavendish, Lucy Hutchinson; 2 Restoration to early 18th century, Elizabeth Thomas, Sarah Fyge Egerton.
9 18th century: 7 English: Frances Thynne Seymour, Lady Hertford, Elizabeth Carter, Mary Chandler, Elizabeth Hands, Charlotte Smith, Ann Radcliffe; 2 German, Anna Louisa Karsh, Karoline Von Grunde.
3 19th century: 2 English: Mary Lamb, Caroline Bowles; 1 French translator, Judith Gautier.
1 20th century: Sara Teasdale.
As this week I really rejoiced in sending the life and poetry of Ann Radcliffe, and as I've been putting up images of Rococo painting on my Eighteenth Century Worlds at Yahoo groupsite space, I close this blog (meant as a record of my doings too) with a landscape by an artist whose work often graces Radcliffe's novels in the Oxford paperback series: the Irish landscape artist, Thomas Roberts.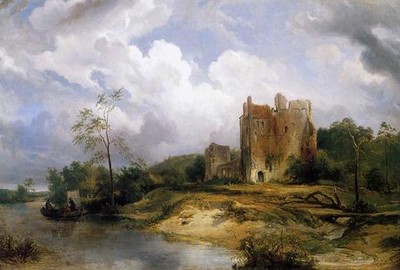 Its quiet beauty and romanticism appeals very much to me.
Ellen
--
Posted by: Ellen
* * *
From Nick at the time I first put the poem and life on ECW:

"Thank you to Ellen for this lovely poem.

>>I also though like strong irony and satire—and the playful self-directed imaginative type we see in Mary Robinson. I used to think Mary Robinson writes Byronic or romantic satire on the few poems I have in a few anthologies—I've gotten myself a copy of the Broadview edition of her poetry edited by Judith Pascoe and this hunch is now confirmed. On 18thC Worlds Ellen posted an example of Mary Robinson's satire which ends...

"On a shelf, (Yclept a mantle-piece) a phial stands,
Half fill'd with potent spirits!---spirits strong,
Which sometimes haunt the poet's restless brain,
And fill his mind with fancies whimsical.
Poor poet! happy art thou, thus remov'd
From pride and folly! for in thy domain
Thou can'st command thy subjects; fill thy lines;
Wield th' all-conqu'ring weapon heav'n bestows
On the grey goose's wing! which, tow'ring high,
Bears thy sick fancy to immortal fame!"
Which contrasts to the end of the original...

"In vain I call th'harmonious Nine,
In vain implore Apollo's aid;
Obdurate, they refuse a line,
While spleen and care my rest invade.
Say, shall we Morpheus next implore,
And try if dreams befriend us more?

Wisely at least he'll stop my pen,
And with his poppies crown my brow:
Better by far in lonesome den
To sleep unheard-of -- than to glow
With treacherous wildfire of the brain,
Th'intoxicated poet's bane."

'Restless brain' , 'treacherous wildfire of the brain' in the first treated (as I read it) ironically; in the second straight. I am with Ellen in liking both approaches and moods even if they appear, and probably are, higly contradictory.

Nick."
— Elinor    Oct 14, 2:26pm    #
commenting closed for this article