A Playful Pseudonymous Blog
Gentle Reader,
I've been asked to explain the pseudonyms I use on my blog.
I tried to write a blog three times previously but could not get started. I had no sense of an audience. I needed to write to someone. I had my husband to write with me, and on occasion we have corresponded (in effect) on the blog, but that would not be enough to sustain writing daily.
So this fourth time I began by calling myself Chava and by writing to Fanny Burney d'Arblay in imitation of Fanny. I explained this early in the blog.
Chava Haliczer (I'm not sure that is the way she spelt it) was my great-grandmother's name. Iíve been told that Chava is my motherís Jewish name, and would like to believe that Chava was my grandmotherís Jewish name. For further explanation, see "Why Chava?"
Chava would write to Fanny Burney D'Ablay because I find I often recognize myself, identity with and sympathize with later 18th century women memoirists, and Fanny kept a diary-journal for 40 years. I wrote about this early in the blog and on Eighteenth Century Worlds one day. I see aspects of Fanny's impulse to write in mine and at first I wrote to "nobody" too. (After a while this felt strained and coy.) For further explanation, see "Who is Nobody?" and "Fanny Burney D'Arblay" I know that Burney's life and character as presented in her diary have meant a lot to me, and have a large section on my website devoted to Fanny. It pleases me she shares Fanny Price's first name. The heroine of Mansfield Park is another of Austen's heroines in whom I recognize aspects of myself.
As I wrote on I began to want to present a points of view I thought people coming to the blog would find is waspish, angry particularly at the way learned women are treated, all women are turned into sex objects, and I wanted to write strongly, not be apologetic. Jim and I began cataloguing our library and I decided Miss Sylvia Drake, a minor character from Dorothy Sayers's Gaudy Night would be right. The Sylvia I refer to occurs in one brief passage in Sayersís Gaudy Night. Miss Sylvia "spent so many years getting her B.Litt in Literature some people despaired. She never did. She was rewriting it." Sylvia would be me as academic too. For more about Sylvia, see "Who is Sylvia."
Sylvia would write to Harriet Vane who in Gaudy Night attempts to publish Miss Drake's long-held-back dissertation. I was attracted to the character of Harriet Vane as portrayed by Harriet Walters in the 12 episode filmic adaptation of three of Sayers's Harriet Vane/Lord Peter novels. Towards the end of the Gaudy Night, Sayers appears to have forgotten Miss Drake's name and renamed her Miss Lydgate. I explained this in "Putting our Library on the Net: More on Sylvia" Sylvia's long-time friend would be Miss (Sadie) Schuster-Slatt as on Piffle my long- time friend, Diana Birchall, used this pseudonym and she came to the blog sometimes. I also write to Julie Vollgraft who enjoys playing the part of Lady Mary Parker (Lord Peter's sister, married to Charles Parker, Chief Inspector).
What to call Jim? Mr Drake.
By this time I had begun to write about and to my two daughters, Laura and Isobel. Laura's middle name is Caroline, and partly to protect her just a bit, after considering "Annie," a name that to my ears has connotations like the one I almost named her, "Daisy", and one that could be linked to a folk singer Laura liked, Ani di Franco, I decided to refer to her as Caroline. I explained this recently: "A birthday: born between ice storms". There I told of how Caroline came from one of the heroines of Sir Charles Grandison.
Isobel or Izzy would be Yvette. When she was 6 she took an extra French class early in the day in her elementary school, and carried on with this through to 4th grade. She took French again in Junior High and for a while in High School and college. Her first French teacher gave all the children French names, and Isabel was named Yvette. She was small, a brunette with blue eyes and somehow Yvette seemed right for her dainty ways. I never forgot this playful pseudonym and use it here. See, for example, "Yvette Dancing".
Now as I wrote on and people began to come to the blog and converse with me through the comments, I felt the strong release that had been coming on for a long time over traumatic and life-shaping incidents that happened to me when I was a teenager. I wanted to talk confessionally and deeply. As a girl of 17 I used to say that Elinor Dashwood from Austen's Sense and Sensibility had saved me, rescued me from self-destruction. She had a modus vivendi that protected her and I admired, identified with, and recognized myself in her. So I began writing more autobiographically.
Elinor would write to Marianne Dashwood who I had also identified with, though not as a teenager, rather when I began to see they were a doppelganger pair. I wrote about this on Austen-l when we were reading and discussing the novel. I explained some of what Austen's, Sayers' and other popular book heroines (Nancy Drew, Judy Bolton) meant to me in a blog from Mrs Sophia Crofts to Anne Elliot: "Girls' books and womens' lives.
Jim would be Edward in this scenario as I liked to think some aspects of his and my life during his post-career retirement resemble that of Edward and Elinor.
The fourth pseudonym. Another pair of heroines who had long meant a great deal to me were Anne Elliot and Mrs Sophia Crofts. I was too old to be Anne any more, but I thought I'd like to write as Sophie. Isobel had been charmed by Patrick O'Brian's use of the name in his series, I had loved the 1995 film adaptation of Persuasion, and especially Susan Fleetwood who to my mind's eye was not Lady Russell but Mrs Crofts. Mrs Crofts was closer to my sense of myself in my 50's. I could tease and call Jim "the Admiral," and Mrs Crofts could discuss art, poetry and books with Anne as Lady Russell and Anne are imagined to have done in Austen's novel. As Austen does not give the Admiral a first name, I could again call him Jim. I provided pictures and explained some of this in "1 photographic still and 2 actresses".
I write out of loneliess in part and was filling my blog with congenial presences, imagining myself in a group of people who were linked to people in real life, but not quite them, more idealized. I offered to write to other friends using pseudonyms. Catherine Crean said she liked Arabella Trefoil (a heroine from Trollope's The American Senator). Recently Julie Vollgraff has said she would like to post as Miriam, and I could write to her as Chava. After asking permission of each one, I began also to write to and quote friends on cyberspace lists and did use their real first names with an initial for the last.
I don't stick closely to the script and sometimes cannot make up my mind which of my four pseudonyms should really write this or that letter to whom. Sometimes one of my selves or heroines writes to someone who has made a good comment on the blog and who has become a friend offlbog (so to speak). Sometimes it feels incongruous to write to a woman who once really lived, Fanny Burney d'Arblay under a modern Jewish pseudonym, but I have not been able to make up my mind which later 18th century woman I should change into to write to Fanny. I don't feel I know enough about any one of them (except perhaps Austen) as yet through letters or novels. I've thought of Ann Radcliffe but am not sure how to begin quite. I have read her memoir as published in the posthumous publication of Gaston de Blandeville, and I have read her travel memoir too.
I've identified with other heroines in Austen too. One day I told of my dream to write a sequel to Austen's Emma where I would write as Jane Fairfax: "The Lost Letters". All is play, but I play seriously. See "Playful Pseudonyms".
Jim says it's very rare in life or writing that anyone can remain anonymous, and on the Net most blogs which present themselves this way are actually pseudonymous; that is, the writer reveals enough so that if you read daily you can see through the pseudonyms. So too on our blog.
---
One of my favorite actresses in a still I love: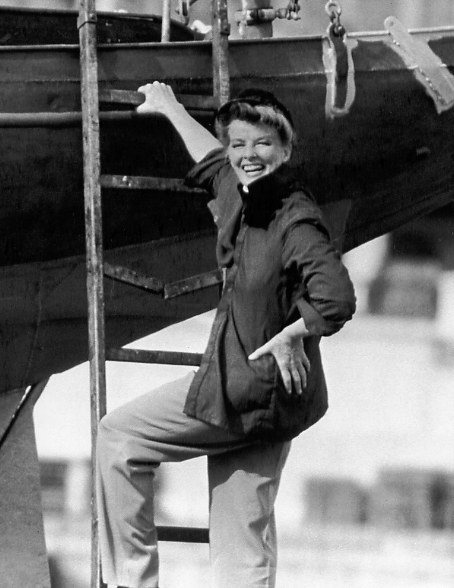 Katherine Hepburn (1907-2003)
---
Home
Contact Ellen Moody.
Pagemaster: Jim Moody.
Page Last Updated: 9 February 2006.