About this e-text edition
I have placed this etext edition of Anne Murray Halkett's fragmentary manuscript narrative because except as small scraps in anthologies, it is otherwise only available in John Loftis's now outdated 1979 edition of the text and John Gough Nicols' 1875 edition. Since publishing his text, Loftis has changed his mind about the character of Joseph Bampfield; Loftis and Nicols' reticence about Anne Murray Halkett's sexual life obscures some of the central issues of the text. Further, I have been able to add to their notes much information which I hope will make the text more understandable and contextualize it for readers.
After much thought I decided against modernizing the spelling of the text. I feel if I went ahead and replaced the old spelling I might be (in effect) erasing Halkett's text. I did change it minimally: following Nicols' and Loftis's practice, I did re-divide the text into more coherent paragraphs, spelled out Halkett's abbreviations, and on a couple of occasions re-punctuated sentences for clarity.
The source text is Nicols's 1875 edition checked against Loftis's 1979 one. I was able to read several of Anne's devotional books, and study Simon Couper's 1701 biography of her. In my notes I indicate all sources for my annotations. I provide as complete a bibliography as I can. I also provide the texts of two papers on Halkett's life and writing, which I delivered at eighteenth-century conferences: "'Cast out from Respectability a while:' Anne Murray Halkett's Life in the Manuscripts" and "'A hole in the manuscript big enough to put your finger through:' the misframing of Anne Murray Halkett's autobiography". Finally, I typed out a nineteenth-century biography of Lady Anna Mackenzie whom, together with Alexander Lindsay, Lord Balcarres, Anne Murray had helped escape the Parliamentarian soldiers; from the sources I read, I venture to say that Anne Halkett and Anna Mackenzie were friends in the later part of Halkett's life.
I first came across this little book in the 1980s while I was researching Anne Finch's life and poetry in the Library of Congress. I was much moved by Anne Murray Halkett's story and the fragmentary nature of her text. Since the advent of the Net, I have been able partially to defeat the attempt made after her biography published her life to erase her story by publishing this text with its accompaniments. I hope eventually to publish the two conference papers as a single essay in a journal.
---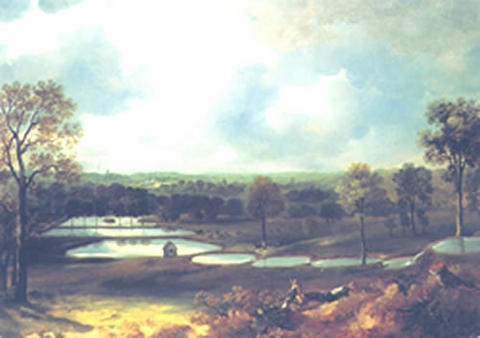 Thomas Gainsborough (1727-188), Holy Wells
---
Home
Contact Ellen Moody.
Pagemaster: Jim Moody.
Page Last Updated 3 April 2007