Original Illustrations to Trollope's Fiction
Chronological List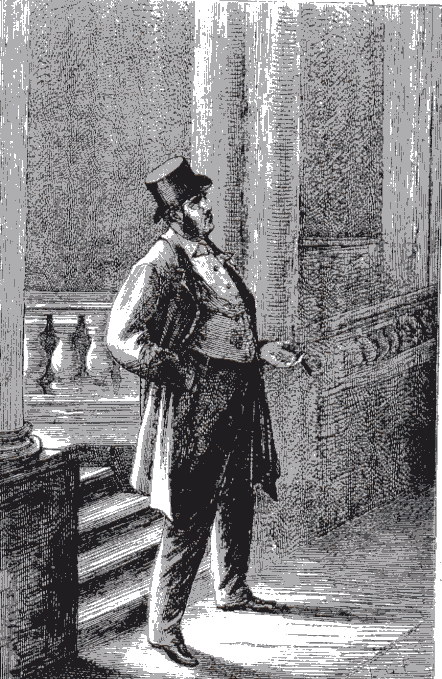 Lionel Fawkes, "Mr Melmotte speculates", The Way We Live Now
The novels are listed by first year of book publication, providing the names of the book publishers and (when known) illustrators
1855 The Warden: Longman; F. C. Tilney
1858 Dr Thorne: Chapman & Hall; H. L. Schindler
1861 Framley Parsonage: Smith, Elder; John Everett Millais
1862 Orley Farm: Chapman & Hall; John Everett Millais
1863 The Small House at Allington: Smith & Elder; John Everett Millais
1864 Rachel Ray: Chapman & Hall; John Everett Millais(a 'seventh edition' which first included the engraving made from a watercolour painting which now serves as a frontispiece for the novel in some editions)
1864 Tales of All Countries, First Series: Chapman & Hall; Marcus Stone
1865 Can You Forgive Her?: Chapman & Hall; Hablôt Knight Brown ('Phiz') and Miss E. Taylor
1865 The Three Clerks: Bentley (a new edition; the novel was first published in 1857); J. Mahoney and Edward Whymper
1866 Miss Mackenzie: Chapman & Hall; Walter Crane
1867 The Claverings: Smith, Elder; Mary Ellen Edwards
1867 The Last Chronicle of Barsetshire: Smith, Elder; George Housman Thomas
1869 Phineas Finn, the Irish Member: Virtue; John Everett Millais
1869 He Knew He Was Right: Strahan; Marcus Stone
1870 The Vicar of Bullhampton: Bradbury, Evans; Henry Woods
1870 The Struggles of Brown, Jones, and Robinson: Smith, Elder; anonymous illustrator
1871 Ralph the Heir: Hurst & Blackett; Francis Arthur Fraser
1872 The Golden Lion of Granpère: Tinsley (an associate of Strahan); Francis Arthur Fraser
1873 Harry Heathcoat of Gangoil: Sampson Low; anonymous group of illustrators
1874 Phineas Redux: Chapman & Hall; Francis Montague Holl
1875 The Way We Live Now: Chapman & Hall; Lionel G. Fawkes
1876 The Eustace Diamonds (a later edition) and The Prime Minister : Chapman & Hall, Frontispieces, Francis Arthur Fraser (?)
1876 'Christmas at Thompson Hall': The Graphic, Christmas number, reprinted as single volume in 1876 by American firm, Harper & Bros; William Small
1878 Five Barsetshire novels (Dr Thorne omitted): Chapman & Hall, Frontispieces, Francis Arthur Fraser
1882 Marion Fay: illustrated when serialised in The Graphic from 3 December 1881 to 3 June 1882; William Small
1882 Kept in the Dark: Chatto & Windus; John Everett Millais
The short stories are listed, with date of publication, under the name of the periodical in which they appeared.
Cassell's Illustrated Family Paper:

'An Unprotected Female at the Pyramids' (6 and 13 October 1860); 'The Château of Prince Polignac' (20 and 27 October 1860); 'Miss Sarah Jack of Spanish Town, Jamaica' (3 and 10 November 1860); 'John Bull on the Guadalquivir' (17 and 24 November 1860).

Illustrated London News:

'The Mistletoe Bough' (21 December 1861, Christmas Supplement).

Good Words (or Good Cheer, the name of the annual Christmas number of Good Words):

'The Two Generals' (December 1863); 'The Widow's Mite' (January 1863); 'The Last Austrian Who Left Venice' (January 1867); 'Why Frau Frohmann Raised Her Prices' (February - May 1877); 'The Telegraph Girl' (December 1877); 'Alice Dugdale' (December 1878); 'The Two Heroines of Plumpington' (December 1882).

The Argosy:

'The Adventures of Fred Pickering' (September 1866).

St Paul's (after 1871 not illustrated):

'The Turkish Bath' (October 1869); 'Mary Gresley' (November 1869); 'Josephine de Montmorency' (December 1869); 'The Panjandrum' (January to February 1870); 'The Spotted Dog' (March to April 1870); 'Mrs Brumby' (May 1870).
---
Home
Contact Ellen Moody.
Pagemaster: Jim Moody.
Page Last Updated 17 February 2004.