Ayala's Angel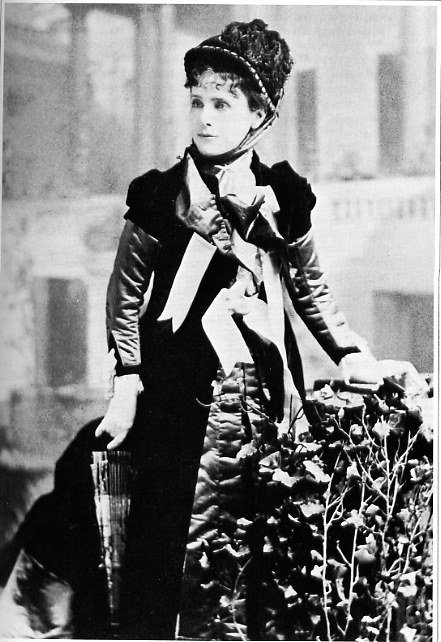 Kate Field: "There is an American woman, of whom not to speak in a work purporting to [be] a memoir of my own life would be to omit all allusion to one of the chief pleasures which has graced my later years."
In January 2001 we began Ayala's Angel (first published 1880). As I had been doing for about three years, each week I wrote an essay or essays in the form of postings to Trollope-l on the chapters we had read for that week. These "facilitating" postings of mine continued to be close readings of the text whenever I could, with some also simply in response to others, some on Trollope's sources and attitudes, some on the contemporary scene. I accompanied these with descriptions and commentary on the illustrations by Robert Greary for the Folio Society edition of Ayala's Angel. As I had done for Is He Popenjoy?, I wrote psychoanalytically and from a feminist and political point of view on Trollope's fiction; I also explored the autobiographical roots of this fiction, specially Trollope's exploration of the sexually-inadequate male in his fiction and the connection of this novel to his love for Kate Field. Once again the conversation of the group as a whole more generally slowly emerges and moves back and forth from other more traditional points of view: character, scenes, personal impulses when we read. I had on my own read Ayala's Angel in August/September of 1999 and posted continuously myself at that time; it had also been brought up as a general "charming" favorite from time to time, and queries brought over from Victoria had been placed on Trollope-l; I thread in all these earlier postings with the later ones.
Participants included Clarissa Ackroyd, Catherine Crean, Cynthia, Ian Duncan, Sigmund Eisner, Elizabeth, Thilde Fox, Judy Geater, Wayne Gisslen, Jeremy Godfrey, Chris Graebner, Lisa Guardini, Jean H, Kishor Kale, Kathy, RJ Keefe, Graham Law, John Letts, Paul Lewis, Pat Maroney, Marcella McCarthy, Beth McMillan, Howard Merkin, Nigel, Rory O'Farrell, Marc Plamondon, Teresa Ransom, Angela Richardson, Lisa Sieberg, Jill Spriggs, Gene Stratton, Todd Yelrom, Joan Wall, Dagny Wilson, Robert Wright, and Maggie Wright.
As to the group calendar, by the time he came to write Ayala's Angel Trollope had fallen from popularity; he was no longer writing the Barsetshire-type novel and had had several financial flops. As a result although Trollope wrote Ayala's Angel between April 25th and September 24th in 1878, he didn't manage to find a publisher for 3 years. The first volumed edition was by Chapman and Hall and came out in May 1882 -- with no illustrations. The first serialisation was done in the US; far from being the star of the Cornhill, Ayala came out 2 chapters a week in the Cincinnati Commercial between 6 November 1880 and 23 July 1881. Ayala is the only one of the serialised novels by Trollope which is not included in J. Don Vann's VictorianNovels in Serial which I had been using as a basis for our calendars. Of course I could figure out that the book came out in 1-2 chapters by dividing the 64 chapters by the numbers of weeks. Still I had no documentary evidence for which chapters went with which. The Folio Society edition which has 16 illustrations provides 1-2 for each 4 chapters, suggested a reasonable shaping of 4 chapters per instalment. The problem with this is the read would have taken us 16 weeks, and even if the book is among Trollope's longer 3 volumed books, that's too long. So I opted for the same average of 6 chapters a week we had been practicing for novels which were published in well-known English periodical in instalments of 3 chapters a week.
January
February
March
About the Illustrations by
---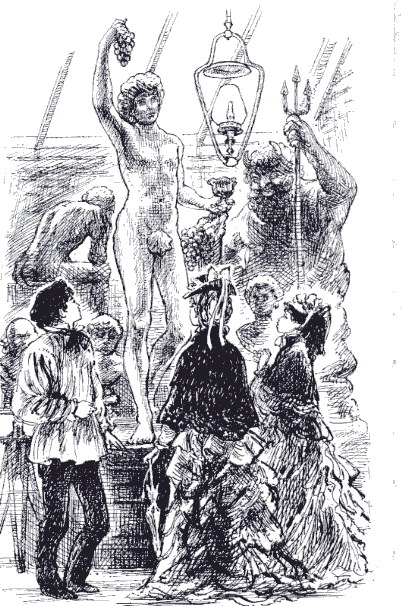 "'Bacchus might just as well be broken up and carted away in the dust- cart'", Ayala's Angel
---
Home
Contact Ellen Moody.
Pagemaster: Jim Moody.
Page Last Updated 11 January 2003