Anne Murray, Lady Halkett (c. 1622/3-1699)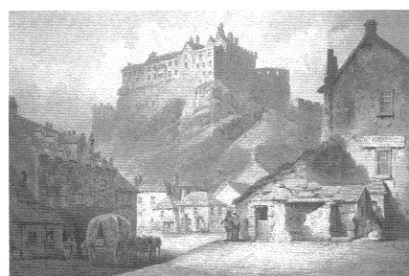 Edinburgh before the later 18th century, watercolor by Frances Nicholson (1753-1844)1
The Autobiography of Anne Murray, Lady Halkett
---
"Lady Anne Halkett" (1621[?]-1699): Diarist, Autobiographer, Political Writer, Woman of letters. Active 1644-1699 in England, Britain, Europe. By Suzanne Trill, University of Edinburgh. The Literary Encyclopedia. 15 Nov. 2004. The Literary Dictionary Company. 20 April 2006.


A Memoir of Lady Anna Mackenzie, Countess of Balcarres and Afterwards of Argyll (c.1621-1706) by Alexander Lord Lindsay, Master of Crawford and Balcarres. Edinburgh: Edmonston and Douglas, 1868.


---
1 Topographical views of Edinburgh are rare before the middle of the eighteenth century. So I hope this later view of the city can still be suggestive of something of what Edinburgh was when Anne Murray arrived there.
---
Home
Contact Ellen Moody.
Pagemaster: Jim Moody.
Page Last Updated 16 August 2006