Trollope19thCStudies (to subscribe click here) is comprised of people from different backgrounds who come together to read with and to write to one another about Anthony Trollope. Michael Powe and Ellen Moody are listowners and moderators; it was for a long time called Trollope-l and this previous name will be found used in some parts of this website and Yahoo. Michael founded the list in October 1997; it has been on several servers and is now located at Yahoo. The terrain of Trollope19thCStudies is the life and writing of Anthony Trollope in the context of everything to do with the long 19th century (1815-1914). We discuss the life and writing of other British, American, and European writers, this long era's music and art, history, politics, and science, and later literature and art about it (including modern films, historical novels, and biographies). The list is intended to be an ongoing informal cyberspace seminar on Trollope and the long 19th century.
For about 15 years altogether, from the time a group of us were on Elizabeth Thompons's Majordomo mailing list to the fall of 2010 we held group readings and discussions. As of spring 2011 there are no longer enough people to do this with. So below is a record of what we have done and the continuing goals of the listserv community (or readers and writers).
Here, first, are some pictures of a few members:
Photographs from the Trollope19thCStudies trip to England in November 1999:

Here are pictures of those members of the group who went to a November Lecture given by Ellen Moody to the Trollope Society at the Reform Club, and then spent a day together visiting Salisbury Cathedrale. The reader will also find photographs of the houses said to be the those upon which Trollope modelled the Bedesmen's house and Mr Harding's Warden's Resident as well as Salisbury Cathedrale and a medieval pub where we adjoined for tea
Off-Topic Postings about Ourselves, Meetings We Had, Friendships:
Since October of 1997, members have read and discussed:
F. A. Fraser, "It's Dogged as Does It", The Last Chronicle of Barset




By Anthony Trollope:

Anthony Trollope's The Vicar of Bullhampton (twice); The Way We Live Now (three times); all of his short stories; Orley Farm (twice); Kept in the Dark (as connected to He Knew He Was Right); Harry Hotspur of Humblethwaite (as connected to Henry James's Washington Square), Rachel Ray and The Belton Estate; La Vendée; The American Senator; The Prime Minister (as another political book); all six Barsetshire novels (The Warden, Barchester Towers, Dr Thorne, Framley Parsonage, The Small House at Allington, The Last Chronicle of Barset); The Fixed Period (as Dystopian satire and autobiography) and An Old Man's Love (as another late short autobiographical book connected to The Warden); Is He Popenjoy, Ayala's Angel, and John Caldigate (as three relatively unknown late books); The Kellys and OKellys, Castle Richmond, An Eye for an Eye and The Landleaguers (four of Trollope's five Anglo-Irish novels); Trollope's second travel book, North America; and all six of the Palliser novels (Can You Forgive Her?, Phineas Finn, The Eustace Diamonds, Phineas Redux, The Prime Minister, The Duke's Children, an undertaking which stretched out for 82 weeks); Mr Scarborough's Family as late older man's book; Australia and New Zealand; three heroine's texts, Miss Mackenzie, Nina Balatka and Linda Tressel; Ralph the Heir,The Three Clerks, and He Knew He Was Right; and now (once again) all six Barsetshire novels (of which we've finished for a second time)The Warden, Barchester Towers, Dr Thorne, Framley Parsonage, and The Small House at Allington, and The Last Chronicle of Barset; The New Zealander; The Bertrams and Orley Farm (for a third time) and now for a second time all the Pallisers in a row, Can You Forgive Her?, Phineas Finn, Eustace Diamonds, Phineas Redux,The Prime Ministerand The Duke's Children. We've read the short stories again and a group of short essays by him (literary criticism, travel writing, about his creativity, sociological reports). We did He Knew He Was Right a third time.

Philip Latham and Susan Hampshire as the older Duke and Duchess of Omnium she says to him, "What other enjoyment is there possible on a beautiful afternoon such as this?" She has been riding in an open carriage in the fresh winds with a beloved friend, Marie Finn (Barbara Murray), and her daughter, followed by her sons, he walking in the park with Phineas Finn (Donal McCann). From in the 1974 BBC Pallisers, produced by Martine Lisemore, directed by Hugh David and Ronald Wilson, screenplays by Simon Raven, production design Raymond Cusick and Richard McManan Smith, costumes Raymond Hughes

By other 19th century authors:



John Atkinson Grimshow (1836-1893), Autumn, Leeds (1880s),





Sheridan Le Fanu's Uncle Silas; William Thackeray's Vanity Fair; Wilkie Collins's No Name; George Gissing's New Grub Street, George Eliot's Felix Holt and Charlotte Bronte's Shirley (as a pair); Elizabeth Gaskell's Cranford and Mary Elizabeth Braddon's Lady Audley's Secret (as another pair); Charles Dickens's Bleak House (slowly over a long summer); Thomas Hardy's Mayor of Casterbridge, Return of the Native, and Jude the Obscure; Fanny Trollope's The Domestic Manners of the Americans, The Vicar of Wrexhill, and The Widow Barnaby; William Morris's News from Nowhere, William Dean Howells's A Traveller from Altruria, Edward Bellamy's Looking Backward, and Samuel Butler's Erewhon with Trollope's The Fixed Period (as Utopian and Dystopian satire); Elizabeth Gaskell's My Cousin Phillis (as a brief summer book); Honoré de Balzac's Les Chouans (with La Vendée) ; Charles Dickens's Hard Times and Elizabeth Gaskell's North and South (as a pair of industrial novels); and Walter Scott's Rob Roy and William Thackeray's The History of Henry Esmond, Esq. (and historical fiction in general); Thackeray's Pendennis and The Virginians (as two further novels by Thackeray, one a sequel to Henry Esmond); Bram Stoker's Dracula, and novels by Elizabeth Bowen (as Anglo-Irish writers); (once again) Fanny Trollope's The Domestic Manners of Americans (together with her son's North America and travel books and life-writing by other 19th century women writers), and William Dean Howells's Their Wedding Journey; George Eliot's Romola; Henry James's The Princess Casamassima; George Eliot's Middlemarch and Elizabeth Gaskell's Mary Barton; Wilkie Collins's Armadale and George Gissing's The Odd Women; Elizabeth Barrett Browning's Aurora Leigh and Elizabeth Gaskell's Life of Charlotte Bronte; Thomas Carlyle's Past and Present, John Stuart Mill's The Subjection of Women, John Ruskin's Praeterita and Unto this Last; and Harriet Martineau's Society in America, Retrospect of Western Travel, Autobiography, and Deerbrook and most recently Elizabeth Gaskell's My Lady Ludlow, Mr Harrison's Confession (together with Jenny Uglow's biography of Gaskell and the film adaptation of Gaskell's Cranford together with these last two books, The Cranford Chronicles by Heidi Thomas, Sue Birtwistle and Sue Conklin. Recently we reread Thackeray's The History of Henry Esmond and Gaskell's Wives and Daughters; Ellen Wood's Mrs Halliburton's Troubles, East Lynne, The Channings; Meredith's Beauchamp's Career and Disraeli's Sybil, or the Two Nations; Anne Bronte'sAgnes Grey and The Tenant of Wildfell Hall. Margaret Oliphant's Miss Marjoribanks and Phoebe, Junior, and Maria Edgeworth's Patronage. We've gone European and read Hugo for a number of months, Les Miserables, and The Last Day of a Condemned Man, Chekhov and Turgenev together (short stories and novellas); and in summer 2010 we read Henry James's early novels: Roderick Hudson and his earlier novels and novellas (The American The Portrait of a Lady, The Europeans, The Turn of the Screw

Helen Allingham (1848-1926), Coming Events




For several Christmas seasons and now one summer season, we read and talked about Christmas and ghost stories by Trollope and other Victorian writers, i.e.,


by Trollope: "The Mistletoe Bough", "The Widow's Mite", "The Two Generals", "Christmas Day at Kirkby Cottage", "Christmas at Thompson Hall", "The Telegraph Girl", "Catherine Carmichael," "Not if I Know It," and Harry Heathcote of Gangoil.

by other 19th century writers: Elizabeth Gaskell ("The Old Nurse's Tale," "The Grey Woman," "The Manchester Marriage"), Charles Dickens ("The Signalman"), Margaret Oliphant ("The Beleaguered City", "Lady Mary's Story", "The Library Window"), Amelia Edwards ("The Phantom Coach"). For Christmas 2001 we read Sheridan Le Fanu ("Green Tea"), M. E. Braddon ("The Shadow in the Corner"), Mary E. Wilkins Freeman ("The Lost Ghost"), M. R. James ("The Stalls of Barchester Cathedral"), Robert Louis Stevenson ("A Chapter of Dreams" and "A Gossip on Romance", Edith Wharton ("Afterward"), Louisa May Alcott ("My Contraband, or the Brothers") and Arthur Conan Doyle (""The Adventures of the Abbey Grange" and "The Second Stain").

Albert Coburg, 1841 by Charles Brocky




We now have a poetry day (the idea was Angela Richardson's). On Sunday everyone is invited to send in a favorite 19th century poem (any verse from 1800 to 1914). We have also in the past read secondary literary, biographical, and historical books on Trollope and his contemporaries. Members have thus far read and discussed in a group setting (i.e., using a schedule): Victoria Glendinning's biography of Anthony Trollope in the context of several other biographies of Trollope (e.g., by Sadleir, Mullen, Escott and Hall), Phyllis Rose's Parallel Lives: Five Victorian Marriages, and Judith Flanders's The Victorian House, John LeCarre's Small Town in Germany , Peter Ackroyd's The Lambs of London, Asa Briggs's Victorian People, and David Cannadine's The Decline and Fall of the British Aristocracy, Richard Reeves's Victorian Firebrand: A life of John Stuart Mill, John Sutherland's Life of Scott and Gillian Gill's We Two: Victoria and Albert: Rulers, Partner, Rivals.

Carl Haag, The Queen [and Prince] at Balmoral, 1850 (only she loathed blood sports)





We also discuss modern novels which seem to connect directly to Trollope's so we have had as major topics Anthony Powell's A Dance to the Music of Time as well as Paul Scott's Raj Quartet (all four novels gradually) and Staying On. Trollope as a political novelist relevant to our era is a common theme..
---
For summer and fall 2010 our books were two powerful long masterpieces by Trollope: He Knew He Was Right, then in later summer/early fall, we'll reread The Way We Live Now. Below you find a record of the calendar and thus the typical ways this was done.

I had copies of Trollope's He Knew He Was Right (one of the chapters of my book is on it): a Penguin edited by Frank Kermode, the Trollope Society edition with all the original illustrations, and an Oxford Classics volume. I'll be reading the Oxfords as the most convenient in size, e dited by John Sutherland, it has the best introduction, notes,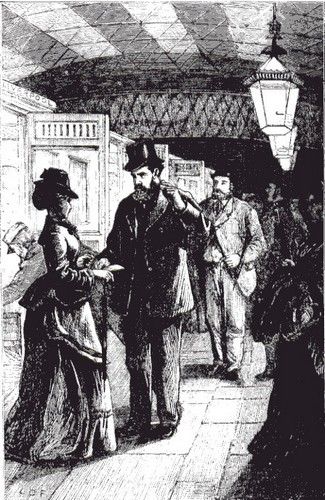 The Way We Live Now: Lionel G. Fawkes, "'You, I think, are Miss Melmotte'", Chapter 50, The Journey to Liverpool



For Sunday,

Oct 10: Installments 1 & 2: Chapters 1-10
Oct 17: 3 & 4: Chapters 11-20
Oct 24: 5 & 6, Chs 21-30
Oct 31: 7 & 8, Chs 31-40
Nov 7: 9 & 10, Chs 41-50


End of Volume I

Nov 14: Installments 11 & 12 , Chs 51-60
Nov 21: 13 & 14, Chs 61-70
Nov 28: 15 & 16: Chs 71-80
Dec 5: 17 & 18: Chs 81-90
Dec 12: 19 & 20: Chs 91-100
Dec 19: Davies's TWWLN, Parts 1 and 2
Dec 26 ; Davies's TWWLN, Parts 3 &4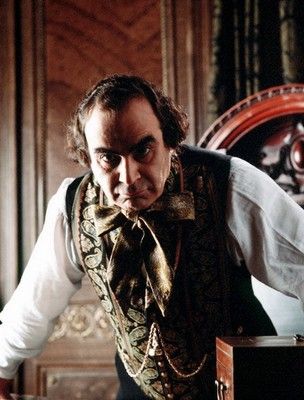 From 2001 The Way We Now, Melmotte (David Suchet), screenplay Andrew Davies, directed by David Yates, produced by Nigel Stafford-Clark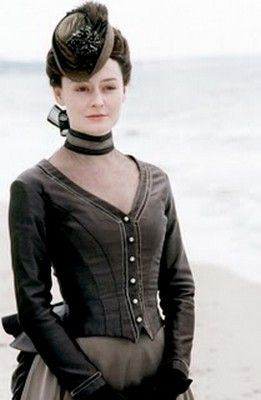 From 2001 The Way We Now, Mrs Hurtle (Miranda Otto), screenplay Andrew Davies, directed by David Yates, produced by Nigel Stafford-Clark



Next up: Trollope's Life of Cicero, Lord Palmerston, and How the Mastiffs Went to Ireland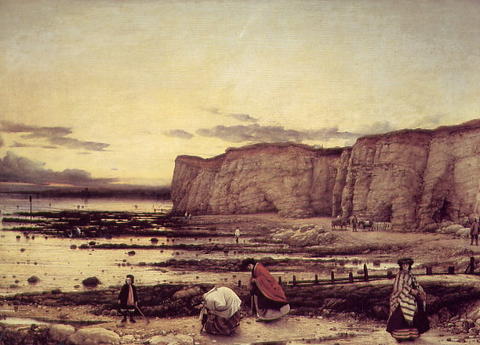 William Dyce (1806-64), Pegwell Bay, A Recollection of October 5th, 1858


---
In fall 2009, we had an autumnal season on Scott. a sort of retrospective where people have been reading whatever novel they want (a choice of two novels from Scott's career divided into early, middle and later novels), a biography (choices will be discussed at the time) or a literary study, and we hope even to discuss Scott's poetry and his own criticism. I've ead and summarized John Sutherland's ground-breaking Life of Scott, and put a copy of my review on my website.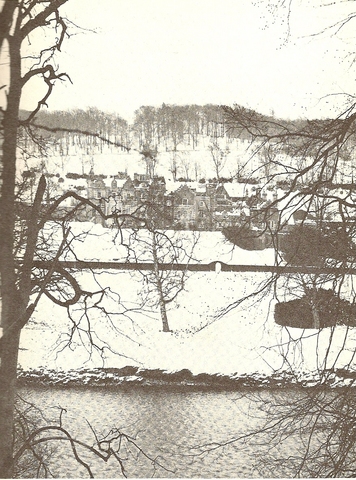 Scott's Abbotsford in Snow, modern photo taken before 1972



This December 2009 into February 2010 we had six weeks of Victor Hugo. People are invited to read whatever novel they would like; also poetry, plays, biographies or Graham Robb's literary biography. It has in fact turned out fot eh a reading and discussion of his masterpiece, Les Miserables (translations chosen are by Norman Denny or Julie Rose), along with the various film adaptations, to be followed by The Last Days of a Condemned Man.

April we had a Chekhov (his short stories, plays, novellas) month; I plan to read his Shooting Party. The suggested biography is Henry Troyat's. Then around June we turned to Turgenev's short stories and novels. One useful anthology mentioned is First Love and Other Stories

This summer of 2010 we read Edith Wharton's Age of Innocence and Henry James's Roderick Hudson and have now turned to two biographies, Sheldon Novick's two volume The Young Master and The Mature Master as well as Fred Kaplan's The Imagination of Genius.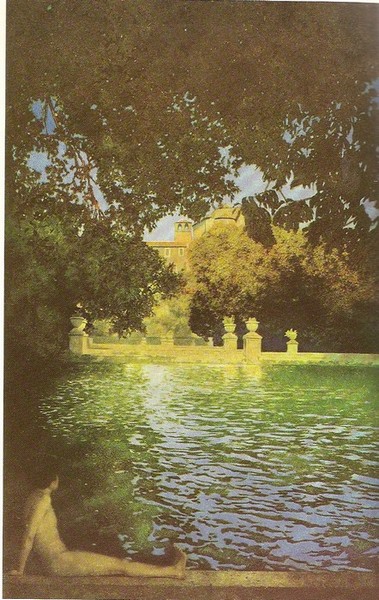 The Fountain at the Ville d'Este Gardens, Tivoli, from Wharton's Italian Villas and Gardens


Martin Donovan as Ralph Touchett, the above and this still from the 1986 The Portrait of a Lady, directed by Jane Campion, screenplay Laura Jones, produced by Steve Golin


---
The reader will find in my book, Trollope on the 'Net and in the following documents a record of the conversations members have had on Trollope's fiction and non-fiction. They are set up in chronological order and keyed to the chapters in Trollope's books so that they take the form of a story of reading experiences exchanged, debated, and meditated on specific texts over a course of weeks or months. Read in consecutive order they form close readings of the texts in question.
Trollope on the 'Net
A revolutionary review of Trollope and why we read him: by Tyler Tichelaar, novelist, scholar.
My blog contextualizing Trollope on the 'Net
Trollope's Short Stories (1997-98)

Tales of All Countries
Of Love, Courtship, and Marriage
Irish Tales
Christmas Stories
Archibald Green Stories
Burlesques
An Editor's Tales
Essays and Postings on Anthony Trollope's Non-Fiction By members:
Michael Powe's Website, trollope.org (1997-98), includes selections of postings, threads, and essays from group conversations on
The Barsetshire Chronicles: Barchester Towers, Dr Thorne, The Vicar of Bullhampton, The Way We Live Now, and the completed unedited discussions of The Claverings, He Knew He Was Right, and An Autobiography (upon which Chapters 2, 5 and 8 were partly based);
Trollope's short stories;
Trollope's Family and Reputation, Biographies, and his Freemasonry
Ellen Moody's Trollope on the Net is in part a history of a series of group reads she and Michael Powe participated in on a mailing list run by Elizabeth Thomson which was simply called the Trollope list and ran on Majordomo software (its successor, which has a different listowner, may be found on yahoo.com). The book partly tells the story of the reads and discussions that occurred there between 1995 and 1997 of The Macdermots of Ballycloran, He Knew He Was Right, The Claverings, Lady Anna, An Autobiography, and Can You Forgive Her? in the context of the Palliser cycle treated as as roman fleuve. It also includes separate interwoven chapters on all Trollope's Irish fiction, his novellas (including Kept in the Dark, Nina Balatka, The Golden Lion of Granpère, The Fixed Period), the original illustrations to Trollope's novels and autobiography considered as a genre related to fiction and as practised in the 19th century.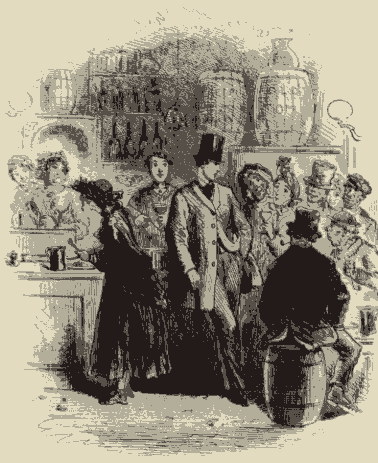 Hablôt Browne (Phiz), Can You Forgive Her?
---
A Few Rules of the Game
In order to prevent discomfort, hurt feelings, trolling, flame wars and other disruptions on our list, to secure the courteous and cordial atmosphere we desire for all, and to ensure that this list remains a place where serious semi-scholarly talk be sustained, as moderator I ask everyone who joins the list to read and to abide by the following rules:
The purpose of this list is not a matter for debate. A listowner opens a list with a given subject matter and audience in mind. While this list is meant for all people who love to read and are interested in any and all aspects of 19th century culture, its goal is to have serious discussions of the work of Anthony Trollope and his contemporaries in the context of the culture and history of the 19th century, and of modern scholarship and artistic approaches to it. It is intended for people who feel comfortable discussing Trollope and his contemporaries in depth.
No personal attacks or flame wars. Personal attacks include speculations about the motives, personal problems and/or intellectual deficiencies, background, or educational level of someone else and all veiled taunts and snide remarks.
Please refrain from characterizing the kind of posts someone sends (long, short, high-toned, low-toned, high-, middle-, or low-browed, academic, solemn, intense, stupid, ignorant,simple- minded, deep, angry, using profanity &c &c) with a view to discussing the kind of person the poster is or the kind of postings he or she writes. You can argue with content of the posting as regards Trollope and his contemporaries but not the attitudes of the poster as regards him or herself or the status you imagine the poster to have in "real" life; that is to discuss the listmember. To argue with the kind or nature of a post itself is also to bring in the personality and values of the person posting it. That is why arguing against literary theory always ends in flame wars: to bring this up is to argue against the identity of someone else. The content about our 19th century terrain is fair game, not other members. If a posting is overly long, if someone takes to sending many tiny messages, or if you feel someone has insulted you in some way, get into contact with one of the listowners and she will discuss it with the member offlist.
Similarly, please refrain from categorizing "other groups" of people on the list as different from a group to which the individual presumes he or she belongs -- often such groupings are in the mind of the poster and don't correspond to realities on lists at all. Our list is a diverse place; anyone can join; right now it is made up of teachers, readers and students, readers and people interested in Trollope and his contemporaries, professional and non-professional people. To begin to categorize one another is to invite factionalism and stigmatizing, and takes us down the road to discomfort and reified conflicts between groups
No public corrections of other people's spelling, grammmar, style, tone or other formal failures on list. If you genuinely want to aid someone not to make a mistake, get into contact with him or her offlist.
No one is to discuss anyone else's personality or behavior in front of all the members of the list as if that person weren't there. If you do this, you will be politely told to desist; if you do not desist, you will be unsubscribed. We also ask that members not badger anyone for a reply. If, after you have tried to elicit a reply for a second time, someone does not answer your objection for whatever reason, leave the person alone.
Members are invited to propose reading modern historical novels set in the 19th century and close film adaptations of books by Trollope and all other 19th century writers. Everyone is invited to discuss mention movies, TV adaptations, documentaries and radio or other non-print media which directly relate to our subject matter. But we discourage lengthy discussion of non-print media, movies, TV adaptations, radio shows and famous personalities which have nothing to do with Trollope or the 19th century. This is not meant to be a list for chat and gossip.
No attachments. We have set the list up in such a way as to discard them, but don't try to put one on. Present your message as part of your regular text.
Please use clear subject headings, do not use "spoiler" warnings, and do not simply hit the "reply" key when sending a posting. You can preface a posting warning the reader that your discourse necessitates your telling something from the end of a book the group is reading or details from books the group as a whole has not read. It is assumed that people coming onto Trollope-l have some serious interest in Trollope, that they would want to read his books far more than one time, and much of the talk assumes a familiar knowledge with Trollope's most famous books (the Barsetshire and Palliser ones). In fact, on this list we welcome details from books we have not read, reviews, summaries, critical discussions of things as ways of whetting appetites for further reading ourselves. If you just hit "reply," the header becomes detached from your subject; it also creates a trail of repeats that make the digests into a mess that becomes difficult to read.
No ranting against or bashing authors, characters, art, periods, literary theory, specific books or kinds of books.
Finally, when you post, please sign your name (a given and last name, not an obvious or unreal pseudonym or net handle). This makes it easier for other listmembers to reply and helps build a sense of community and accountability among the members of the list.
Trollope19thCStudies archives are located in several places: 1) at Michael Powe's website; and 2)yahoo archives online; 3) through Google; -- plus of course right here!.