Early Modern Women's Poetry
The following section contains original scholarship on the poetry of Veronica Gambara (1485-1550), Vittoria Colonna (1492-1547) and Anne Kingsmill Finch, Countess of Winchilsea (1661-1720). It also contains scholarly essays on Anne Cecil de Vere, Countess of Oxford (1556-88), Katherine Fowler Philips known as "Orinda" (1631-64), and Lady Mary Wortley Montagu (1689-1762). It concludes with a bibliography of women's literature.
On Translating Veronica Gambara and Vittoria Colonna: An Essay
Vittoria Colonna
Veronica Gambara
A complete annotated chronology of all the poems written by Anne Finch. From a study of the manuscripts and printed books in which her poems appeared, as well as supplementary materials about her life, I have arranged the citations in the order the poems seem to have been written in. The annotated chronology contains texts by Finch that were published by Reynolds and elsewhere (some partial editions): these are texts where I felt the original text was important and the one in a manuscript or early printed edition superior to Reynolds's choice of a later text or another editor's choice of a different text.
First Line Index for the Chronology of the Poems
Title Index for the Chronology of the Poems.

The texts of all Finch's anonymously-published and unprinted poems:

A complete list of all Anne Finch's translations, adaptations and imitations; this list is followed by the texts of the hard-to-find and unknown sources of Anne Finch's translations; a descriptive bibliography of the books in which the source texts are found; an essay on the relationship of her translated to her original poetry, together with a small study or essay on one of her fables, and a bibliography oftranslation studies.

An literary biography of Anne Finch, I On Myself Can Live, together with a narrative life (interspersed with poetry) Apollo's Muse, and a description of the group of professional baroque musicians who commissioned me to write the narrative.

A complete list of the main relevant sources I used for my work on Anne Finch, together with a history of the anthologizing of Anne Finch's poetry, and a raw checklist of the notes I made from a careful study of all the manuscripts and contemporary printed sources for Anne Finch's poetry.

An addendum: two essays on the poetry of Anne Finch and Mary Wortley Montagu; a published review of The Anne Finch Wellesley Manuscript Poems, edd. Barbara McGovern and Charles Hinnant.
Two More Early Modern Women Poets
A Bibliography
Artemisia Gentileschi (1593-1653), Self-Portrait 1630s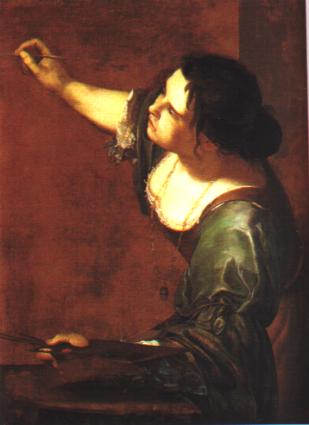 ---
Home
Contact Ellen Moody.
Pagemaster: Jim Moody.
Page Last Updated: 24 February 2003.