I have written a book recording how a group of people responded in cyberspace to a few of Trollope's books interwoven with essays by myself on the topics related to, and autobiographical, historical, and critical frameworks for, the books discussed. It seems to me appropriate that Trollope has become a novelist explored in an arena open to those who can get into the World Wide Web through a computer terminal somewhere on this earth. A voracious reader, he never went to university, and when he wrote a lively, intelligent and readable book on Cicero, he was laughed at by the learned. Like many an essentially unconventional man and successful writer, since his death he has been misunderstood and misappropriated.
On my site I have put as much information and analysis in an easily readable format as I can about Trollope's life and works and helpful books about him and his milieu. I have also included threads from various group reads on Trollope19thCStudies (previous name: Trollope-l as samples of what may be found as a reader in Trollope's books. I invite people who come to my site to use any or all of the following materials to begin or to continue a discovery or research of their own, and I ask that anyone who does quote or use any of it credit my site in the conventional manner (e.g., MLA style).
My book: Trollope on the 'Net
A revolutionary review of Trollope and why we read him: by Tyler Tichelaar, novelist, scholar.
My blog contextualizing Trollope on the 'Net
Lecture
The full text of my lecture, delivered in abbreviated form as the Twefth Annual Lecture to the Trollope Society in the Library of the Reform Club, London, on 23 November 1999, and published in fuller form in Trollopiana February 2000, and "The Victorian Web
Conference Papers
The reading version of a paper I gave at the July 2005 Trollope Conference (Trollope and Gender) held at the University of Exeter, 17-19 July 2006. I include bibliographical notes, with cut portions of the original essay. It too is part of The Victorian Web


Mapping Trollope; or Geographies of Power. Paper delivered at the Sharp conference, July 18-21, University of Pennsylvania, Philadelphia, Pa, July 21, 2013. Panel: Imaginary Geographies. See it also on The Victorian Web where the maps may be enlarged.


The Classical Trollope
Essays and Conversations on Trollope's Novels
Trollope's Short Stories (1859 - 1882)

Tales of All Countries
Of Love, Courtship, and Marriage
Irish Tales
Christmas Stories
Archibald Green Stories
Burlesques
An Editor's Tales
Essays and Postings on Anthony Trollope's Non-Fiction by members of Trollope19thCStudies:
Michael Powe's Website, trollope.org, includes selections of postings, threads, and essays from group conversations on
The Barsetshire Chronicles: Barchester Towers, Dr Thorne, The Vicar of Bullhampton, The Way We Live Now, and the completed unedited discussions of The Claverings, He Knew He Was Right, and An Autobiography (upon which Chapters 2, 5 and 8 were partly based);
Trollope's short stories;
Trollope's Family and Reputation, Biographies, and his Freemasonry
---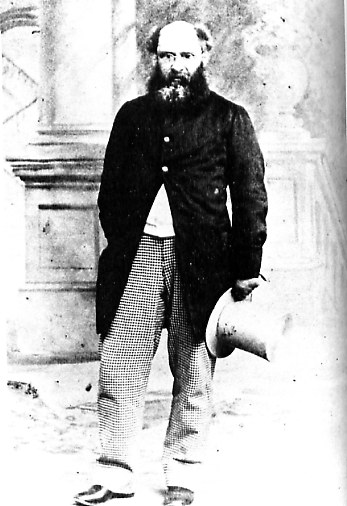 Anthony Trollope at about age 40